UCI Gravel Philippines successfully launches the new UCI Gravel World Series
The first ever UCI Gravel event took place this weekend in Bongabon in the Philippines with nearly 400 riders participating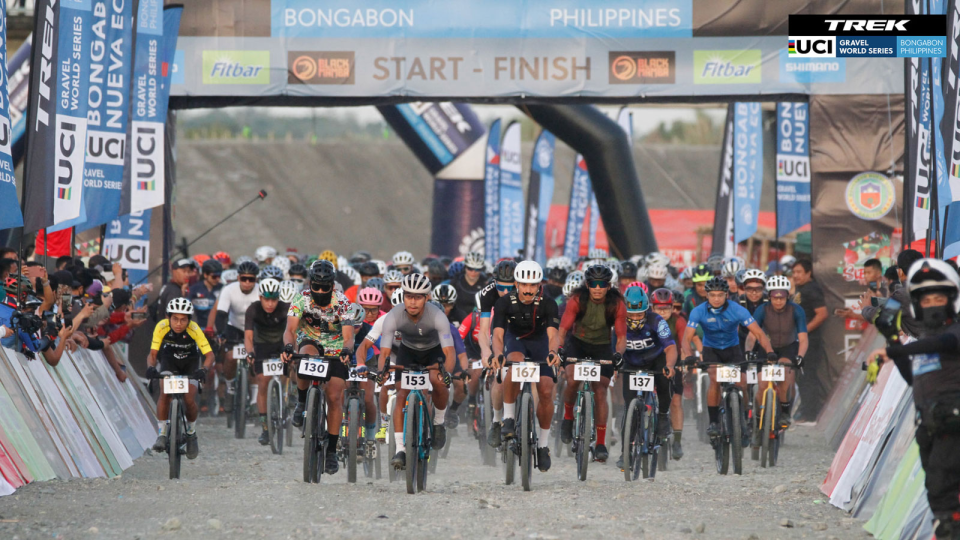 The first ever UCI Gravel event took place this weekend in Bongabon in the Philippines with a 85 km race with a challenging climb in the first 5km, followed by a flat section towards the finish. Males over 60 and females over 50 had a shorter 65km version to qualify.
Fastest overall was Philippine Riemon Lapaza (M35-39) in a time of 3:06 (average speed just over 27km/h) before Dutch Rick Nobel (M19-34) and another Philippine Mervin Santiago (M19-34) who started in an earlier start wave but need almost 5 minutes more to complete the race.
Lapaza said afterwards, ""The wind was very strong. I just endured the wind and hoped I was strong enough to make it to the finish,"
First female was Melisa Jane Jaroda in a time of 3:39 (average speed 23.2 km/h) before Ana Katrina Angelo and Janiree Dacles, all three from the F19-34 age group for a complete Philippine podium.
Lapaza and Jaroda were awarded official UCI rainbow striped gravel jerseys to recognize their status as Gravel World Series event champions.
Dutch rider Rick Nobel said of the first UCI gravel race, "There was a hard steep climbing in the beginning, some technical roads and some water crossings. We rode through the irrigation waters, so sometimes we were just into deep water. It was fun and challenging but overall, very nice."
A total of 369 riders entered the race from which 349 got it to the finish line.
The UCI Gravel World Series consists of of 12 qualifying races to be held around the world to determine the participants for the 2022 UCI Gravel World Championships.
Riders finishing in the top 25% from each age ans gender category will qualify to participate in the World Championships which have yet to be confirmed.
Link to full results: https://www.wjctiming.com/main-result