Evans and Ramsey win on home ground at the UCI Highlands Gravel Classic
The first US qualifier event in the Trek UCI Gravel World Series took place last weekend in Fayetteville, AR on a 66 mile course in the Ozark Mountains of Norwest Arkansas
The overall race winner was 30 year old Andrew Evans who won the event in a time of 4h 5m 30s, almost four minutes ahead of Mason McNeill with over six minutes ahead of Rane Roatta in third. All three podium contenders were from the M19-34 age group. The average speed of the winner was 16.2 mph on a course with 5,000 feet of climbing.
Conditions werehot a himid over 100F in the sun. Featuring miles of canopy covered gravel roads, riders enjoyed continuously changing terrain through the rural backcountry of the Ozarks – with over a dozen climbs – the longest stretching 2.9 miles / 4.7km. The highest point of the day was reached along a sprawling ridgeline after 33 miles at an elevation of 2,200 ft. – with views of the Ozarks Mountains rolling across the skyline.
Photo: Men's Podium, Andrew Evans 1st, Mason McNeill 2nd and Rane Roatta 3rd.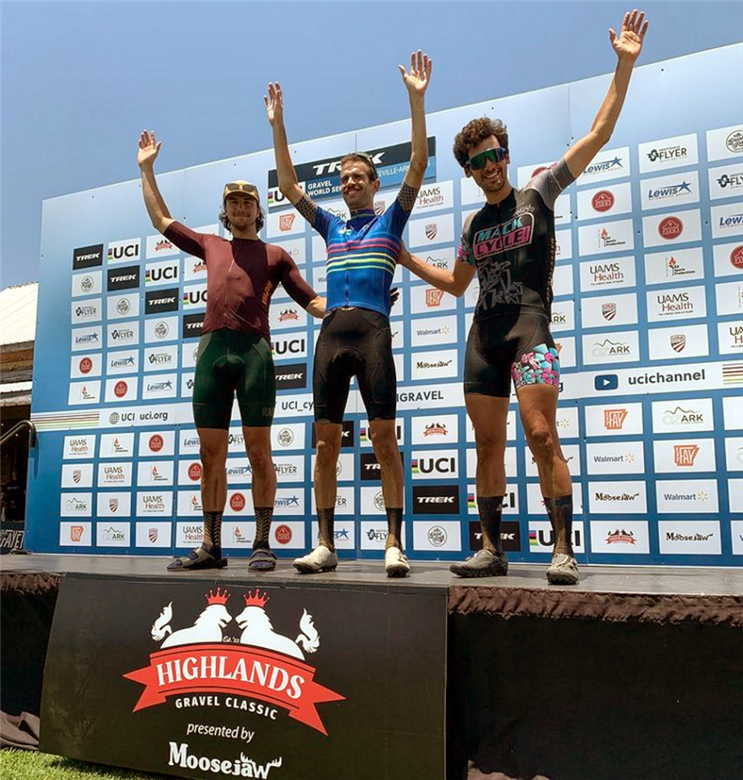 For the women, 36 year-old local rider Lenny Ramsey won in a 4h 37m 27s, 6 minutes faster than Stefanie Sydlik with Danielle Larson in third overall.
In the shorter 52 mile race that counted as qualifier for the older age groups, the overall male win was for Timothy Borsetti (M60-64) for the men and with Karen Guzman Newton (F50-54) for the women.
Photo: Women's Podium, Lenny Ramsey 1st, Stefanie Sydlik 2nd and Danielle Larson third.
the Highlands Gravel Classic awarded qualification rights for the UCI Gravel World Championships for men and women competitors that finish in the top 25% of their age group! The 25% is calculated based on the number of starters in each age group, and not on the number of riders having finished the race.
In addition, the first three riders of each official age category qualifed directly for the World Championships, independently of the number of starters in that group.
Link to 2022 Highlands Gravel Classic p/b Moosejaw Results: https://my.raceresult.com/209544