How Many Hours Should Cyclists Ride for Fitness and Performance?
The cheeky answer to, "How many hours should I ride my bike?" is, of course, "As many as possible." But that really isn't true.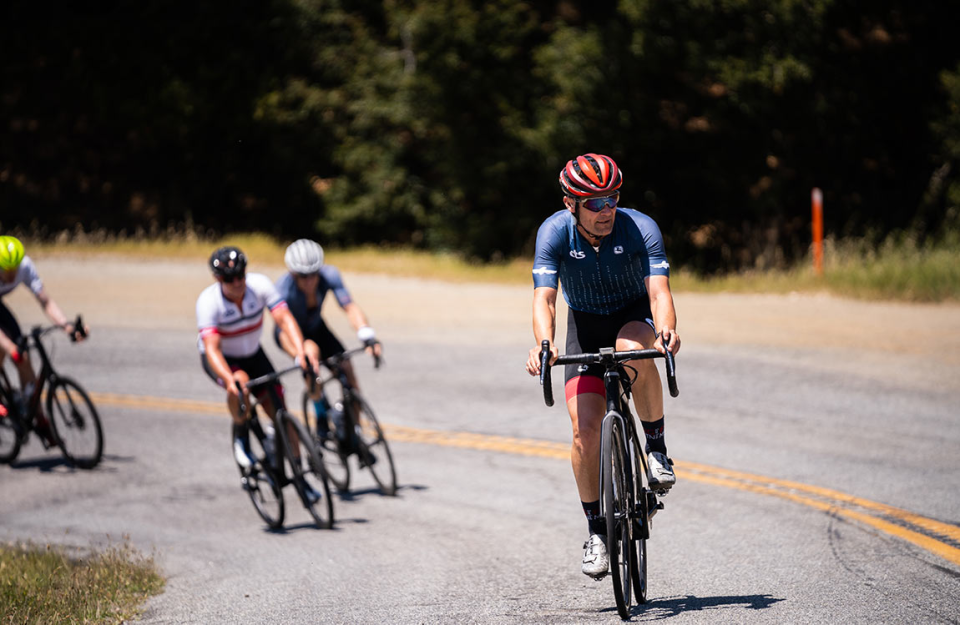 More hours on the bike doesn't automatically lead to improved fitness, greater weight loss, improved cardiovascular health, reduced chronic disease risk, improved mental health, or any of the other potential benefits of cycling.
"Just ride more" can be a recipe for disaster if the activity isn't supportable by your baseline fitness or your lifestyle habits. There is no perfect number of hours that will be best for all cyclists, but here are some good ways to find the right number of weekly training hours for you.
To start this conversation with a blank sheet of paper, let's consider a situation where there are no constraints on the time you have available for cycling. Obviously, that's an absurd scenario because you have other responsibilities in life, but I still start there because it will help you see that past a certain point, unlimited training time wouldn't make you any faster or stronger anyway.
What are you trying to accomplish?
The best number of weekly training hours depends on your goals.
Health and cardiovascular fitness
For generalized cardiovascular fitness, the exercise recommendations from the World Health Organization are pretty reasonable: 150-300 minutes a week of moderate intensity exercise or 75-150 minutes per week if you incorporate higher intensity efforts. So, since cycling is typically a mixed-intensity activity, 3-5 hours a week is a good starting point for recreational cyclists looking to achieve the basic cardiovascular and metabolic benefits of aerobic exercise.
Improved Performance
Once you decide to use cycling to improve athletic performance, particularly your ability to ride a bicycle longer and at higher speeds, the number of weekly hours you spend on the bike will need to increase, and you will need to start structuring your rides to address the physiological demands required to achieve your goal. With the appropriate training architecture, 6-10 hours of cycling per week are sufficient to prepare for the vast majority of amateur cycling events. This includes short, high intensity events like criteriums, cyclocross, short-track MTB, and your weekly Tuesday Night World Championship group ride. It also includes 2- to 3-hour events like most amateur and masters road races, cross-country MTB races, and medium-length gran fondos. And, yes, 6-10 hours a week is sufficient to train for longer events like centuries, long gran fondos, gravel events of 100-150 miles, and marathon MTB races.
Winning Competitions
Training more than 10 hours a week becomes advantageous when your goals are to be at the pointy end of a competitive peloton. Can you win a criterium or the city limit sprint on 6 hours a week? Absolutely. That's the whole premise of the Time-Crunched Cyclist books and programs, and they work very well. If you want to win the criterium at Masters National Championships, you're looking more at that 10-hour minimum. Same with a sub-9 hour Leadville 100 MTB finish or finishing near the top of your age group in a 150- to 200-mile gravel event.
The above is a short excerpt from the full CTS TrainRight article, to read the full article, please visit: https://trainright.com/how-many-hours-should-cyclists-ride-fitness-performance-training

FREE 14 DAY MEMBERSHIP TRIAL
Gran Fondo Guide fans, click on the image above and get TrainRight Membership for a 14 day no obligation trial. TrainRight Membership comes with a 30-day money-back guarantee!
About CTS
As it has since 2000, Carmichael Training Systems leads the endurance coaching industry with proven and innovative products, services, and content. And the results speak for themselves; no other coaching company produces more champions, in such a wide variety of sports and age groups, than CTS.
For more information, please visit: https://trainright.com