The Gran Fondo Worlds' Team Relay lights up the night in Trento
Slovenia 1 won the team event raced around the Le Albere district, concluding the day 2 of the UCI Gran Fondo World Championships. Earlier in the day, the riders enjoyed the chance to seize the atmosphere in the beautiful city of Trento, whose hotels are fully booked for the event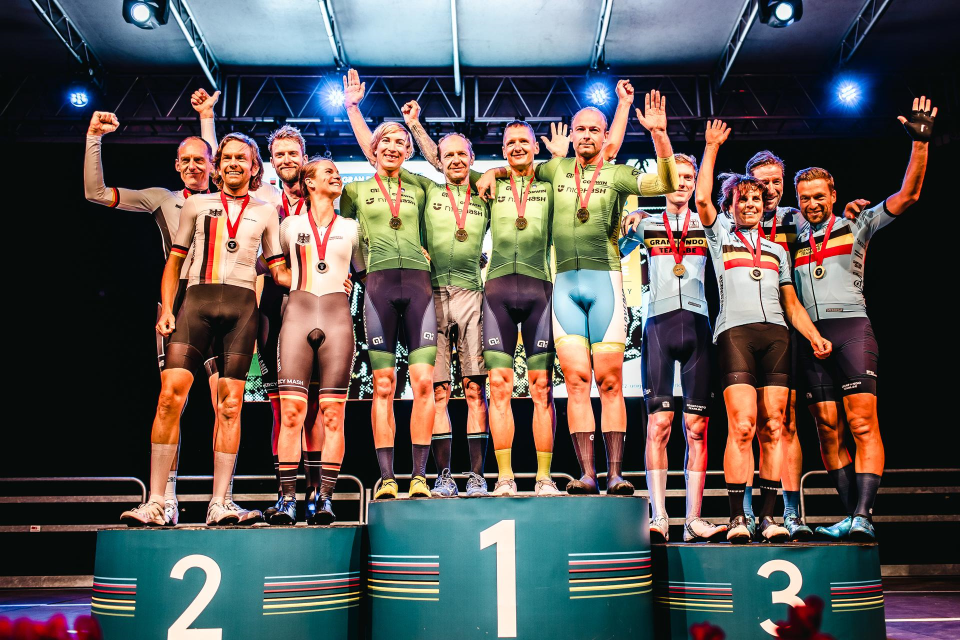 The UCI Granfondo World Championships in Trento have reached the second of its four days (September 15th to 18th, 2022). After Thursday's time trials, the Team Relay was the highlight of Friday, September 16th: the team event saw 22 national squads of four riders compete on a 2km ring around the Le Albere district.
Winning the title is Trento's night was the Slovenian Team 1, formed by Laura Simenc, Hren Ales, Dean Bratus and Bogsa Uros. Germany 1 was runner-up ahead of Belgium 2.
Before the race, the athletes had a full morning and afternoon to recover from the previous effort and immerse into the city atmosphere, discovering a vivid and crowded Trento, whose hotel accommodations are sold out for the weekend due to the event. Over 4000 people – between athletes and registered companions – are taking every chance to enjoy the Trentino's lifestyle.
Culture, taste, but also respect and cycle paths: the city is certainly leaving a mark in the heart of its bike-loving visitors, who are about to pass the baton to those sports fans heading to Trento next week to meet the greatest champions in sports, the special guests of Il Festival dello Sport (September 22-25).
Tomorrow, Saturday, September 17th, the programme features arguably the most awaited of its side events, the Charly Gaul uphill time trial powered by Sportler on the Monte Bondone, also open to athletes not qualified for the World Championships. Starting at 6 pm CEST, the registered runners will face at sunset the famous slope from Sardagna to Vason (13.6 km with 1048 meters of altitude) of the iconic climb, celebrating the legend of Charly Gaul and the tradition of the former Granfondo carrying his name.
The grand finale of the World Championship in Trentino will arrive on Sunday, September 18th, when at 10.00 CET the over 1.600 participants in the Granfondo (143.8 km, 3900 mt elevation gain) and Mediofondo (86.8 km, 2218 mt elevation gain) races will start from the Le Albere district. Once again, the Monte Bondone will be centerpiece, as the Granfondo riders will have to climb it twice from two different sides, first from Aldeno and then from Sopramonte - and finally a third time up to the Candriai turning point, when only 13 km will separate them from the rainbow apotheosis.
Both Saturday and Sunday, the Le Albere district will come to life already in the morning, thanks to the activities and entertainment of the Viva FM Partner Radio, the Pump Track powered by Sportler, and the unique spirit of the cycling people, who seem to have found the perfect place to gather themselves in the name of two wheels.
Link 2022 Gran Fondo Worlds' Team Relay Results: https://www.endu.net/it/events/uci-gran-fondo-world-championships-team-relay/results