The Best Cycling Workouts for Rolling Hills, Long Climbs, and Steep Walls
We have yet to meet a cyclist who doesn't want to go uphill faster, but not all hills are created equal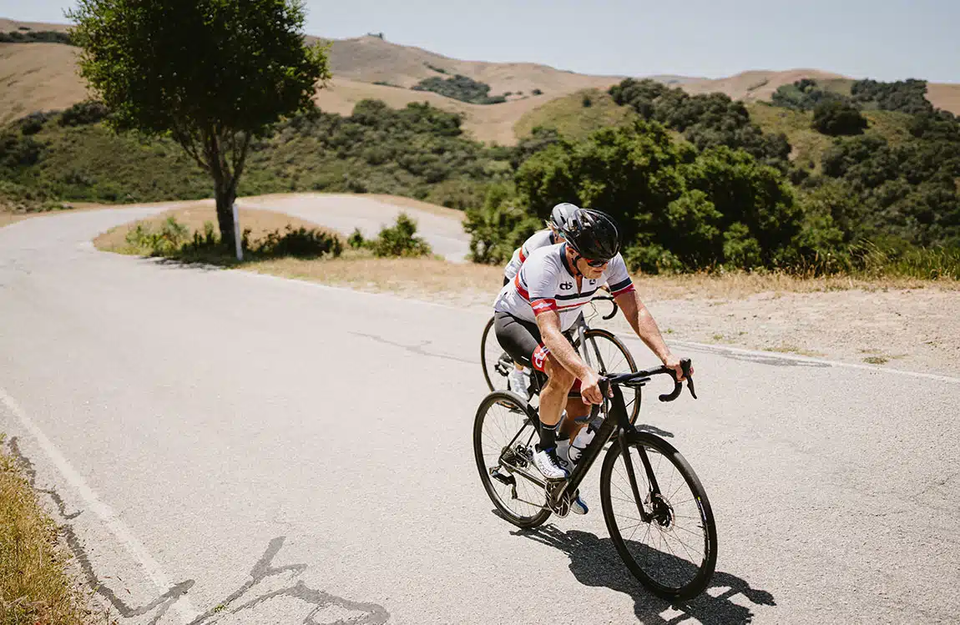 Rolling hills aren't very long but they often come one right after the other and can add up to a surprising amount of elevation gain. Sustained climbs take patience and power, and the key to success is the ability to maintain a steady effort. And then there are the short, steep walls; too short to get into a rhythm, too steep to maintain a nice spin. Time for a little explosive power. No matter what you're up against, here are three workouts designed for the specific demands of different types of hills.
Steamrolling the Rolling Hills
For the purpose of this article we're going to define rolling hills as relatively shallow grades that only last 1-2 minutes each, but riding in regions of the country that feature rolling hills can be tortuous because these small hills come one after another for hours on end. HillAccelerations are a workout that can help you develop the power to better meet the demands of rolling hills, but remember it's a specific workout, not an advisable strategy for riding every hill on a long ride in hilly terrain.
HillAccelerations Workout
Ride the majority of a hill at a steady and sustainable pace until you're about 200-300 meters from the top. Stay seated and accelerate until you're about 10 seconds past the summit. Focus on increasing your cadence to cause the initial acceleration and then use your gears to keep increasing your speed as you reach and pass the top of the hill. Recover with 5 minutes of easy spinning and repeat. Novice riders should complete 4 HillAccelerations, intermediate riders (Cat 3 and Masters) should complete two sets of 4 with 10 minutes of recovery between sets, and advanced riders can do two sets of six.
Tips for riding rolling hills:
Momentum and shifting are the keys to thriving in rolling hills. Pedal moderately on the downhill to gain speed and shift gears as you go up the next roller to keep your feet moving at least 80 rpm. Try to resist the temptation to ride the whole hill in the big gear you are in at the base; that'll work on the first few hills but not all day long.
Outlasting the Long Climbs
The most common climbing workout for cyclists is a simple and self-explanatory ClimbingRepeat, but OverUnders take this interval set one step further. By deliberately alternating between a sustainable and higher-intensity pace, you not only develop greater power at lactate threshold, but you learn to process lactate better and improve your ability to handle changes in pitch and pace on sustained climbs.
OverUnder Workout
During 9-minutes of sustained climbing, start out with two minutes "Under" at a steady and sustainable climbing pace (86-90% of your maximum sustainable power output or 92-94 of your maximum sustainable heart rate), then accelerate to your maximum sustainable pace (95-100% of your maximum sustainable power output or 95-97% of your maximum sustainable heart rate) for the one-minute "Over" portion. At the end of a minute, return to your "Under" intensity for another two minutes before accelerating again to your "Over" intensity for the next minute of the interval. Continue with another cycle (two minutes under, one minute over) to make a nine-minute interval. Aim to keep you cadence above 80 throughout the interval. Take six minutes of easy spinning recovery between intervals.
Tips for riding long climbs
The biggest mistake people make is attacking the climb too hard at the bottom. Instead, visualize riding like a carpet unrolling. Start a long climb at a conservative pace so you have energy for the steep sections and energy for the last few kilometers. In reality you're not likely to actually speed up toward the top; you'll just slow down less. The end result, however, is that you're likely to complete the entire climb at a faster overall pace (lower elapsed time) because slowing at the top is where athletes lose a ton of time.
Conquer Steep Walls
In Philadelphia, more specifically in Manayunk, they actually have "The Manayunk Wall." It's just a straight up steep incline, similar to the Mur de Huy from La Flèche Wallonne, and there are many more just like it all over the world. Climbing these and staying with the group is more a matter of brute strength than refined fitness. Anaerobic capacity is key to success on short, steep hills and HillSprints will give you the punch you need to get up the hill. Just remember, once you hit the summit, use your gears to bring your cadence up so you don't get dropped after the climb.
Hill Sprints Workout
Find a short steep hill with a flat road leading into it. Ride toward the base of the hill at a moderate speed (15-20mph). With your hands either in the drops or on the hoods, get out of the saddle and start sprinting about 25-50 meters before you start going uphill. Continue sprinting up the hill for 20 seconds. Recover with 5 minutes of easy spinning between sprints. Novices should complete 4 HillSprints, intermediate riders should complete two sets of three sprints with 10 minutes between sets, and advanced riders should complete two sets of five sprints with 4 minutes between sprints and eight minutes between sets.
Tips for riding short, steep hills
Riding walls is kind of an art form. Because of the grade and the resistance your cadence is going to fall, probably below 70rpm. But you have to achieve a balance between over-gearing (which drives your cadence even lower and causes you to bog down) and spinning (which will cause you to lose momentum). These hills are a good opportunity to use your bodyweight by climbing out of the saddle, especially since they tend to be short enough that you can reach the top before fatiguing. The biggest mistake riders make is to stop pedaling or softpedal at or near the top. Instead, stay focused all the way over the top and only start recovering once you're past the summit.
The above is a short excerpt from the full CTS TrainRight article, to read the full article, please visit: https://trainright.com/cycling-workouts-rolling-hills-long-climbs-steep-hills

FREE 14 DAY MEMBERSHIP TRIAL
Gran Fondo Guide fans, click on the image above and get TrainRight Membership for a 14 day no obligation trial. TrainRight Membership comes with a 30-day money-back guarantee!
About CTS
As it has since 2000, Carmichael Training Systems leads the endurance coaching industry with proven and innovative products, services, and content. And the results speak for themselves; no other coaching company produces more champions, in such a wide variety of sports and age groups, than CTS.
For more information, please visit: https://trainright.com