Discover Flanders this spring in upstate New York at Troutbeck.
Along with the backing and assistance of VisitFlanders in NYC, we have created our "Flanders in New York" cycling weekend in upstate New York that will be held from March 30 – April 3rd. Each day, we are going to feature live virtual visits from Flanders.
For example, our guests can look forward to a private meeting with the "Lion of Flanders," Johan Museeuw (three-time champion of De Ronde), as well as guided, curated visits to two of the most famous cycling museums in the world, the Tour of Flanders Museum in Oudenaarde and the Koers Cycling Museum in Roeselare. After our daily virtual visits to Flanders, we are going to explore the roads of the Hudson River Valley and the nearby Litchfield Hills of western Connecticut, where we will visit some of the most picturesque towns in the region as well as discover some of its finest restaurants.
Troutbeck in upstate New York is a real jewel and is the ideal place to host this trip. It's only two hours from New York City and three hours from Boston. In addition to its comfortable rooms and ambiance, Troutbeck has served as an enchanting private estate, country inn and tavern since 1765 and has, for centuries, been a favored retreat of distinguished guests important in the arts, letters, matters of policy, and social justice. For example, during the time of the estate's first owners, the Benton Family, it was a frequent host to such writers as Mark Twain, Henry David Thoreau, Ralph Waldo Emerson, and the naturalist, John Burroughs. It gives us the chance to combine two worlds with rich histories for a weekend at an unforgettable destination.
Schedule
March 30 - Welcome to Troutbeck! Just two hours out of New York, guests can meet us at either the Wassaic Train Station or at Troutbeck. Following check-in for the next four nights, enjoy lunch at the Inn before a short afternoon spin to Millerton, voted "one of America's coolest small towns!" This evening, we'll begin the "Flandrien Experience" by sampling an assortment of Belgian beers before savoring a farm-to-table dinner prepared by the hotel's award-winning chef!
March 31 - Koers Cycling Museum Live Virtual Tour! / Western Connecticut Cycling! Following a delicious breakfast, you'll enjoy a virtual private Zoom session with a visit to the Koers Cycling Museum in Roeselare, Belgium! This is one of the greatest cycling museums in the world and today's visit will showcase the museum's top displays. This will be truly memorable!  Afterwards, enjoy the cycling through the beautiful countryside of the Litchfield Hills in western Connecticut, complete with local vineyards and covered bridges. This evening, we'll learn about the rich history of the Flanders region over Belgian beers before enjoying dinner at a local establishment.
April 1 - Tour of Flanders Museum Live Virtual Tour / Hudson Valley Cycling. Begin your day with breakfast at Troutbeck before another exclusive virtual visit live from Flanders! You'll definitely sense the atmosphere today there in Belgium as we visit the Tour of Flanders Museum in Oudenaarde!  After our visit, we'll head west on quiet roads towards the Hudson River Valley and the historical town of Rhinebeck! Featuring views of the Catskills, this delightful destination features the country's oldest continuously run inn and is a food lovers paradise. Following lunch, cycle back to our hotel or choose to take the van shuttle. This afternoon, relax in the spa before learning about the famed Belgian chocolates and what makes them some of the world's finest. Of course, plenty of samples will be on hand! This evening, we'll enjoy dinner at a local favorite restaurant.
April 2nd - Flanders Museum and Art Gallery Live Virtual Tour / Dutchess County Tour / Flanders Raffle and Dinner. Savor a relaxing breakfast before enjoying our final virtual visit to Flanders newest cycling museum with it's amazing art gallery! After our visit, our ride for the day will explore the quiet roads, farms and charming small towns of Dutchess County. This afternoon, sample some of Belgium's finest beers while enjoying our "Flandrien Raffle!" Afterwards, we'll enjoy a festive group dinner at the Inn.
April 3rd - 2022 De Ronde van Vlaanderen Live with Belgian Brunch! / Checkout and Departures. Today is the "Super Bowl of Belgium!" Begin your day with a specially prepared brunch featuring Belgian waffles and all the fixings while you witness the 2022 Tour of Flanders live! Cheer on your favorites as they race over such mythical "bergs" like the Oude Kwaremont, Koppenberg and the Paterberg! Following the conclusion of the race and brunch, our "Flandrien Weekend" will conclude with checkout and transfers to the Wassaic Train Station. It will prove to be a truly "Flandrien Weekend" in New York.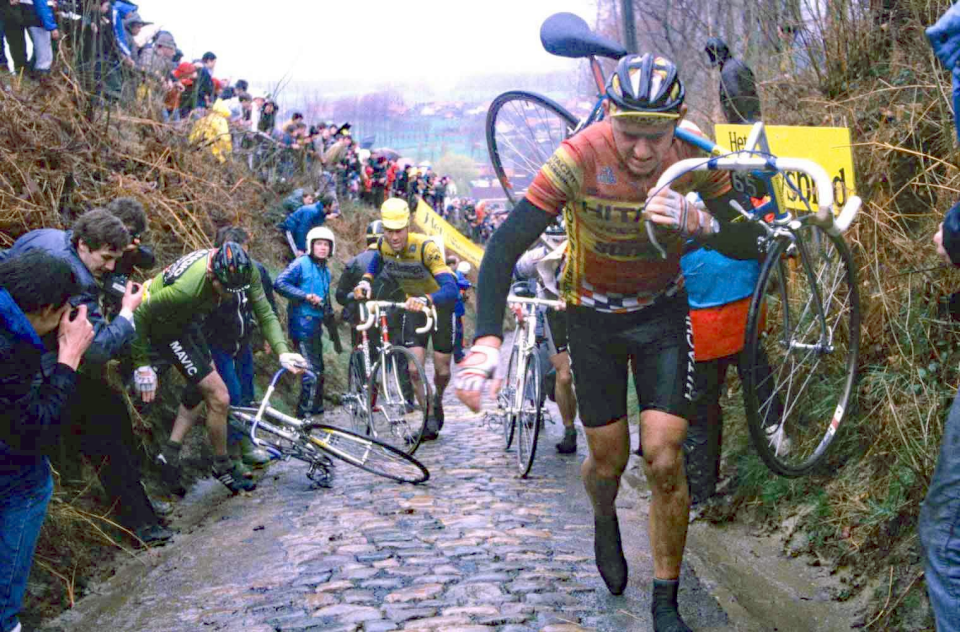 Four nights of accommodations at the award-winning Troutbeck Inn in upstate New York.
Four days of cycling through the Hudson Valley and western Connecticut.
Live virtual tours with Flanders leading cycling museums.
Live viewing of the 2022 Tour de Flanders at Troutbeck with a Belgian Waffle Brunch!
Flanders Raffle!
All transfers as outlined above.
All luggage transfers.
Full sag-support on your daily rides with stocked refreshments, water, and other goodies.
Daily professional mechanical assistance to keep your bike in top condition.
Meals as outlined above (All breakfasts, two dinners, and the Tour of Flanders Brunch!)
Maps and GPS routes to guide you on your rides.
Belgian beers, chocolates and other assorted goodies from our sponsors!