Iberica-Traversa gravel and trails route has been voted as the most demanding yet the most beautiful, according to finishers, route they have experienced! The route leads the riders through rough and remote terrain in Bardenas Reales and Gorafe desert, along with some of the best single-track trails in all Spain. 1720 km long with insane 30000 of elevation gain.
Mandatory checkpoints: Pamplona Castle San Cristóbal, Cuenca, Gorafe, El Cuartico (halfway), Granada, Ronda.
Real off the grid adventure awaits you!
Ride through the megalithic tombs of the Gorafe Depression, between high cliffs scattered with ancient cave dwellings. Cross the ancient bridges of Ronda and ride along the historic trails used by pilgrims crossing the Iberian Peninsula for centuries. Experience the raw and remote beauty of the Bardenas Reales Desert while riding some of the best singletrack trail in Spain. The Camino Del Rey looms above the route in Andalucia, and the massive complex of the Alhambra in Granada eclipses the view from Plaza Mirador de San Nicolas. This is just a taste of the incredible experience that awaits participants in the Iberica Traversa.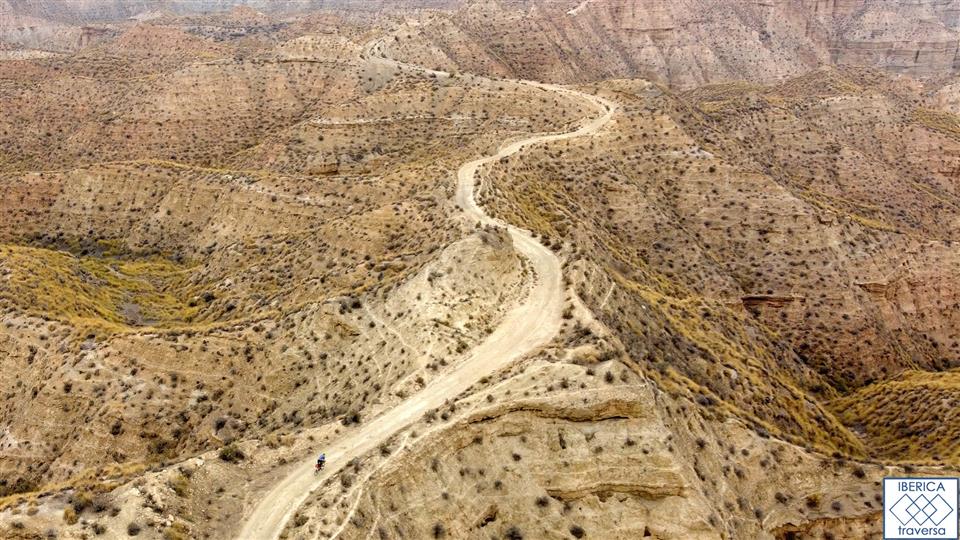 GPX files for the 1710km test gravel/trail route or the 1800km testet road route.
Our handmade Iberica-Traversa backpack and cap with your start number printed by hand.
"Iberica-Traversa" stickers for your bike.
Live tracking service.
Every rider gets a high res. group photo from the start and we give our best to catch every rider minimum once on the route for a photo.
Great scenery and pain, meeting making new friends