The Borrego Double Ordeal is a difficult double century, starting in the desert town of Borrego Springs and leading over a mountain range to Oceanside and back.
204 miles and 13,000 feet of climbing.
The Borrego Double Century starts in the small desert town of Anza Borrego Springs, about 100 miles east of Oceanside. Known for it's clean air and a billion billion stars, the camping is delightful. You will not find any fast-food restaurants or Walmarts here. Infact, you won't even find one signal light.

The ride starts at Christmas Tree Circle, a round-about, in the center of town and travels west for about 3 miles towards the awesome Montezuma Grade, and 11 mile pass that gradually takes you up out of the desert and into the mountains. From the summit, you will soar down towards Lake Henshaw, turning south onto Mesa Grande, a super cool back road with climbing that takes you "out back" towards the 4 building town of Santa Ysabel. Julian Pie Shop here will serve the cyclists fresh baked, still warm Julian Apple Pie at the park adjacent to it, with cold milk from Don's Market. From here, the cyclists will move on towards the quaint town of Ramona, and on down the hill towards Escondido for the next rest stop.

Mostly flat from here, the cyclists can now almost smell the ocean air as they move their way towards the Pacific Ocean in Carlsbad, which turns north towards Oceanside. The palm trees swaying seem to greet the cyclists with open arms; lunch is right on the ocean with a terrific view of the Oceanside pier.

Next, an eleven mile bike path takes you inland. You will travel up a backroad called Lilac all the way to the small town of Vallely Center. This town is so small, I have yet to see the town part. I have seen one store, but we don't bike by it. At any rate, you will travel on a back roads with about 3 rollercoaster hills and then one long descent to the "Smoothie Reststop". Fred Klinzman, my web man, invented the smoothie idea for White Mountain Double, and I decided to add it to Borrego's DC. Onward and Upward towards Julian, another one horsetown, with one stop sign.

Julian is the big summit of BDC. The checkpoint here serves chicken vegetable soup which seemed to be a popular favorite at this time of day. Next, you'll travel down the long, windey Banner Grade back out into the desert. A left turn will take you up the two mile Yaki Pass, always with a tail wind, then down the pass to a left turn which will have you fighting through a two mile headwind which eventually curves north and heads straight for Christmas Tree Circle. The air will be sweet, the stars will twinkle, and the Palm Trees will welcome you with open arms. 14,900 feet, 203 miles, Congratulations, You have made yourself a Borrego Double Century Winner!!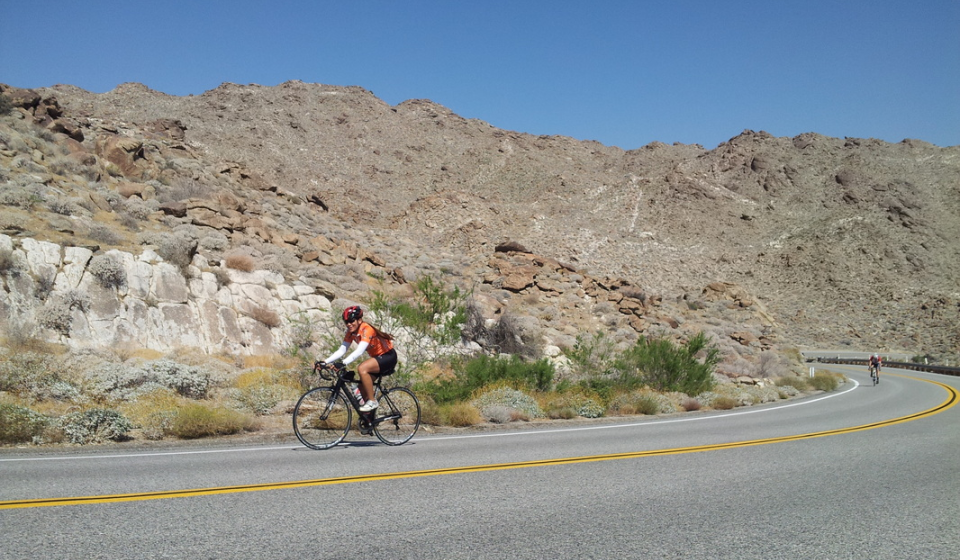 Seven Rest stops/ Post Ride meal/ Excellent water with a variety of excellent supplements.
Friday night from 5:45-7:45pm.