A unique opportunity to experience the magic of Sydney by bike, capturing the city's iconic attractions, landscape and views. Join 10,000+ for a celebration of cycling starting in North Sydney and continuing across the Sydney Harbour Bridge main deck and on to the festival-style atmosphere at finish-lines in Pyrmont and Sydney Olympic Park.
Since 1983, SPRING CYCLE has been attracting riders of all ages and abilities, on bikes of all shapes and sizes. By showcasing Sydney's growing cycling infrastructure and facilities, the event promotes cycling as a viable, sustainable recreation and transport option, and the importance of a healthy, community lifestyle.
Riders push off in North Sydney before riding over the main deck of the Harbour Bridge, along the Cahill  Expressway, through the Royal Botanic Gardens, into the Rocks and over to Pyrmont before winding their way through the picturesque suburbs of the Inner West and finishing along Olympic Boulevard in Sydney Olympic Park. The finish sites at Pyrmont and Sydney Olympic Park provides a festival style atmosphere with music, food, exhibitors and entertainment. Riding With the Stars - unique experience to ride alongside cycling personalities and celebrities. Money can't buy opportunity. Tickets are won.
15km Sydney Rides the City - ideal for families and novice riders who want to experience the thrill of riding over the Sydney Harbour Bridge and Sydney's most iconic landmarks. Festival finish at Pirrama Park, Pyrmont.
50km Polygon Classic Ride - for those looking for a challenge, this route takes in the best of the City before taking riders through the Inner West and into Sydney Olympic Park for a festival finish and cycling expo.
100km Challenge Ride - for the club, elite, weekend warrior, this ride will challenge even the experienced rider. A ride that has the beauty of the City Ride and Classic Ride, but also provides a mate vs. mate, club vs. club peloton style ride at Sydney Olympic Park, providing a riding experience not seen before in NSW.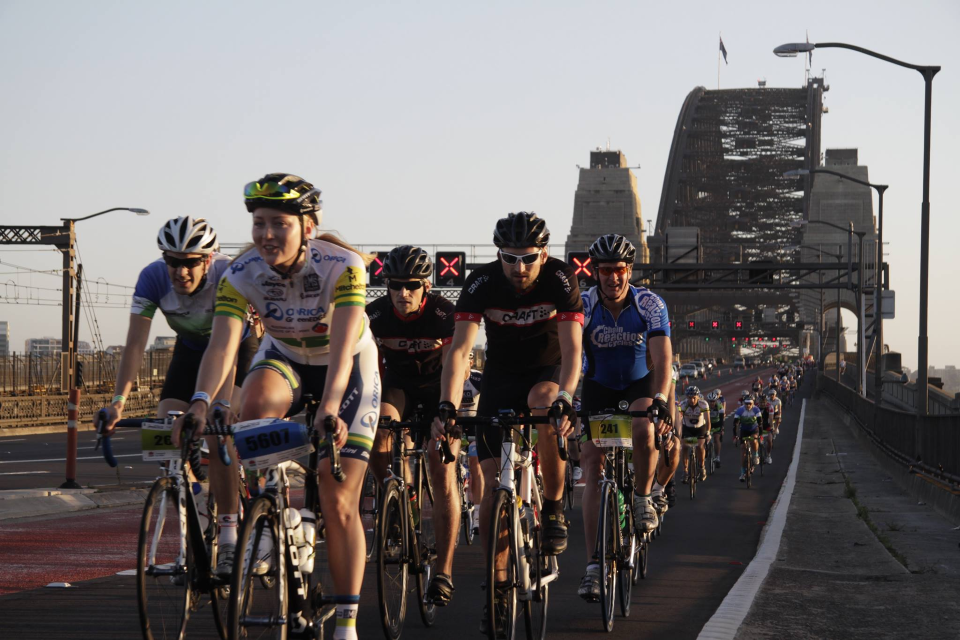 All Spring Cycle Riders will recieve free travel on trains and ferries on the day of the event. You just need to have your registration number with you.
All riders completing the 50km and 100km ride will recieve free entry into the Australian Health and Fitness Expo. Along with a festival style finish filled with things like, live music, massage tents, free bike valet parking, market stalls, food stalls and much more.
Thos completing the 15km City ride will also ride to a festival style finish line where there too will be live music, Sydney Rides Festival entertainment, activities and information, cycle skill courses, jumping castle, face painting and much more.