L'Albigeoise is a new event in the UCI Granfondo World Series. The event itself has a 23 year old tradition and will be organized in Albi, situated in the south of France (Midi-Pyrénées). Albi is a sports city.
The Tour de France already arrived 12 times in Albi with Peter Sagan as most recent winner in 2013. But the most remarkable fight in the Tour history of Albi was held between Eddy Merckx and Luis Ocana in the tour of 1971. Merckx won the time trial on the same car racetrack only 12 seconds ahead of Ocana who kept yellow to lose it the next day after a crash in the downhill of Col de Mente.
There is a 22.5km Time Trial on May 26th.
The road races on Sunday May 28th will have two circuits. Younger riders will have a 149km course while the other age groups will take a shortcut to finish after 97km.  The region is called "little Tuscany" with magnificent undulating roads for a total of 1500m of elevation for the long distance.  Hills are never very steep and the start and finish sections are mainly flat.
The road races start in the city center on the square before the famous cathedral to finish again on the car racetrack just outside the city.
The World Championships UCI Gran Fondo will also take place in Albi, between 24 and August 27, 2017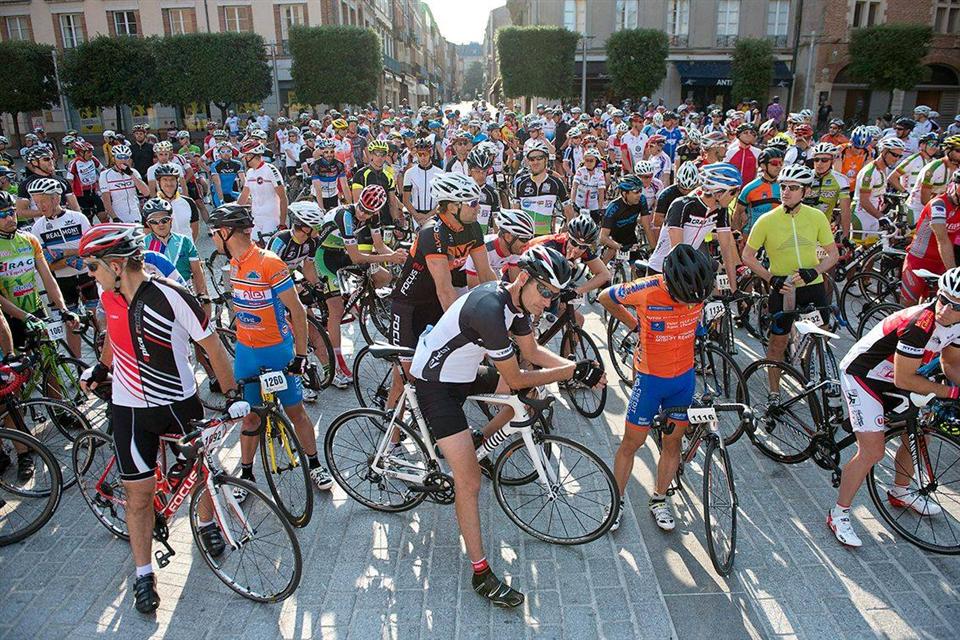 Participants will start in two groups, with individual starts for each of the distances in the Albigeoise.
-The start of the 149 kms will be at 9am, at the Parvis of the Cathedral Sainte Cecile in the center of the town of Albi.
-The start of the 100 kms will be at 9:15 am in the same location.
-The times could be reevaluated depending on the conditions of the moment. Each participant will be informed of any changes when they pick up their race packet.
Prize / Race Categories
The event is a qualifier for the UCI World Granfondo Championships, so the UCI categories listed below are in effect.
The Age Categories for Men and Women are as follows:
Cat H1/F1: 18/34 Years old
Cat H2/F2: 35/39
Cat H3/F3: 40/44
Cat H4/F4: 45/49
Cat H5/F5: 50/54
Cat H6/F6: 55/59
Cat H7/F7: 60/64
Cat H8/F8: 65/69
Cat H9/F9: + 70
Cat H: Handisports
The men in categories H1,2,3,4,5,6 will ride the long course (the Albigeoise).
All women categories as well as, H7,8,9 will ride the short course (the small Albigeoise).