The course follows the exact same course that Australia's best cyclists will be racing. With support all through the ride including Aid Station, moto scouts, mechanical support and closed roads, this the best way to take on Mt. Buninyong 5.2% average gradient.

After the ride, you are invited to the Gran Fondo Athlete Recovery Zone where you can put your feet up after a big afternoon in the saddle. We will help your recovery with a free beer and food on arrival to the zone. We look forward to hearing all the stories from out on the road there.
This is the only way to ride the official Federation University Road Nationals Road Race Course with completely closed roads and a crowd cheering you on. We are offering you the unique chance to ride the same course that will decide Australia's next National Road Race Champion.
Teams Details:
This year we have introduced a teams category into the Nationals Gran Fondo. All you have to do is register your team name when you enter the event and the invite 2 of your mates to join.

We will be awarding the winners for both men and women and in the following combined age groups.
60+
90+
120+
150+
180+
Age groups: by total age of the youngest three members according to the 2021 year.  Please note a maximum of 5 riders are allowed in any one team.
Example: If there are 3 riders of ages 35, 40 and 44 then their age group is 90+ because their cumulative age is 119.
Mixed gender teams are permitted but will be awarded in the Men's category.
Don't worry, you will still be eligible to win the individual category as well! If you have already entered as an individual and want to join a team, please email EntryBoss at support@entryboss.cc and they will be able to help.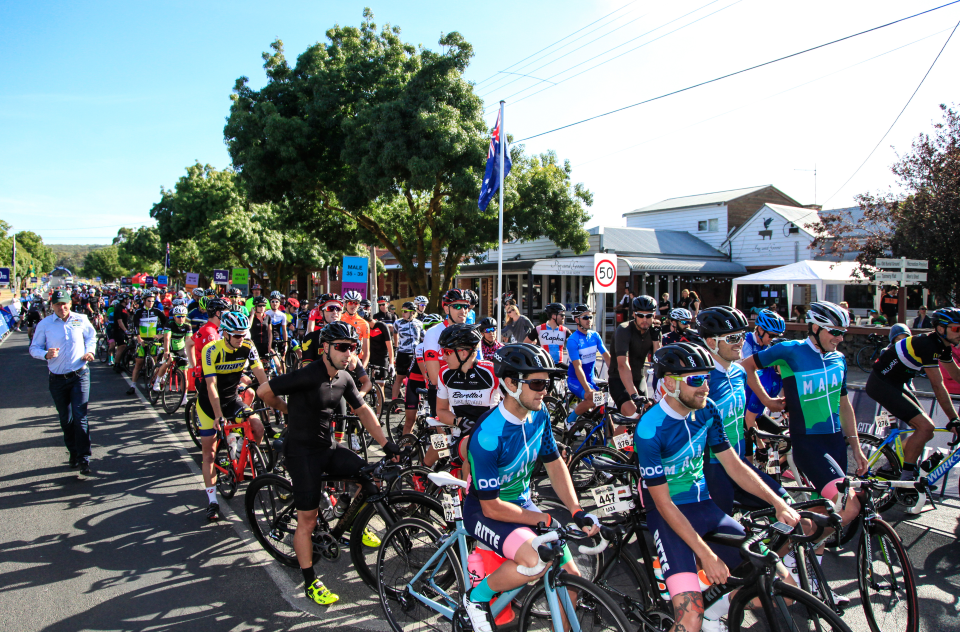 Registration Fees
Cost: $75 per person
Location: Warrenheip St, Buninyong
Distance: 5 laps or 2 and a half hours on course
Format: Fully Closed Road Recreational Event and Championship Race
Age Groups: 18-34, 35-39, 40-44, 45-49, 50-54,
55-59, 60-64, 65-69, 70-74, 75+ (Age is as of 1st January)
Minimum age: 16 years
- Completely closed roads
- SIS Nutrition packs
- FREE Physio Sessions post race
- Numbered Timing
- 1st place from each category will gain automatic entry into the UCI Gran Fondo World Championships
- Rider Guide, including Safety Briefing information
- AID Station Food and Drinks
- Mechanical Support
- SAG Wagon Support
- Medical Support
- Police Support
- Moto Scout Support
- Exclusive access to the Gran Fondo Recovery Area with complimentary food and drink