The exciting sixth annual Bluewater International Granfondo welcomes cyclists to the Lambton County's Bluewaterland, starting and finishing in the City of Sarnia's beautiful Mike Weir Park.
There are four routes to choose from all of which will take in some outstanding views of Lambton County with the finish for all routes being along the stunning shores of Lake Huron. The  four routes are 30k, (family) 50K, 100K, and 150K each with its own start time specifically designed to avoid mass start anxiety and allow riders of all routes to finish within a reasonable time of each other. B.I.G. utilizes timed sections which is a format that prevents chaotic starts but still allows competitive juices to flow. This format allows all riders to receive a competition time for the timed sections (no overall time will be given) while also being able to to take your time in between times sections and regroup with friends upon completion of the timed sections. Riders can cool off with a refreshing swim in Lake Huron prior to relaxing to live music  while enjoying a well-deserved beer or soft drink along with some very tasty food.
Whether you are looking to experience the enjoyment of riding on quite country roads or through thriving fruit orchards or challenge yourself on the rolling hills of Arkona you will find it all in this area of outstanding natural beauty.
For more info visit www.bigf.ca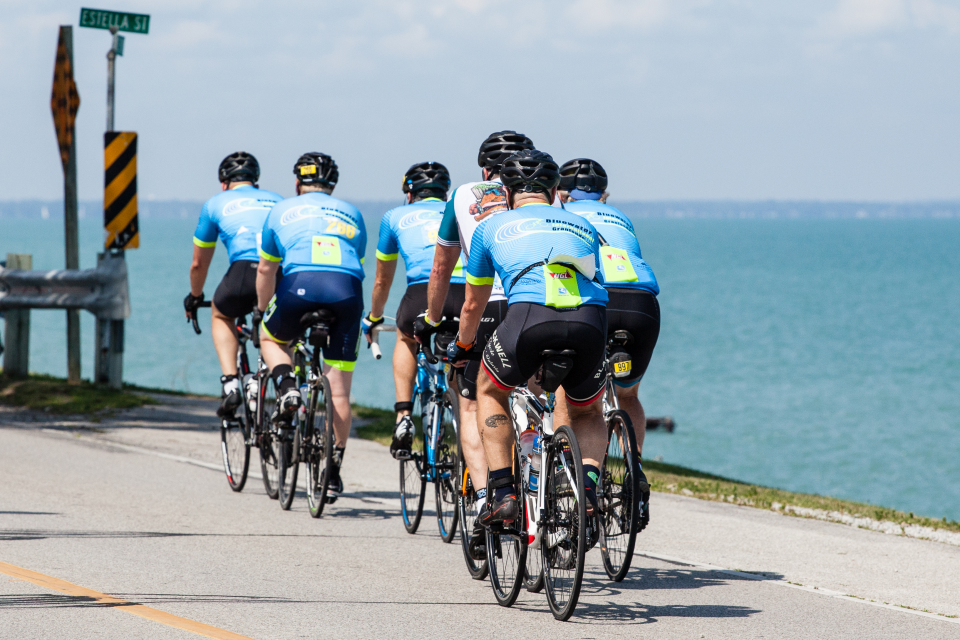 B.I.G. supports two charities, St. Joseph's Hospice and Bluewater Health's Palliative Care. To date $240,000 has been raised  with the emphasis being on further education of staff in the field of Palliative Care. This includes funding The Bluewater Palliative Care Retreat, a 2-day conference in Lambton County, featuring a number of world-renowned speakers in the field of Palliative Care. https://bpcr.ca
During the 12 weeks prior to B.I.G. " Monday and Wednesday Night Rides" are hosted. These are training/educational rides, both experienced and inexperienced riders are encouraged to participate in. However the emphasis on Monday nights is on assisting newer riders and each week starts with a short educational talk by local experts covering road safety, nutrition, tire changing etc. Riders are then divided into five groups based on distance and speed with each group having either two or three guides assigned to them for the evening. In 2019 "the rides" became extremely popular causing registration to be closed at 240 participants. Each participant received sponsored T shirts promoting the rides. (picture attached)
The Ontario First Responder Road Cycling Championships (Fire - Police - EMS)
First Responders show their dedication every day. Increasing focus to integrate Palliative Care into EMS allows for the delivery of advanced Palliative Care at home or expediting admission to Hospital Palliative Care Unit or Hospice. For 2022 BIG is again proud to host Ontario First Responders Road Cycling Championship (OFRRCC).
First Responders are committed to their community and to their teammates. The OFRRCC will give them an opportunity to showcase their dedication to the sport of cycling while taking part in a terrific community event. The OFRRCC is open to active and retired sworn and civilian members of the police, fire and paramedic communities. The unique format of the Championship allows the riders to enjoy a casual ride or to "ride to win". Their ride will consist of a 100km route which is part of the Bluewater International Granfondo. Within the 100km, there are three timed sections (7km, 2km and 9km) which can be raced for the championship. The winners will be riders who finish the 100km route and post the fastest cumulative time in the three sections. Because only sections are timed, riders will be afforded the opportunity to regroup, ride together, and enjoy the support of the Bluewater International Granfondo.
Participants will compete in the following categories: Men/Women Individual, Masters (over 40) Men/Women. We find OFRRCC  to  be an excellent complement to Sunday's B.I.G. making Sarnia a special Canadian cycling weekend destination for both riders and fans.