In a few months we will celebrate the come-back of the daylight saving time Sunday 29th of March with…
The Gravel Ride des 13 Châteaux 2.0 !
We will be back in 2020, again with the help of VENOM Cycleworks and LEAP consulting
Pay attention to the timing, we set the clock backward that Sunday.
General information – PLEASE READ CAREFULLY !
Date : Sunday 29th March 2020.
Car park : Pavillon de la Heid des Corbeaux - Route du Rond Chêne 10 – 4130 Esneux (Belgium).
Start : VENOM Cycleworks' workshop, at 800m from the parking lot (route will be marked with arrows).
Timing : Gathering, final registrations and briefing at 8:30 at the VENOM Cycleworks' workshop. Group start at 9:30.
Arrival : Pavillon de la Heid des Corbeaux, for the after ride drink and a bread with sausage (or a veggie version) will wait for you to help you chill out in good company.
Route : You get to choose between two lengths 65km (1000D+) or 100km (1700D+). See details below
GPX trace : The routes are not marked with arrows. GPX files will be sent to you a few days prior to the event (mail, Dropbox, Komoot, Strava).
Registration is compulsory: Event limited to 100 participants but… no limit for women who will be able to sign up even if the event is sold out !
Entry fee : 10€ to enjoy a good coffee and more at the start. At the finish a famous "pain saucisse" that will come from a local butchery (or a veggie alternative) together with a drink will wait for you.
Please mention "Veggie" in the communication of your bank transfer if applicable
Registration : You will be registered after we receive your payment.
That amount of 10€ must be transferred on the bank account (sorry the event is sold out), if you're a women, send us a message to receive payment instructions.
mentioning your first, last name and your email address (replace @ by "at" in the communication field if your bank doesn't allow it).
We will close the registration by the 20th March, unless we reach the maximum attendance before that date.
We will also ask you to sign a disclaimer that will be sent to you by email along with the confirmation of your registration.
It would be great if you can print it and give it back to us signed and completed, this will save us some time !
The routes :
About 100km (+-1700D+) : A tough one (slightly or very different from the 2019 edition), call it light MTB or technical Gravel with some rocky sections and some climbs will be steeper than in the 65km version.
More than 60% of the route is off road.
About 65km (+-1000D+) : Technical sections have been limited as much as possible, hardly any steep climbs needing small gearing (almost no red section to be found on the profile in the Komoot app) , so just some good times, there will be as many Châteaux, gorgeous landscapes and the possibility to go back to the start following an easy route if go down in the Ourthe's valley whenever you like to follow the Ravel's cyclepath.
More than 65% of the route is off road.
What is it ? :
An informal Gravel ride at your own pace on a suggested route shared via a GPX file.
It's up to you to adapt your route based on your taste, technical skills or potential danger.
What it's not ! :
It's not an organized ride marked with arrows and/or stewards.
There won't be any refueling stations, no bikewash, no shower
Participants are not insured by the organization and each individual is responsible for his own behaviour.
Be prepared, reasonable, respect traffic rules and other users of the route you're following.
Have a great time!
The #Gravelride13 team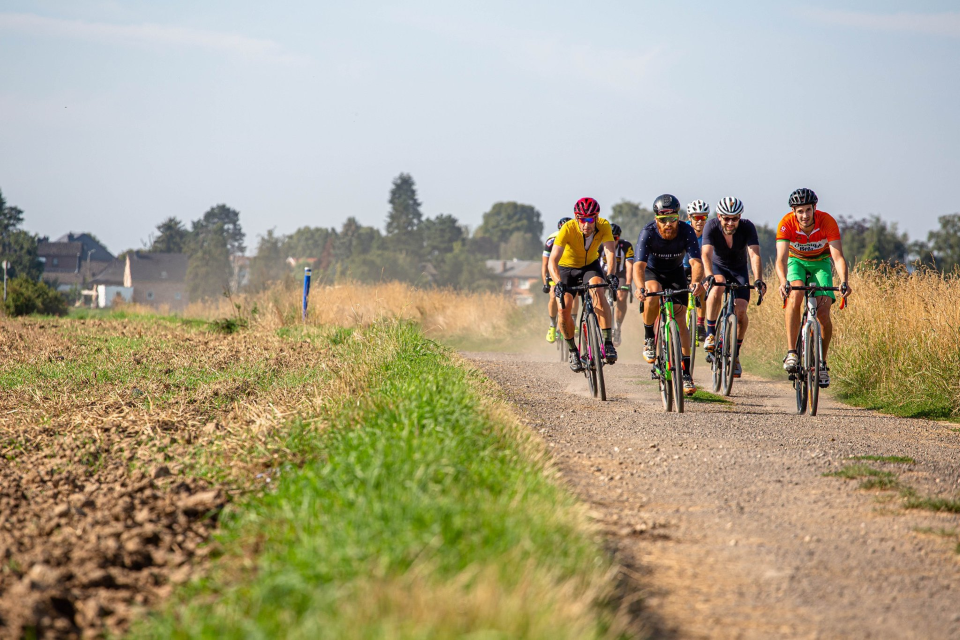 10€ to enjoy a good coffee and more at the start. At the finish a famous "pain saucisse" that will come from a local butchery (or a veggie alternative) together with a drink will wait for you.
Please mention "Veggie" in the communication of your bank transfer if applicable