Gravel Unravel is a 3-race/ride gravel endurance bicycle event series on the gravel road systems of the Olympic Peninsula.  Each event will have short, medium, and long courses , and all are followed by food and beer. 
This course starts and ends at the world famous Hoh River. We hope you like the color green because you are going to be seeing a lot of it. Green trees, green moss, green hills. This is the heart of one of the largest temperate rainforests in the world and you are going to love rolling through it. The Hoh-ly Roller will have long sections of flowy gravel and degraded pavement, combined with some serious hills.
On the long course there are hills of steepness that force you to stare at your toes for what can seem like endless turns on your cranks, with that dreaded question lurking… "should I walk?" We have been told that the climbs on the long course are "the most challenging climbs of any event in the region—by far."
The Hoh Rainforest and wilderness coast of the Olympic Peninsula is such an iconic area to visit (and a really long drive) that we recommend bringing the whole family! Take them deep into the rainforest inside Olympic National Park. Or take a short drive (only 10 minutes) to Ruby Beach and south from there to Kalaloch beaches. This is an incredible area and you will want to schedule in some time for these wild gems.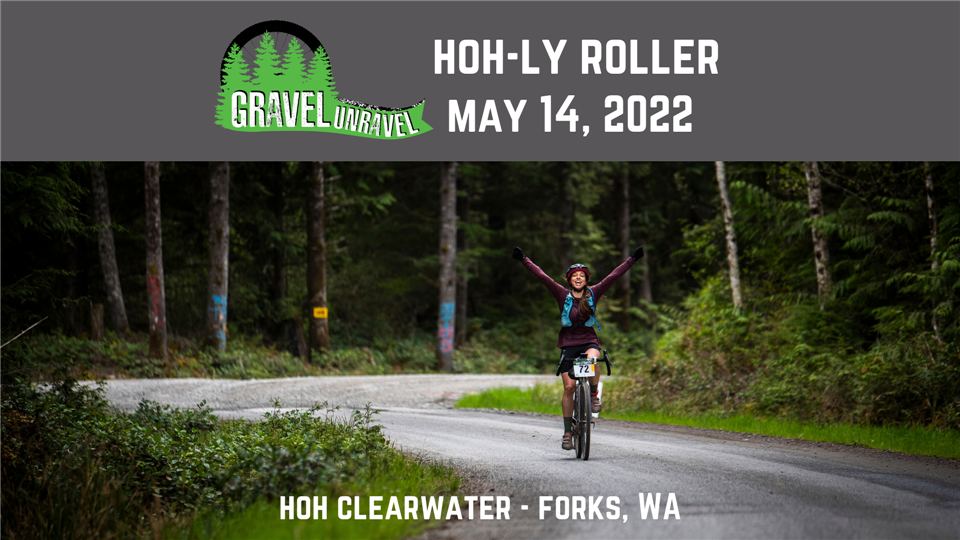 In addition to an epic outdoor experience in the far northwest corner, all participants receive a professional, well-organized event, a great piece of custom race swag, RFID timing, a well-marked course, on-course snacks and medical support, mechanical support, post-race food and a refreshing beer (21+).
Prize / Race Categories
Competitive Division
Categories for each distance are: Open, Open Masters (45+), Non-Binary, Womens Open, Womens Masters (45+), Juniors (under 18), and Singlespeed.
Awards will be given only in the Categories that have 10 or more riders.
Gran Fondo
You can also Gravel Unravel in the non-competitive Gran Fondo style. Loosely translated from Italian as "the big challenge", think of it as more of a group ride or tour. Set your own goal, be it to go fast or ride for fun, or heck just to finish! E-bikes are allowed in the non-competitive ride as a separate category.