For 2021 the Dirt Road Debutante Gravel Academy will be separated into two different clinics. This one is geared for the beginner gravel cyclist. The skills ride, topics of discussion and bicycle maintenance and repair sessions will be a good overview of what to expect on gravel rides and how to be successful.
The Intermediate Level will be geared more for racing and the next step in skills and endurance.
Dirt Road Debutante Gravel Academy is a WOMEN'S ONLY gravel cycling clinic for beginner and intermediate riders. This is not your typical cycling camp. Here you will have a lot of classroom time learning techniques, tips and tricks to make gravel cycling a part of your lifestyle. The riding we do will be centered around the skills need to be comfortable on gravel.
ABOUT:
Experience the sport of gravel cycling in a friendly, intimate setting limited to 20 ladies. You will be fully immersed in all things gravel from start to finish. With detailed classroom instruction and hands-on application, you will grow your confidence to navigate the toughest aspects of gravel and build your skills on the roads of Leavenworth, KS under the guidance of professional riders. This clinic is for ladies who are interested in the adventure that gravel offers including: riding, racing, repairing your own bike, training to be ready, making friends, finding your tribe, and building lasting relationships with like-minded women who want get out to see the beautiful surroundings, get fit and challenge their mind and body. You will leave the clinic feeling empowered and ready to tackle a grand adventure in your own backyard or around the world.
LESSONS AND SKILLS:
Dirt Road Debutante Gravel Academy sessions include:
• Bike maintenance and repair. A hands-on maintenance and roadside repair class taught by professional bicycle mechanics.
• Bicycle safety, with a local advocate.
• Time management including topics related to training and how to juggle family, work and sport life from an endurance coach and veteran rider.
• Resiliency strategies from the perspective of a local cyclist who knows what it's like when the ride just doesn't go your way.
• Training and race day nutrition.
• Goal setting and preparing an event calendar.
• How to pack your bike for different cycling adventures.
The clinic includes one outdoor ride ranging up to 20 miles, weather permitting. On it we will cover how to handle different technical obstacles commonly found on gravel roads. We will also do one indoor training ride where we will determine your lactic acid threshold (don't worry we will teach you about what this is and how it is beneficial if you are interested in racing). There is an optional group ride after the clinic ends Sunday afternoon.
Lunches, dinners and snacks will be provided.
PARTICIPANT EQUIPMENT REQUIREMENTS:
1. Register here
2. A bike that can be ridden on gravel (mountain bike, cyclocross bike, recreation/fitness bike, gravel bike, fat bike, etc) It is recommended that you have at least a 38mm tire width, though it is not mandatory.
3. Bike helmet*. (*mandatory for all outdoor rides).
4. Clothing you are comfortable cycling in (outdoor and indoor). Remember this is in March and it is likely to be chilly.
5. A positive attitude and a willingness step into an adventure!
Preferred Equipment**: (**If you have these you should bring them, so you can use them in class)
6. Your bike tool kit.
7. A heart-rate monitor, (needed for lactic acid threshold test)
8. A speed and cadence sensor, (needed for lactic acid threshold test)
9. An indoor trainer if you can get it here with the adapter you need for your bike. (contact me if you have any questions about this)
10. 1-2 Water bottles
11. On the bike nutrition

TAKE AWAYS
You won't leave empty handed. Each participant will receive a debutante bag full of gravel essentials from our sponsors.
DarkEarly Head Coach, Tiffany Burris, will be providing each of you with 2 training plans: Couch to 25 miles and Couch to 50 miles.
SCHEDULE :
Friday - 1pm - 7:30pm, + dinner
Saturday - 7am - 7:45pm, +dinner
Sunday - 7am - 12:00pm, +optional lunch, +optional bike ride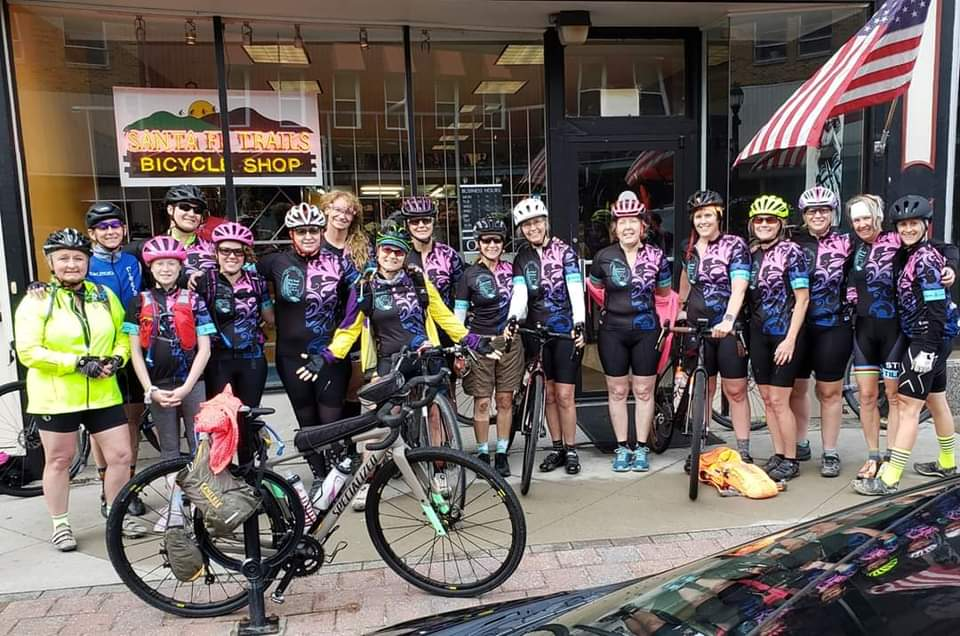 Swag bag with goodies from our sponsors
Clinic cycling jersey, gear bag, t-shirt
2 race plans (50 miler and 100 miler)
2 lunches, 2 dinners
A whole lot of knowledge
Making new friends and growing your tribe (a group of like-minded individuals)