The Cheaha Challenge Gran Fondo is a ride for all cyclists, no matter your experience level in the sport.  This ride has a bit of everything from the ULTRA course that features 126 miles of the toughest terrain around, down to the traditional 100, 84, 62, 44 and 24 mile routes on the Challenge course and the 50,25 and 12 mile options for the Chief Ladiga Cruise.  Some of those distances offer the chance to ride up Mount Cheaha, the highest point in the state of Alabama.  
The ride started as a recreational ride that riders would participate in with the goal of racing the course to get a fast time, while others would start with the singular goal of simply finishing.  The ride still offers those opportunities to this day, but they are a bit more defined than it was in 1993.  There is a competitive aspect to the ride with both the UCI Gran Fondo World Series and Gran Fondo National Series affiliations to qualify for the UCI World Championships and USA Cycling Gran Fondo National Championships respectively, as well as the Time Trial held the day before the Gran Fondo for those looking to race and ride as fast as they can.
For riders looking for a tough ride to challenge themselves to complete, but maybe not as concerned about time goals, then you can find it here.  We are blessed with hundreds of riders who participate with the goal of finishing and having a great time among the various distances.  We also have options for new cyclists, or those who just like easier social rides, such as the Chief Ladiga Cruise and the shorter distances of the Cheaha Challenge route.  When it is all done, we gather around at the finish area and have great post-ride meal to tell stories of how the ride went and connect with other riders from all over the US, and the World.
The Cheaha Challenge is now in it's 30th year, where it has grown from the humble roots from that first edition to become the largest annual cycling event in Alabama, and one of the largest in the United States.  We are excited to continue the tradition in 2023 and we look forward to seeing you on the start line!
A Top 10 Event in the State of Alabama as selected by the Alabama Bureau of Tourism & Travel in 2006, 2010, and 2012.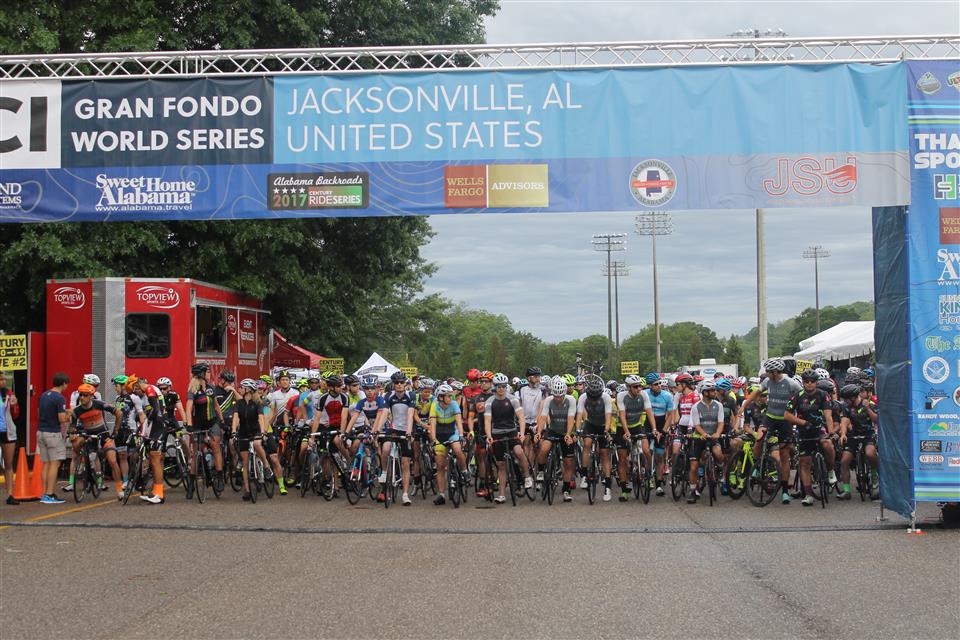 Start Times / Itinerary
Saturday, May 20, 2023: Eubanks Welcome Center, Piedmont, AL
Time Trial (12 miles) from Piedmont to Pete Mathews Coliseum, Jacksonville, AL

Sunday, May 21, 2023: Pete Mathews Coliseum, Jacksonville, AL
Cheaha Challenge Gran Fondo & ULTRA (with distances of 24, 44, 62, 84, 100 and 126 miles).
The Chief Ladiga Cruise ride on the paved rails-to-trail (with distances of 12, 25, and 50 miles)
Prize / Race Categories
Finisher awards include: Challenge/ULTRA/Cruise - Sunday
- UCI World Championship Qualifiers (Century ride) receive UCI Medals, and 1st place in each age group receives UCI jersey
- Century Ride: Overall Top three male/female receive awards
- ULTRA Winners -Overall Top three male/female receive awards
- KOM/QOM - Three segments; top three male/female receive awards
- For Cheaha Challenge/ULTRA riders (and NEW - Cruise riders): Finisher Medals
- Gran Fondo buffet
TimeTrial: Saturday
- UCI Gran Fondo TT Championship - Receive UCI Medals for age groups, and 1st place receives a UCI jersey