Peter Sagan returns to Canada to lead Tinkoff at GP Québec and GP Montréal
Peter Sagan will lead Tinkoff at the double header of one-day WorldTour races in Canada – Grand Prix Cycliste de Québec and Grand Prix Cycliste de Montréal – the first return to Canada for the UCI world champion since his Montréal win in 2013. He also took a top ten in Québec that year, and will be joined this month by a strong line-up, including Rafal Majka, Roman Kreuziger and Michael Valgren.
All four of these riders are capable of a strong result on these races which favour the puncheurs, with their rolling roads and repeated climbs. They're joined by Oscar Gatto, Michael Kolar, Evgeny Petrov and Maciej Bodnar. The same eight riders will tackle both races.
Looking ahead to the double header of races, Peter said: "After a short period of rest following Plouay I resumed training on Saturday and am looking forward to racing in Canada. I have good memories of these races having won in Montréal in 2013. We have a strong team for these races and if it is not me at the front at the end then I know that the other guys are also capable of getting a result here.!"
"Both have tough parcours but I'm quite suited to each and I hope that I will have recovered enough in time to be able to challenge again here. There are not many WorldTour races left to score points in so I would like to continue picking up points here and see how the standings are after the Vuelta."
The first of the two races is the Grand Prix Cycliste de Québec, taking place on Friday 9th September, taking in a 12.6km urban circuit that features 186m gain each of the 16 laps, giving a total altitude gain of 2967m over 201.6km of racing. The rolling circuit features two small classified climbs, as well a long drag to the finish line where the 2016 victor will be crowned.
Two days later, a very similar peloton that we'll see do battle in Québec will line up at the 205.7km Grand Prix Cycliste de Montréal. In a similar format to the prior race, Montréal will feature 17 laps of a 12.1km city circuit, but with more climbing that the previous course. Each lap will see 229m of altitude gain, resulting in a total gain of 3893m by the end of the race.
Looking at the two races, Sport Director Patxi Vila said: "In terms of our plan of attack, we have to see how Peter is, and how he has recovered as he wasn't feeling great in Plouay. However, he's back training and he should be OK. Alongside Peter, we have a strong roster here and the aim, like in Plouay, is to have Peter at his best level, to score points for the WorldTour, and to go for the win."
"We can also play the card of Rafal or Roman, and Michael too. They are looking strong and suited to the two different parcours. Comparing the two, I think Montréal suits Peter a bit better, but we will see how the races develop.
"Like I said before Plouay, we're coming towards the end of the season so motivation levels vary within the peloton, sometimes making for slightly different racing, but the guys are up for these two races here. Bodnar and a few others are coming to Canada with a few weeks since their last race so they're keen to get going again. I think we can target some nice results here in Canada."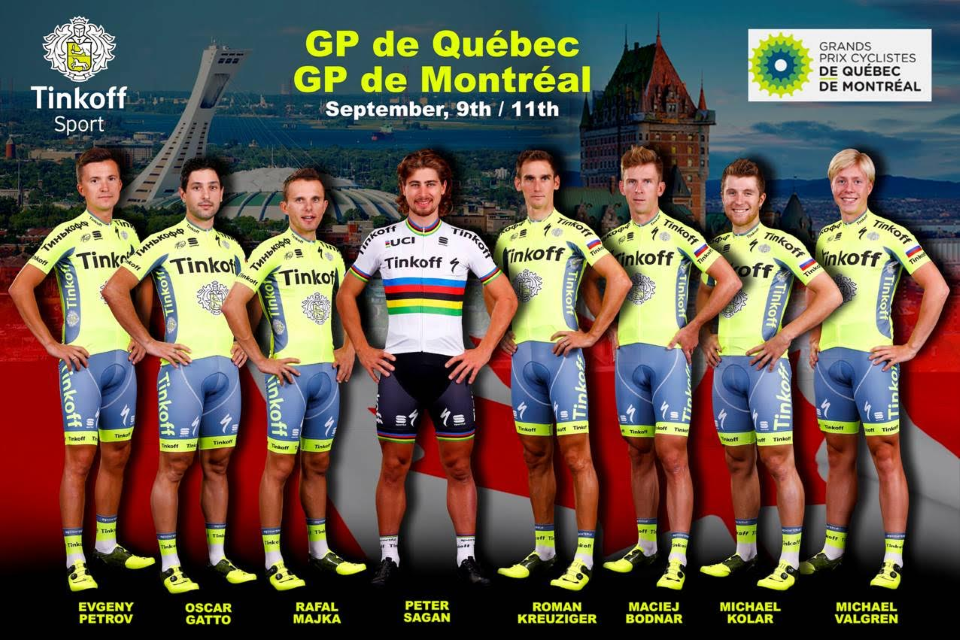 Grand Prix Cycliste de Québec - Sept 9th
The Grand Prix Cycliste de Québec circuit will be particularly well suited to climbers and those accustomed to steep descents. Riders will complete 16 laps, and the climb to the finish line in Old Québec promises to be spectacular! Expect an extremely challenging race for the world's best cyclists.

Viewers as well as spectators will enjoy vantage points that will feature the rich history of one of the oldest cities in North America, its steep relief, historical landmarks, fortifications and the Plains of Abraham.
Date: Friday, September 9, at 10 am,
Start/Finish site on Grande Allée Ouest in front of the park de la Francophonie
Team Presentatation: 10 am
Start: 11 am
Finish: 4- 4:30 pm
Duration: More than 5 hours
The official team presentation will take place on Grande-Allée Ouest. All teams entered must go to the Start/Finish podium so that all racers can sign the official starting sheet authorizing them to compete in the Grand Prix Cycliste de Québec.
The Grand Prix Cycliste de Québec will be run in the heart of the "Vieille Capitale", an outstanding venue for this exciting competition. Its hilly terrain, made to measure for a race like this, and its undeniable charms make the Grand Prix Cycliste de Québec a prestigious, unifying event like no other. Get ready: enthusiasm for élite cycling, widespread in Europe, is about to spread to the entire population of Québec City, and to North America as well!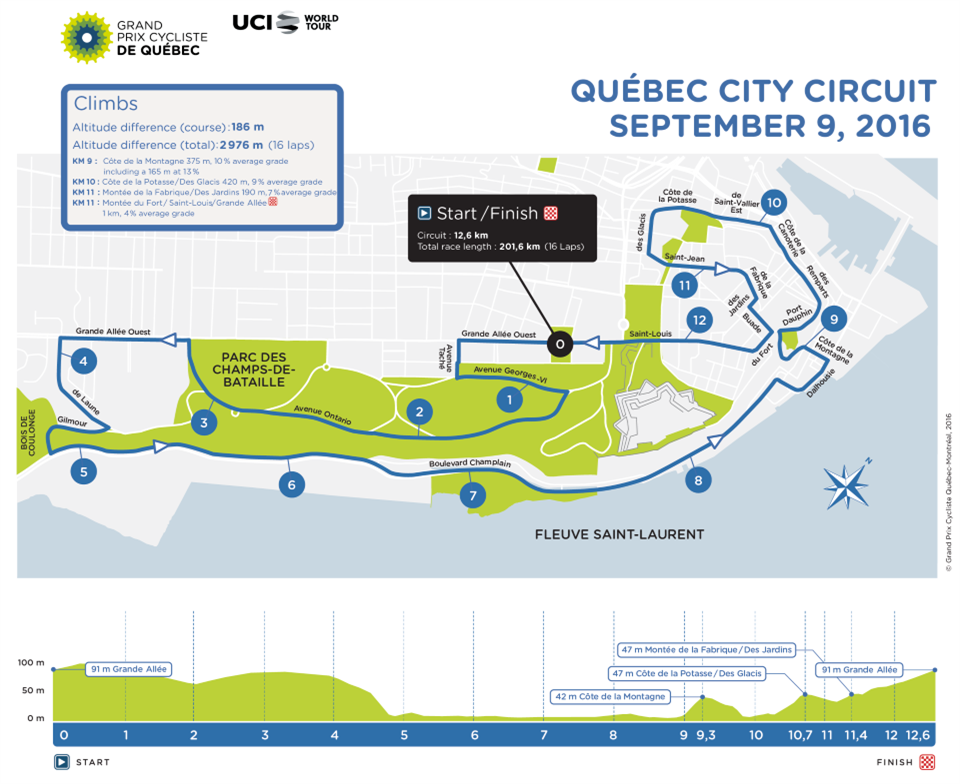 Grand Prix Cycliste de Montréal - Sept 11th
The Grand Prix Cycliste de Montréal, is back with a bang for its 7th edition! Part of the UCI WorldTour, which organizes the world's top road cycling races, the Grand Prix Cycliste de Montréal blazed a trail for a very hight-calibre sporting event. With many of the world's top riders competing in teams from the Tour de France, the 2016 race is sure to be just as exciting.
Date: Friday, Sunday, September 11, 2016
Start/Finish site:Parc Avenue, North of the Georges-Étienne Cartier Monument, Montreal
Team Presentatation: 10 am
Start: 11 am
Finish: 4- 4:30 pm
Duration: More than 5 hours
Course: 206 km, 17 laps, 3,893m of climbing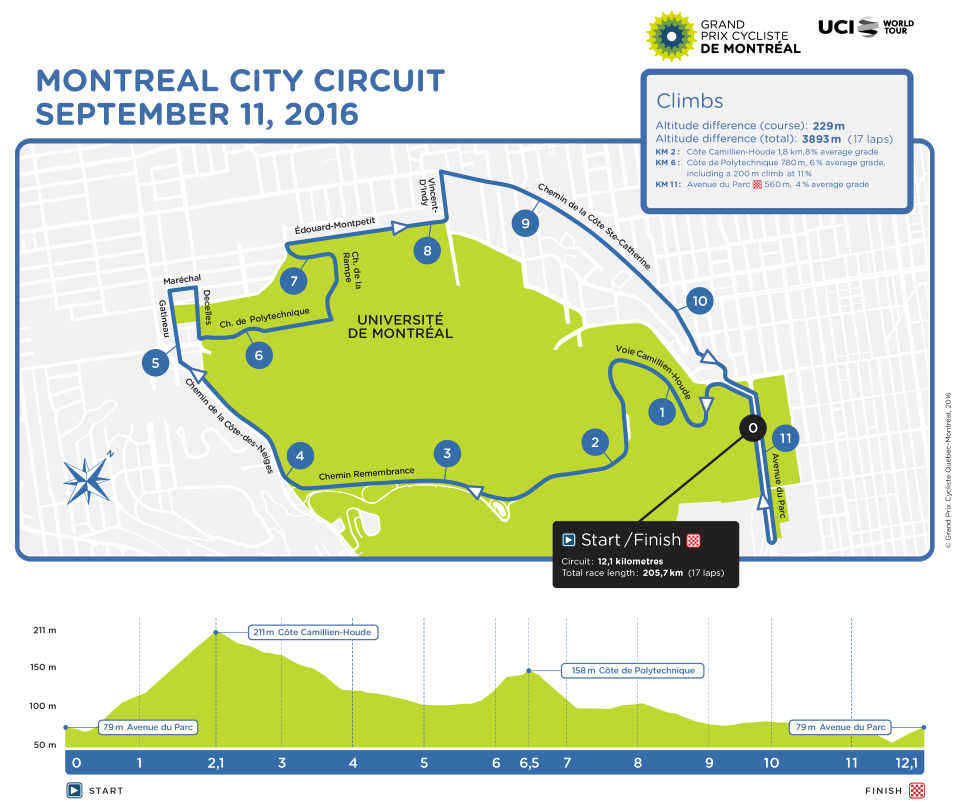 For more information visit http://gpcqm.ca/en/home/