2022 UCI Gran Fondo World Championship Results
Cycling triumphs in Trento. Kirchmair and Simenc champions in the Granfondo World Championships. The four-day amateur rainbow event organized by APT Trento Monte Bondone and Trento Eventi Sport exceeded expectations for so many reasons.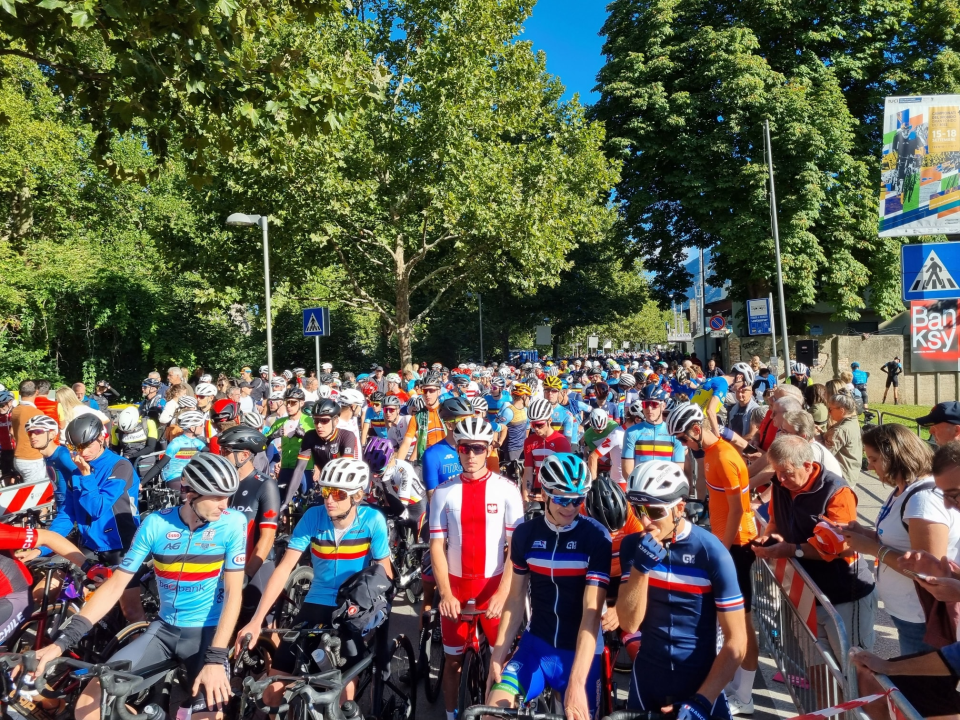 In brilliant weather, more than 2,000 athletes and more than 4,000 total participants from 60 Countries around the world arrived – many for the first time – in the Trentino's capital to fill its hotels, frequent its cafes, restaurants, and museums, and above all to experience Trento's genuine love for cycling in all its guises.
In addition to the many compliments bestowed upon the city, which dazzled guests from the world over, many attendees remarked, "Respect for cyclists is seen and felt here. We felt welcomed." These words count for a lot in a city that's doing so much to bring the bicycle more and more into the hearts of people and their lives.
Sunday in Trento served up the richest menu of the four-day event: the Mediofondo (86.8 km with 2,218 meters of climbing) for the upper age groups (men 60 and up, women 50 and up), and the Granfondo, with 143.8 km and 3,900 meters of climbing, which came from two and a half climbs to the summit of Trento's giant Monte Bondone. A total of 1537 athletes showed up at the start of the two races, which set off from the Via Roberto da Sanseverino at 10 AM CEST.
All the strongest athletes in the world amateur categories were there and the results proved it. Fastest of all in the Granfondo was Austria's Stefan Kirchmair (cat. 19-34), a former pro in the early 2010s and now a trainer, who devoured the racecourse in 4 hours, 14 minutes, and 6 seconds, just over half a minute ahead of Switzerland's Dimitri Bussard and Belgium's Sieben Devalckeneer. Kirchmair has already established himself among the world's strongest granfondisti, having won this year's prestigious "Etape du Tour" with finish on Alpe d'Huez.
In the women's Granfondo, Slovenia's Laura Simenc (cat. 19-34), who's already a gold medalist in the team relay with her national team, managed to outpace in 5 hours, 2 minutes and 41 seconds two racers from the host nation, Martina Trevisiol and Samantha Arnaudo, in the final sprint. Simenc, a former elite athlete and now a researcher in veterinary virology, also boasts numerous victories this season, including the Granfondo Nove Colli on Italian soil.
Among the various categories, however, there was no shortage of Italian wins: Francesco Figini (Granfondo 35-39); Giuseppina Michela Bergozza (Mediofondo 50-54); Olga Cappiello (Mediofondo 55-59); Giorgio Chiarini (Mediofondo 60-64); Trentino's Silvano Janes (Mediofondo 65-69); and Silvano Assaloni (Mediofondo 80-84). Also among the celebrated racers was Frenchwoman Jeannie Longo, the multi-titled elite who scored yet another rainbow jersey after winning the individual time trial for her age category on Thursday.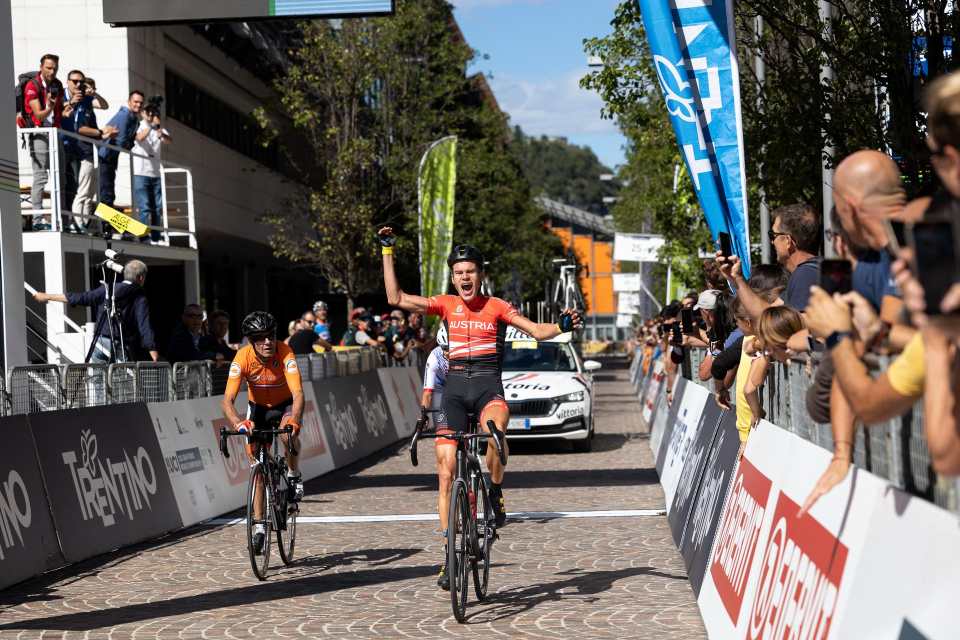 2022 UCI Gran Fondo World Championships Results
THE NEW AMATEUR GRANFONDO WORLD CHAMPIONS:
WOMEN (45-49): Christina Rausch (GER)
WOMEN (40-44): Nicolien Luijsterburg (NED)
WOMEN (35-39): Martha Maltha (NED)
WOMEN (19-34): Laura Šimenc (SLO)
MEN (55-59): Michael Schaefer (GER)
MEN (50-54): Roger Devittori (SUI)
MEN (45-49): Igor Kopše (SLO)
MEN (40-44): Patrick Hagenaars (AUT)
MEN (35-39): Francesco Figini (ITA)
MEN (19-34): Stefan Kirchmair (AUT)
THE NEW AMATEUR MEDIOFONDO WORLD CHAMPIONS:
WOMEN (65-69): Tarja Simakkala (FIN)
WOMEN (60-64): Jeannie Longo (FRA)
WOMEN (55-59): Olga Cappiello (ITA)
WOMEN (50-54): Giuseppina Michela Bergozza (ITA)
MEN (85-89): Arthur Duncan (RSA)
MEN (80-84): Silvano Assaloni (ITA)
MEN (75-79): Josef Bichl (AUT)
MEN (70-74): Rudolf Sluyts (BEL)
MEN (65-69): Silvano Janes (ITA)
MEN (60-64): Giorgio Chiarini (ITA)
Link 2022 UCI Gran Fondo World Championships Results: https://www.endu.net/en/events/uci-gran-fondo-world-championships-2022/results
Link to all results: https://egs-eventi.s3.amazonaws.com/MySDAM/Trento2022/cis/home.html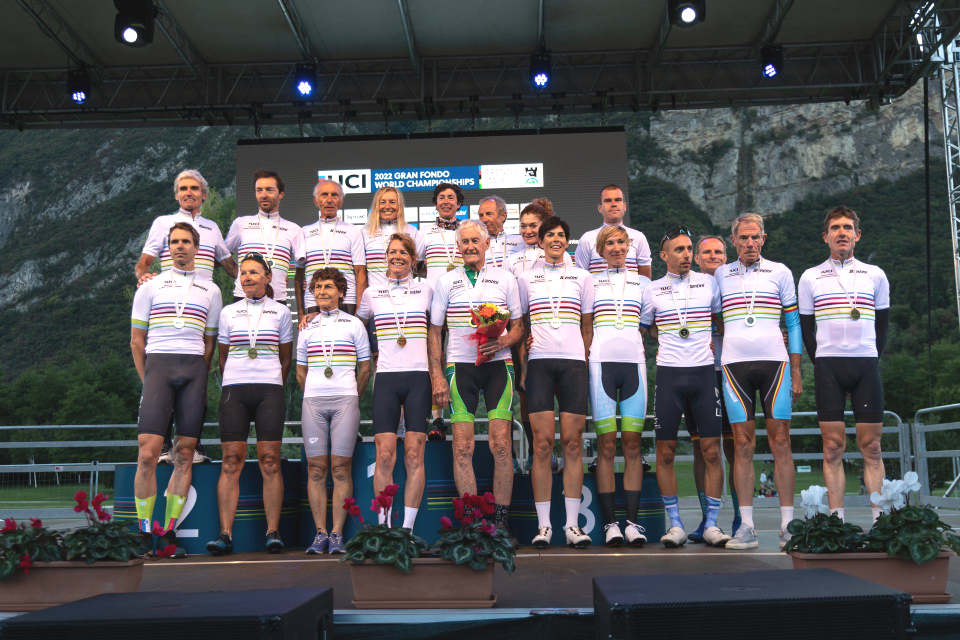 Winners or not, all the athletes had to earn the honor of finishing a demanding World Championship, which was by all accounts the toughest of many recent editions – if not since the last time in Trento. Participants earned the best reward for their efforts, which was that of a perfect day for cycling. The day started out cool in the early morning and then got warmed by the sun under clear skies. "Bondone is a really tough climb, but what's breathtaking is the view of the city and alps from the top. This route and this area are worth the journey." These remarks were repeated by many from all over Europe, as well as from Australia, the United States, Japan, Zimbabwe and more.
What made the heart swell – in addition to the fans in the Le Albere district who cheered every last participant on the finishing straight – was the unique atmosphere that the Granfondo World Championship was able to generate. Competition befitting of a World Championship was there, but in Trento one perceived above all, the spirit of people happy to be part of a unique experience and to do it to the best of their ability, thanks to a city that was able to welcome them with open arms, and an organization that took care of their needs down to the smallest detail.
"It was splendid and exciting to welcome people from all over the world to the city of Trento," remarked Mayor Franco Ianeselli. "An event like this was a great opportunity for us to reaffirm Trento's connection with the bicycle, not only as a sport but as a means of transportation and as a new way of tourism. The hope is that those who savored our area during these days will be able to take it to heart and talk about it once they return home."
Maurizio Evangelista, the event's managing director, expressed his satisfaction with the event's operational success. "We are particularly happy with the result of this Gran Fondo World Championships, and with the feedback we've received from the athletes during these past days. Our organization has focused on services for the cyclist and on the safety of all athletes; today we can celebrate success on both counts. In this sense, special thanks go to the tremendous organizational team put together by APT Trento Monte Bondone and Trento Eventi Sport, to the institutions that promoted this event, to the police that managed security, to the medical team, to the volunteers, and of course to all those who chose to come to Trento to experience this adventure with us."