2023 Gran Fondo World Tour ® GRAVEL Series expands to 5 Continents and 16 Destinations
Landing on all 5 Continents, the series reaches across the world, with the most expansive International Calendar for the global Gravel Community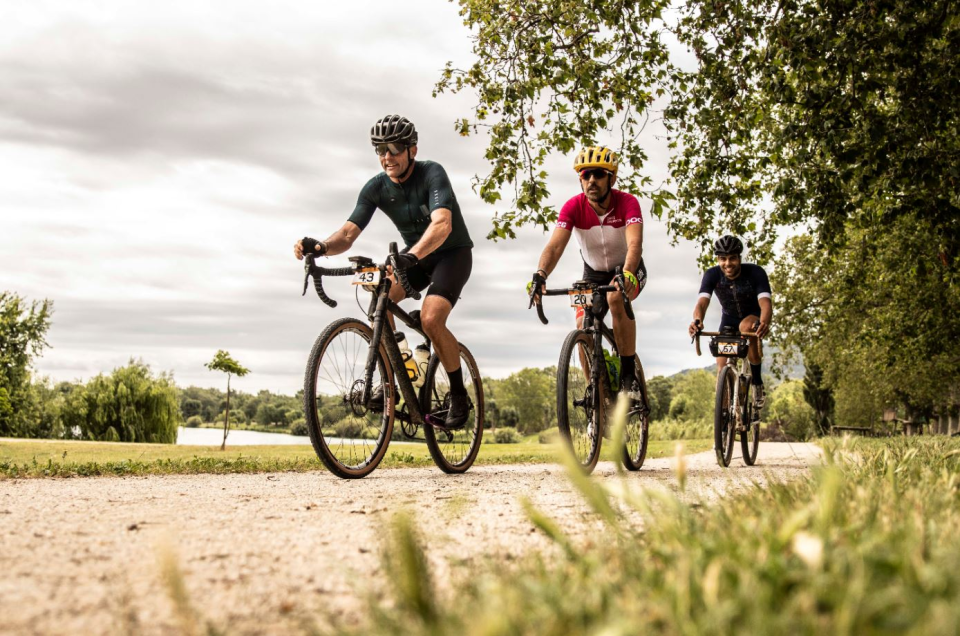 Photo: Canyon Pirinexus Challenge is currently a personal non-stop adventure of 340km
The 2023 GFWT ® GRAVEL series features a plethora of gravel events that celebrate the Wild West spirit of Gravel Racing, Backpacking and Adventure. Gravel is now the fastest growing genre in cycling with a huge increase in the number of participants (and events) worldwide.
From Iceland to Central Asia on the Silk Way in Kazakhstan, traversing the epic South Korean mountains, Italian "Sterrattos" , South African of the beaten path roads, iconic European destinations, fast Australian paths outback and the arduous Patagonian slopes, the 2023 GFWT ® Gravel series is the most wide reaching and diverse collection of experiences that showcase the "new global world of gravel".
In true Gravel style the series pays respects to its American Heritage, and wraps up the season at the Belgian Waffle Ride Kansas in the United States in the fall.
"Gravel is an essential part of my winter training and pre-season endurance riding, stoked to hear about the expanding Gravel Calendar which is good news for the cycling community!" said Robert Gesink - Jumbo Visma ProCycling Team.
"Gravel is the new wave, a life style, a way of life, this is why we have included so many diverse types of gravel events in the 2023 calendar, because we do not want to trust in standardization. We believe that gravel is diverse, with an outdoor adventure philosophy, with amateur cyclists around the world part of the global gravel community", stated Dani Buyo CEO - Founder Gran Fondo World Tour ®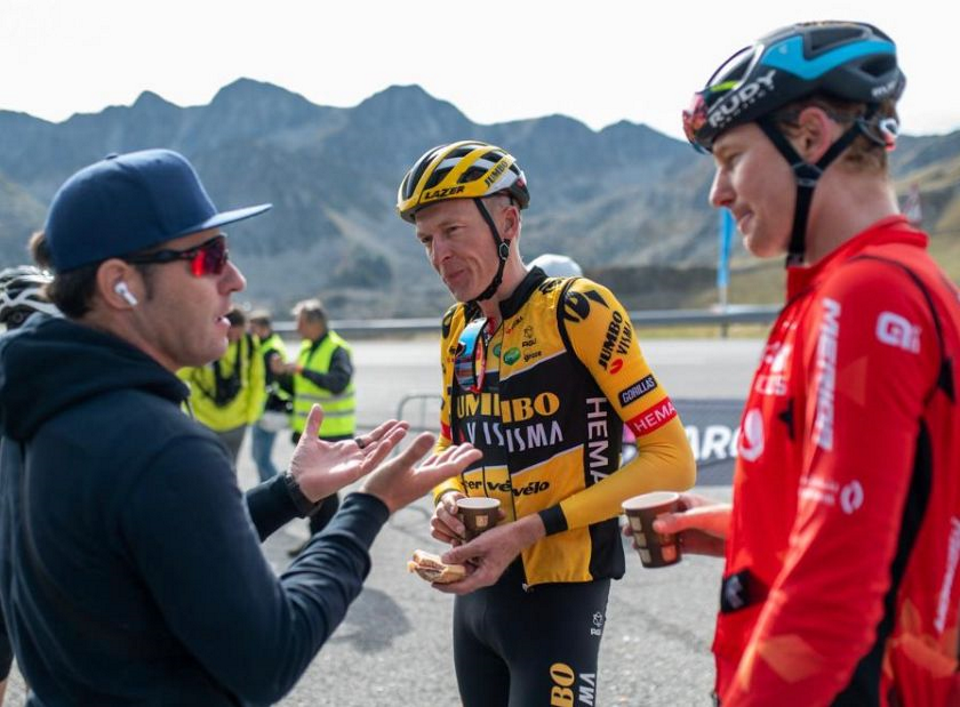 Photo: Dani Buyo, CEO of the Gran Fondo World Tour with Robert Gesink (Jumbo Visma) and Jack Haig (Team Bahrain Victorious)
"We are excited to expand to all 5 Continents with our gravel brand, a brand that is flexible, cooperative, understanding and appreciative of all our partner events. This is most exciting challenge for us since we started back in 2015, eight years ago", continued Buyo.
Pro Cycling Stats now provides a Gravel Amateur Ranking in partnership with Gran Fondo World Tour ® Series, facilitating an amateur ranking for gravel fanatics. This ranking will be linked with the ranking of the Gran Fondo World Tour ROAD Series ranking, embracing a full calendar of worldwide events where you can earn points, more on this very soon.
To celebrate Dennis Van Winden, a former UCI Pro Cyclist, will become the Performance Coach and Trainer Ambassador for the 2023 GFWT ® GRAVEL series, generating training and action together with Dennis and Orange Seal Off-Road Team at some of the events his season.
Dennis Van Winden, former UCI Pro Cyclist stated, "Gravel started first as adventure during my active career. When I started to compete gravel in the US I felt there was an entire community out there, racing having fun and making memories"
"There are many epic gravel destinations all over the world they all have one thing in common. You need to be prepared! Train yourself physically and mentally, think outside the box. Gravel is so much fun and great for making friends and memories!"
"Gravel is unique! It starts the day(s) before when you arrive at the venue you can do a shakeout ride with international road and gravel Pro´s. Meet them at the start line of YOUR race. Race with the Pro´s and your friends have a cold beer afterwards."
"Personally I love to race for results, being part of the gravel community though is even better. A gravel event is never over until you cross the finish and then the cold beers are waiting for you."
"I absolutely love the gravel experience. Many things can and are happening during the ´race´ you are riding a quick bike over little rocks. Prepare yourself, not just de week before the race, NO prepare yourself consistent! Ride your bike on gravel, manage the risk of crashing or puncture a tire and plug that quickly so you can continue the fun!"
The 2023 Gran Fondo World Tour ® ROAD Series will continue to expand with new destinations, with the new calendar being revealed in January.
Sam Maffet and John Jacoby Race directors of Great Otway Gravel Grind in Australia are also stoked to be part of the series, "Rapid Ascent is thrilled that our Great Otway Gravel Grind will be the first race in the 2023 GFWT ® GRAVEL series."
"Partnering with other gravel events around the world shows the strength of the gravel community and allows international riders the race some of the best gravel events in all continents."
"The first stop of the 2023 GFWT – Gravel Series in Australia will be a highlight for any rider. The Great Otway Gravel Grind (The GOGG) races along smooth dirt roads through the impressive Great Otway National Park, past towering trees and ferns to the beaches of the Great Ocean Road and back."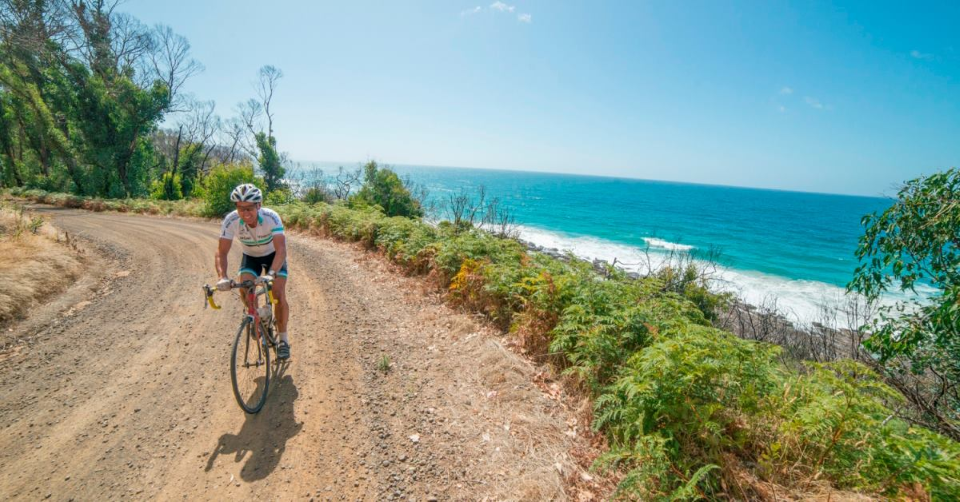 Photo: The alternative to riding on busy sealed roads at the Great Otway Gravel Grind in Australia

2023 Gran Fondo World Tour ® GRAVEL Map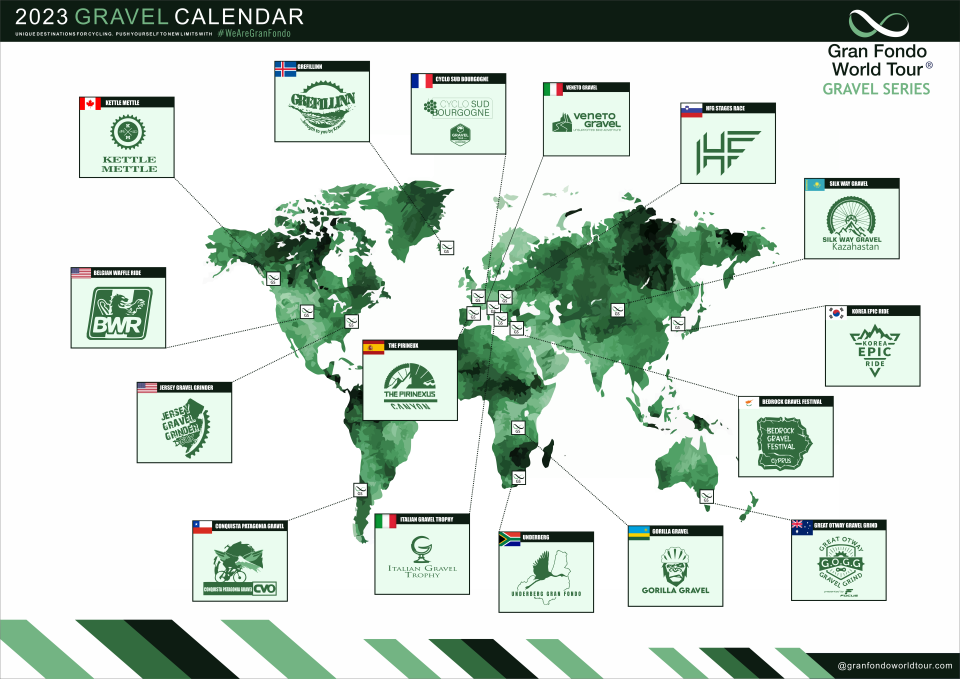 2023 Gran Fondo World Tour ® GRAVEL Series Calendar
| | | |
| --- | --- | --- |
| Date | Event | Country |
| February 26 | Great Otway Gravel Grind p/b Focus | Australia |
| April 9-15 | Bedrock Gravel Festival | Cyprus |
| April 22 | Veneto Gravel | Italy |
| April 22 | Cyclo Sud Bourgogne | France |
| April (tbc) | Conquista Patagonia Gravel | Chile |
| May 12th - 14th | Human Fish Gravel Stages Race | Slovenia |
| May 22 | Jersey Gravel Grinder | United States |
| June (tbc) | Gorilla Gravel Race | Rwanda |
| June 18 | Korea Epic Ride | South Korea |
| July 31 | Underberg Gran Fondo | South Africa |
| August 12 | Grefillinn | Iceland |
| August (tbc) | Silk Way Gravel | Kazakhstan |
| September (tbc) | Italian Gravel Trophy | Italy |
| September 16 | Kettle Mettle Klassic | Canada |
| September 23 | Pirinexus | Spain |
| October 15 | Belgian Waffle Ride Kansas | United States |
5 Continents, 16 destinations #wearegranfondo #wearegravel