Register NOW for Gran Fondo Encamp Pas de la Casa and SAVE 50%
Special discount code for Gran Fondo Guide Subscribers and Followers. Code valid until 31st March only, exclusive to Gran Fondo Guide!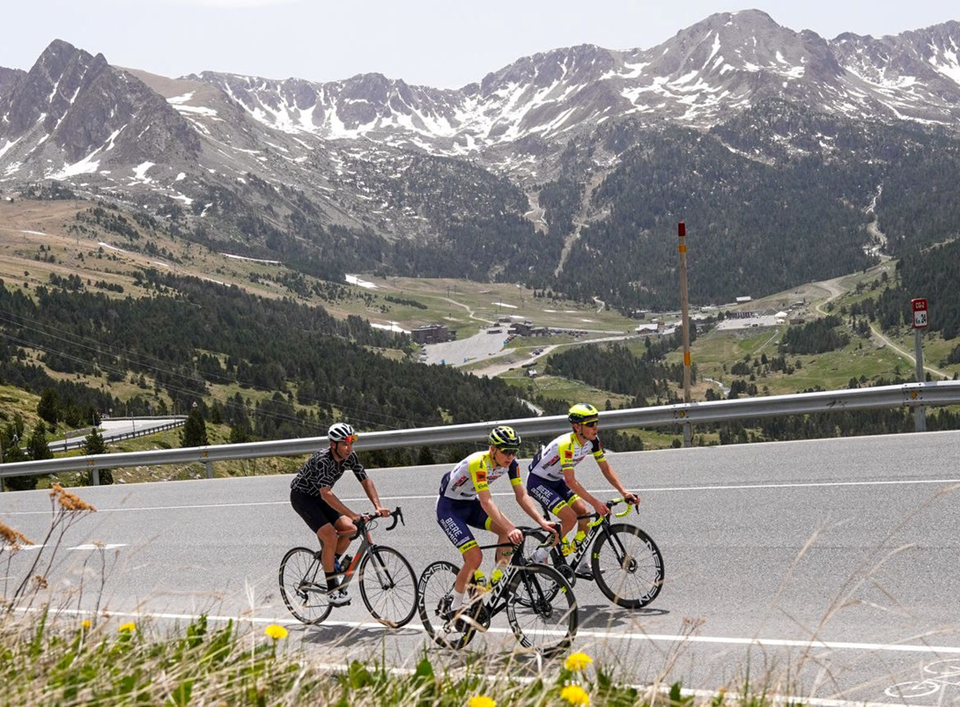 The second edition of the Gran Fondo Encamp Pas de la Casa takes place May 26 - 28, 2023 in Andorra.
The Gran Fondo course, the Envalira is 103km with four 1st category mountain passes including the mighty Beixalís, Ordino, Envalira and Cortals with over 3,300m of climbing to challenge the best Gran Fondo riders in the world.
The Medio Fondo course, the Beixalís is 48 km with two 1st category mountain passes: Beixalís and Cortals; and 1,670 m of climbing.
There is also the Cortals 31 km, passing first through Engolasters and a short "sterrato" section; with a difference of 1,070 m in positive. There is a plus a special e-bike category allowing cyclists of all abilities to enjoy the challenge.
The Gran Fondo Encamp Pas de la Casa is not a race, it is an experience. Let yourself be carried away by the history, mountain gastronomy and surroundings of Encamp Pas de la Casa, and relive stage finishes in the Vuelta and the Tour

This year, there's no need to pre-qualify, just register in advance - open to all cyclists!
The course will be a timed section format, with 3 timed uphill sections, the fastest combined time over the 3 section will win across a range of age categories.
The race is neutralized between the timed sections, allowing riders relax, and ride in groups, stop, to re-fuel and re-hydrate and enjoy the stunning scenery.
Andorra features some of the hardest climbs in the Pyrenees, made famous by Grand Tours such as the Vuelta and the Tour de France.
Age categories include; Junior 16-18, Senior 18-39, Masters 40, 45, 50, 55 and 60+ for both men and women
Professional cyclist Jack Haig (Bahrain Victorious), resident in Andorra, who finished third in the Vuelta España, has cycled the same roads as the Gran Fondo Encamp Pas de la Casa a thousand times, and puts his finger on a very specific point of the route. "For me, one of the most beautiful places is the climb to Cortals d´Encamp. Once you pass a couple of houses, the road clears of cars and traffic. At the top, the views are magnificent, with a good part of Andorra and especially the entire climb to Beixalis before your eyes".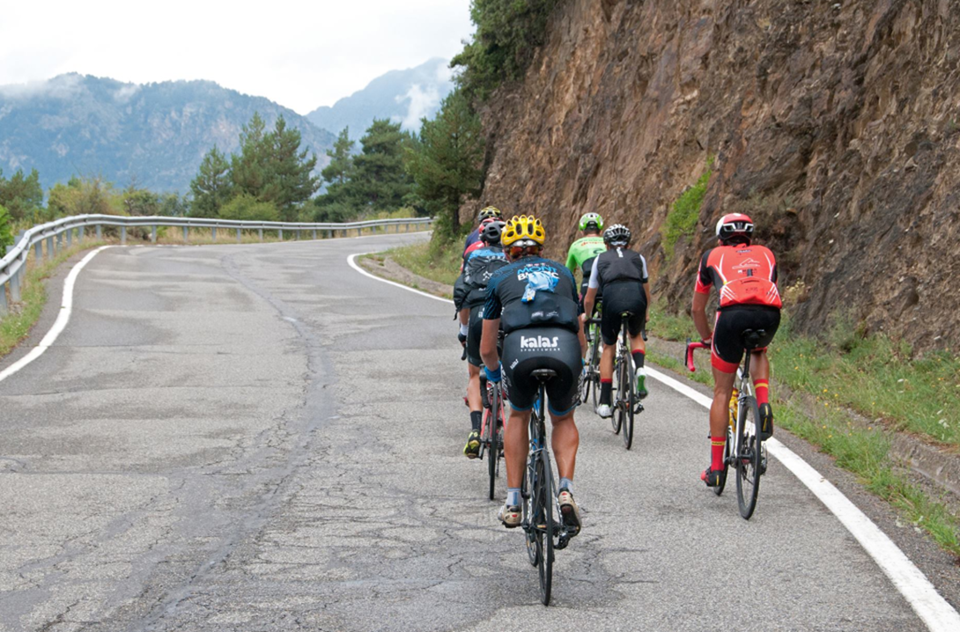 The start and finish line is located in Encamp in Andorra.
Afterwards enjoy fresh food (gazpacho, fideuà*, fruit), Live Music, an open bar of soft drinks and drinks and Giveaways!
Professional riders Robert Gesink (Jumbo Visma) and Jack Haig (Team Bahrain Victorious) use the region and the climbs as part of their training for the upcoming WorldTour season and Grand Tours like the Vuelta a Espana and the Tour de France.
Dani Buyo, CEO of the Gran Fondo World Tour explained "Timed sections meant that people could stop and enjoy refreshment out on course without having to worry about their overall time. We carried out a survey afterwards so we could get feedback from participants to see if they liked this more relaxed, but just as competitive format"
"You´ll enjoy road cycling on the Sunday, but we're also adding MTB, gravel and e-bike rides on the Saturday too, in a similar format, with timed sections through different areas of the Parròquia d´Encamp and the Grandvalira Ski Resort" Buyo continued.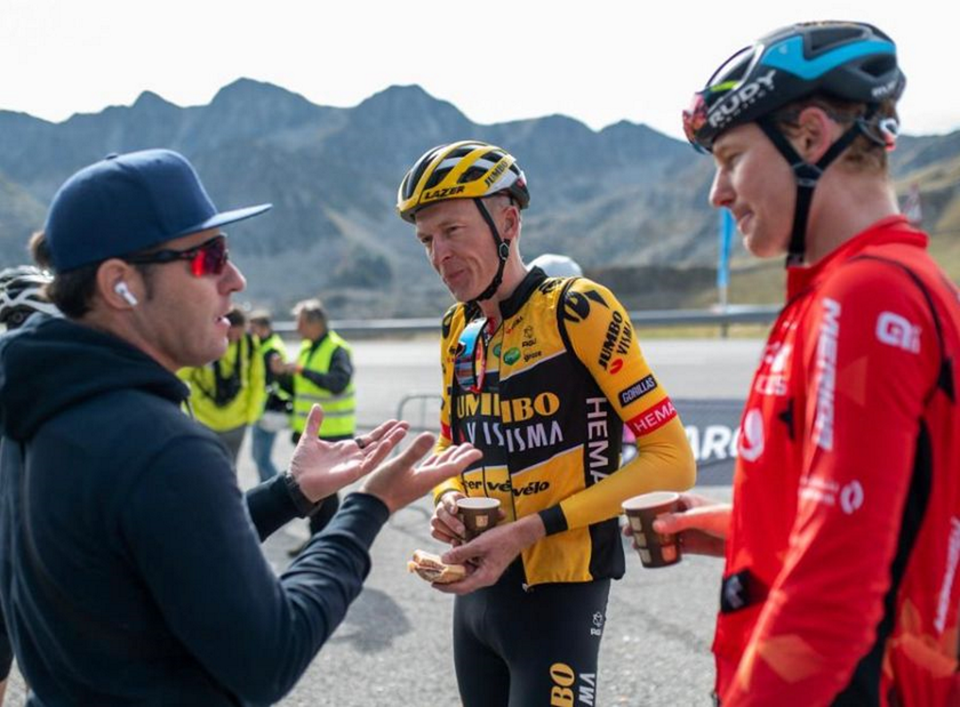 Photo: Dani Buyo, CEO of the Gran Fondo World Tour with Robert Gesink (Jumbo Visma) and Jack Haig (Team Bahrain Victorious)
A gran fondo for only €20 for the Medio or 27 € for the Gran, with a finishers medal, aid stations, after party meal and a FREE ski pass for one day at the Grandvalira Ski resort for 2024 season …. all for this price!
Click here for accommodation options at booking.com, search for "Cas del la Pasa" or "Encamp" - Pyrénées, Andorra
Use code: GFWT for 50% OFF at checkout!
For more information, please visit: www.granfondoepc.com or click the button below to register now.

The 2023 Gran Fondo World Championship® will be hosted by the Seorak Gran Fondo in South Korea and will expand to include a Time Trial race as well as the #granfondo at the new Inje Riding Center. More news about the 2023 Championship will follow shortly.