Perth in Scotland reveals proposed 2023 UCI Gran Fondo Championship Courses
Between 3,000 and 4,000 participants from 11 age groups 52 countries are expected to take part in both the time trial and road race – with Perth expected to host the latter on Friday August 4 2023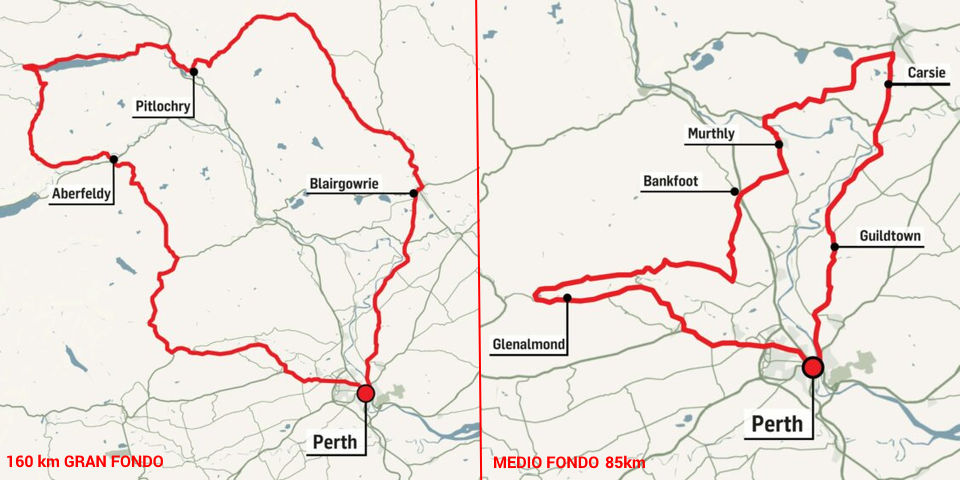 The Fair City is being lined up to host the race as part of the 2023 UCI World Championship in August. A £2.7 million boost to Perth's economy has been predicted as the routes for the Gran Fondo cycling event are revealed. The event will bring thousands of cyclists to Scotland for a huge celebration of the sport.
Perth is due to host both the 160km Gran Fondo and 85km Medio Fondo races on August 4 – and plans for the two routes have now been revealed.
Proposals for the race will be put to Perth and Kinross councillors for approval on Monday but financial backing has already been agreed.
Documents for the special meeting of the environment, infrastructure and economic development committee say the race could bring as much as £2.7 million to the area through tourism, visiting athletes and international attention.
Organisers believe at least 8,000 participants and supporters could travel to Perth, with many expected to stay in local accommodation for as long as a week.
The top 20% of riders from 30 qualifying events held around the world will be invited to compete in the Gran Fondo.
The UCI event will also put Perthshire on the world stage – with up to one billion viewers expected to watch via TV and streaming.
Route takes cyclists to Loch Tummel
Perth and Kinross Council did not provide details of roads the races will use, or any required closures, but routes have been revealed for the first time.
Starting and ending on Tay Street in Perth, the 160km clockwise course takes participants as far north as Loch Tummel, passing through Methven, Aberfeldy, Pitlochry and Blairgowrie.
The shorter course also begins and ends on Tay Street, taking in Glenalmond, Bankfoot and Murthly and stopping just short of Blairgowrie.
Both courses will have an amateur lane set up alongside so members of the public can take part without disrupting the professional race.
The extensive plans mean a large number of road closures will be needed throughout Perth and Kinross, with police involvement and notice for residents necessary.
If approved, the race will clash with the Perth Show and major roadworks on Tay Street.
According to the council report, Perth Show bosses have agreed to be part of the Fondo's organising committee to reduce disruption.
The report by Mark Butterworth, the council's head of environment and consumer services, states: "[Races] will require road closures for a number of hours on the day of the event, the length of which will depend on the location of the ward along the route.
"It is the intention that these will be kept as short as possible.
"Therefore, closures at the start of the route will be shorter than at the end of the route."
2023 UCI Gran Fondo World Championships
Tentative dates are Friday 4th August and Monday 7th August for the 2023 UCI Gran Fondo World Championships.
For more information, please visit: https://www.cyclingworldchamps.com/championships/gran-fondo