Foltan and Traxl-Pintarelli fastest at 2023 Neusiedlersee Radmarathon
The 31st edition of the Neusiedlersee Radmarathon, the second round of the UCI Gran Fondo World Series was fast and furious with over 2,000 participants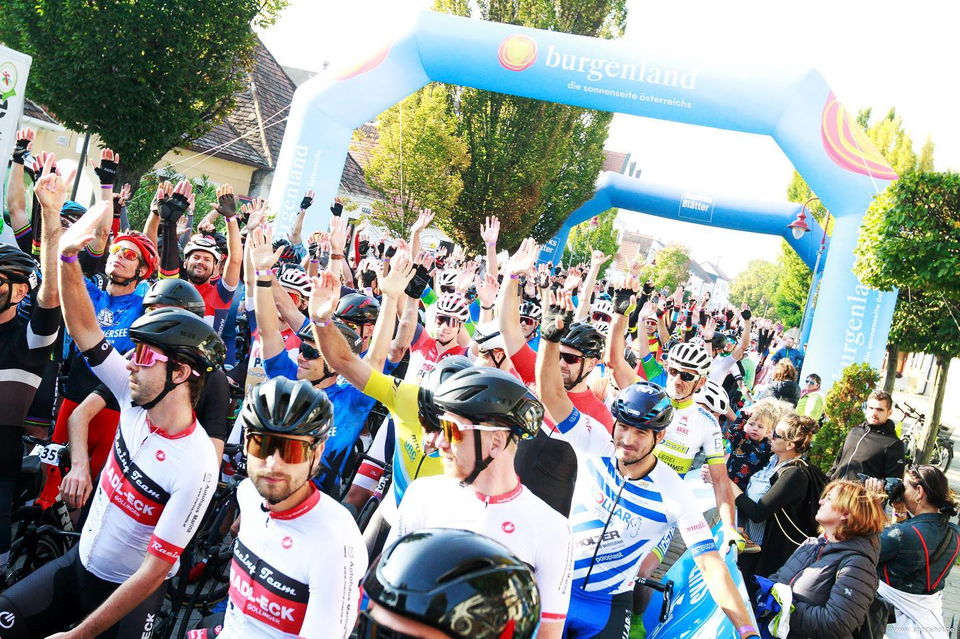 The more than 2,000 participants took part from over 38 different countries are a new record number of participants', with a new fastest course record set.
Great weather over the weekend saw a lot of amateurs cyclists travelling to Austrian's Burgenland for the race weekend in Mörbisch am See.
The weekend festival included a very popular children's ride race too.

The 125km flat and fast Granfondo around the Neusiedlersee, saw a group of 50 riders breakaway from the huge peloton before entering Hungary, at 35km to go the wind turned and three stronger riders broke free.
Former UCI Gran Fondo World Champion Johnny Hoogerland (NED) got into a breakaway with two teammates from Juraj' Sagan's team Marek Canecky and Daniel Vysocan.

Unfortunately, the leading trio were reeled back in a few kilometers before the finish.
With 1km to go, Adam Foltan from Team Pierre Baguette attacked and soloed to the finish and said afterwards "I had great legs today and my team controlled the race well. It was my first start here and of course I'm happy about the win," said 22-year-old Slovakian Foltan, who finished with a time of 2h 51m 23s setting a new course record, 13 seconds faster than last year!
Favorite Johnny Hoogerland unfortunately crashed in the final km, Swiss Matthias Studer defeated Belgian Gianni Quintelier in the sprint for second place.

In the women's race, Austrian Daniela Traxl-Pintarelli celebrated victory with a time of 3h 14m 22s, about a minute ahead of the Croatian Majda Horvatand and German Mira Fischer.
Link to 2023 Neusiedler Radmarathon results
Record number of 400 participants in the Time Trial
On Saturday, the individual time trial covered 26 kilometers with just 200m of elevation, a flat and fast course with only the wind to contend with
The men's timetrial was won by Hungarian Daniel Szalay, seven seconds ahead of Jeppe Tolboll (DEN) and Sascha Dittfurth (GER).
In the women's timetrial, the full podium, Austrian Anna Kofler won ahead of Cili Kraut and Magdalena Bernhard.
Link to 2023 Neusiedler time trial results