Israel-Premier Tech's Sylvan Adams wins double World Champion Titles in Scotland
The billionaire put his heart and soul into securing a second gold at the UCI Cycling World Championships winning the M65 Gran Fondo and Time Trial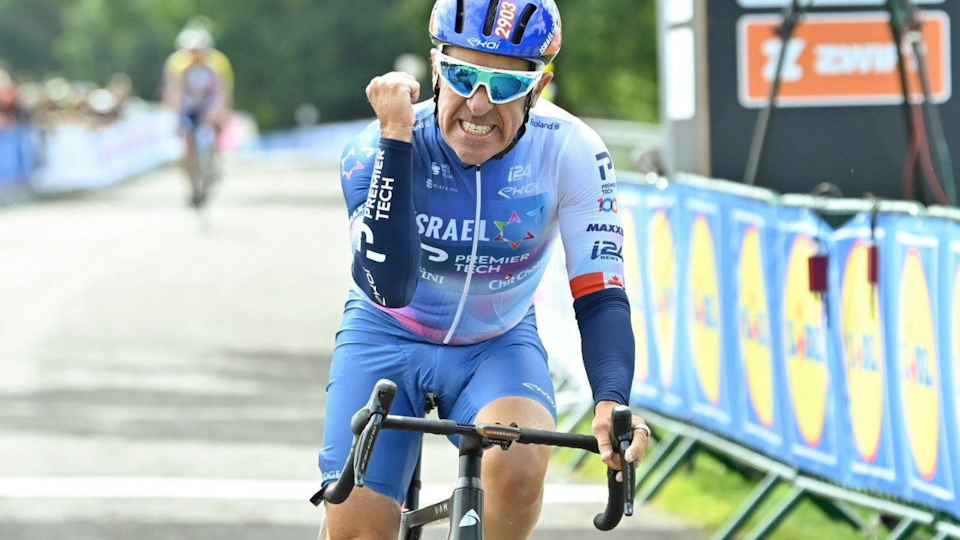 Sylvan Adams, owner of the Israel-Premier Tech cycling team, has shown his squad he can compete with the best of them, and is on track to secure a double victory at a major road cycling championships being hosted in Scotland.
Adams, 65, wheeled his way to victory on Friday in the M65 category at the UCI Cycling World Championships Gran Fondo event, which saw more than 1,800 riders from 68 countries battle it out for one of 20 gold medals and rainbow jerseys.
The Gran Fondo, which translates as "Big Race", is a long-distance mass participation event celebrating competitive cycling for everyone, not just the professionals. The top 25 per cent of riders from 27 qualifying events held around the were invited to compete in Scotland.
Israeli-Canadian billionaire Adams completed the 87km course over rolling terrain, finishing in Scone Palace, just outside Perth, in two hours, 19 minutes and 22 seconds.
Only one rider, Arnaldo Salazar, from Venezuela, could match Adams's pace. Together they built a 30-second gap over the pack with 15km to go. In the final sprint, Adams demonstrated superior strength, leaving Salazar behind, and crossing the finish line in first place.
Adams previously won world championships in velodromes while representing Canada in 2013 and 2015. However, this latest triumph holds a special significance as it marks his first world championship victory as an Israeli cyclist.
On Monday Sylvan Adams took the double winning the M65 time trial, he was 1m 4s faster than Javier Benet Fabregas (ESP) and outgoing world champion Gary Painter (USA).
"I'm very happy my hard training paid off, and proud to have won this world title for Israel. My eyes were moist as they played our Israeli national anthem, 'Hatikvah,' to which I emotionally sang along," said Adams.
Another rider also got the double, winning both the Road Race and Time Trial, Andre Petipas in the M75 category.
Adams has been a driving force behind the Israel-Premier Tech Cycling Team, promoting the sport of cycling and representing Israel globally.
Last month, organisers announced that a season-ending international cycling race will be held in Israel, Bahrain and the United Arab Emirates next year, in a major sports event celebrating peace and the Abraham Accords.
The event, dubbed the "Peace Race" was spearheaded by Adams and is due to take place in October 2024, with the event divided into three stages between the countries, beginning in Israel.
Adams has said the competition will help to demonstrate how cycling "can be a force for good in bringing peoples and nations together".
Do you want to have your say?
Our social media has blown up after Adams won his medal, with over 564 reactions, 62 comments and over 110,000 views! Why not have your say?