Tour de BBQ Cycling Event and Youth Run Benefiting Kendrick Fincher Hydration for Life - 
Join us for our second annual Tour de BBQ Cycling and Youth Run!  We are thrilled to move this event over to Kendrick Fincher Hydration for Life.  The mission of Kendrick Fincher Hydration for Life is to promote proper hydration and prevent heat illness through education and supporting activities.  We do this by educating and providing hydration and heat illness prevention resources and supplies into schools, sports teams, and activities for over 11,000 children in our state each year. 
100% of proceeds benefit children's programming at Kendrick Fincher Hydration for Life.
The Tour de BBQ combines cycling with BBQ and hydration stops.  This event will take place in Bentonville, Arkansas.  We will be adjusting our route this year.  Routes will be released in early 2022. 
Event features 50, 30, and 7 mile bike rides with BBQ Rest/Pit Stops on the Razorback Greenway Trail System and a 1 mile fun run with BBQ stop at finish line. We are excited to be combining the annual Kendrick Fincher Hydration for Life Youth Run with the Tour de BBQ this year.  
Last year over 600 cyclists and over 8 BBQ stops made this the MUST-ATTEND cycling kickoff event of the season!  You will not want to miss it!
Pre-packet pickup will be on Thursday, 6/2/2022.  Location TBA.  Please be sure to add your email and phone so we can send you email and text updates regarding the event.
The first 250 participants to sign up will be guaranteed a swag bag. Early bird pricing registration ends 1/31/22.  Tshirt deadline date is 3/31/22.  Sign up for both Tour de BBQ and Tour de Tacos and receive $10 off your overall registration.  All children ages (17 and under) for youth run only - participant registration is free through 2/1/22. 
Prizes will be given to the individual and the team to raise the most money to support Kendrick Fincher Hydration for Life.
Helmets are required to ride.  Bike and safety checks will be made available for free the week of the event and morning of the event.  First aid kits are located at most BBQ stops.  
Ride/run at your own risk.  While Kendrick Fincher Hydration for Life and all of those volunteering with this event want to ensure the highest regard for rider/runner safety, it is important to understand that participation in this event is at will and participants assume all responsibility for themselves, their possessions, health/safety.
Riders must sign photo release and liability waiver and all registered participants agree to hold Kendrick Fincher Hydration for Life and all participating vendors, agents, volunteers, staff, and anyone associated with the event(s) harmless from any/all loss, injury, illness, death.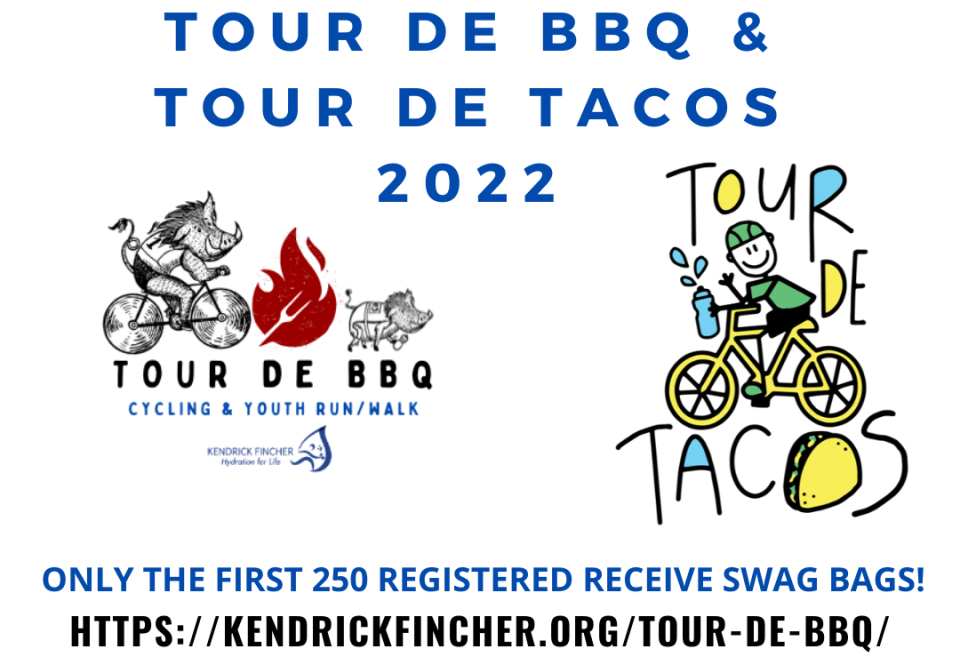 Pre-packet picket 6/2/2022
Day of event pickup opens 1 hour prior to ride start time