Gravel Unravel is a 3-race/ride gravel endurance bicycle event on the Olympic Peninsula of Washington State.
The village of Quilcene is perfectly placed at the base of the Olympic Mountains, and along Quilcene Bay. This town is synonymous with hospitality, and especially welcoming are the great folks at Worthington Park, where we will be based for the day.
After leaving Worthington Park, riders head for their first challenge – Bon Jon Pass. Luckily June is when the wild rhododendrons are in full bloom. Spotlighted against the deep green background of the forest, the blooms are sure to brighten up what might seem like an endless ascent. After Bon Jon Pass, enjoy the views and ridges, returning via Lords Lake Loop. Well, except the long course riders – they get to climb Bon Jon again!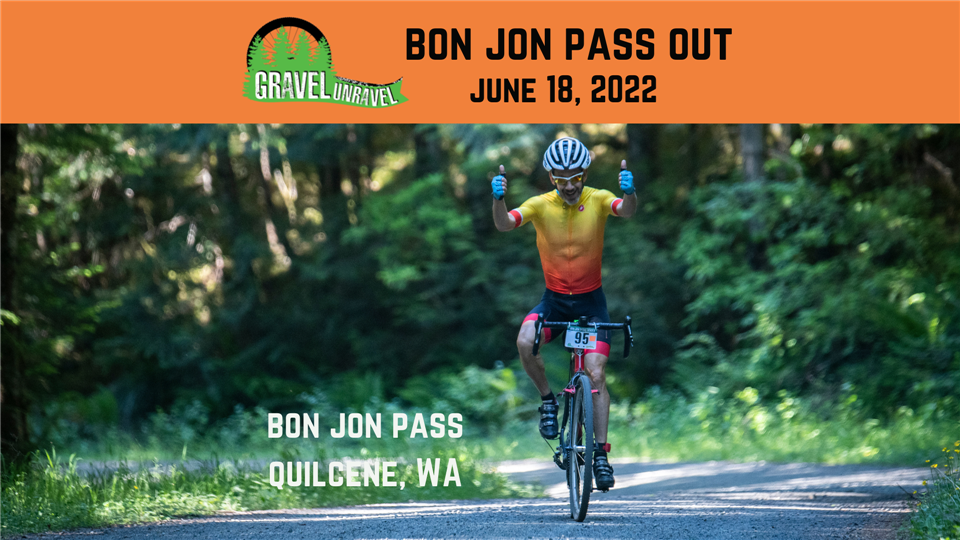 Registration Fees
ONLINE PRE-REGISTRATION ONLY
Short course = $60
Medium course = $70
Long course = $80
Juniors (under 18) = $35 (any distance)
Multi-race Discount: $5 discount on second and 3rd race. *To get the discount you must register for all races at the same time.
What's included? In addition to an epic outdoor experience in the far northwest corner, all participants receive a professional, well-organized event, a great piece of custom race swag, timing services, a well-marked course, on-course snacks and medical support, and a post-race party at Worthington Park, including food and a beer (21+) from 101 Brewery.
Prize / Race Categories
Competitive Division
Categories for each distance are: Open, Open Masters (45+), Non-Binary, Womens Open, Womens Masters (45+), Juniors (under 18), and Singlespeed.
Awards will be given only in the Categories that have 10 or more riders.
Gran Fondo
You can also Gravel Unravel in the non-competitive Gran Fondo style. Loosely translated from Italian as "the big challenge", think of it as more of a group ride or tour. Set your own goal, be it to go fast or ride for fun, or heck just to finish! E-bikes are allowed in the non-competitive ride as a separate category.