2018 California Coast Classic presented by Amgen Reaches $1 Million Fund-Raising Goal
18th Edition of Arthritis Foundation's Flagship Bike Tour finished In Los Angeles on Saturday!
CCC, as it's called, is an 8-day flagship fundraising ride for the Arthritis Foundation that started in San Francisco and took cyclists 533 miles down the beautiful California coastline to Los Angeles. Along the way, riders enjoyed a self-paced pedaling adventure with expert sag support, luggage service, catered meals, and a nightly choice of campground or hotel lodging.
This boutique, bucket list ride, named by Outside Magazine as one of "The 30 Best Road Biking Trips", took place Sept. 22-29, 2018.
Photo: Team Carter raised an estimated $125,236.95
Participants got to ride through the newly repaired Mud Creek area of world-renowned Highway 1 in Big Sur, making the 170-plus participants one of the first group of cyclists to ride the road since the highway was closed due to a massive landslide in May 2017.
Riders, friends, and family have raised over the $1 million annual goal ($1,010,691 raised as of Saturday September 29 2018) needed to help the Arthritis Foundation conquer a disease that is the nation's number one cause of disability, affecting more than 50 million adults and 300,000 children.
"The surprise opening of Highway 1 through Big Sur absolutely doubled the excitement level of this year's ride," said Darren Gonser, a participant who holds the special distinction of having ridden each and every California Coast Classic since 2001. "We thought we would have to re-route again, but the reopening of the road has really put us in sight of our goal."
In 2017, winter storms damaged the Pfeiffer Canyon Bridge in Big Sur, which was replaced with a new steel girder bridge with no columns. The Mud Creek landslide in May that same year overwhelmed a large area of Highway 1. Both freak weather events caused the CCC Bike Tour to re-route through King City and Paso Robles last year.
In 2018, the re-opening of the bridge and surrounding roads allowed the CCC to return to its traditional coastal route, with nightly stops in Santa Cruz, Carmel, Big Sur, Cambria, Oceano, Buellton, and Ventura as it cruises southward towards Los Angeles.
Photo: Part of world-renowned, iconic Highway 1 in Big Sur is back open for business
"Besides the excitement of returning to Big Sur and being able to ride the new section of Highway 1, the enthusiasm and support from the local communities along the route, the riders, and their families has been amazing," said Shannon Marang Cox, ride director for the Arthritis Foundation's California Coast Classic. "Along with their pedal strokes, you can see and feel the energy and excitement for this year's ride through their fundraising efforts."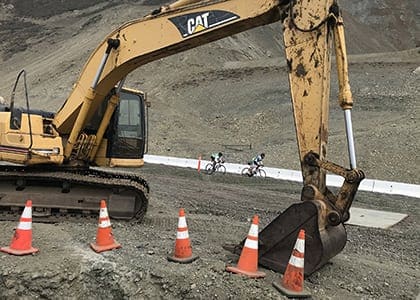 The amount raised by 170+ participants is truly inspiring, top fund-raisers Adrienne Rubin raising an estimated $48,905.00, Kyle Berg $31,165.00 and Lee Ruttenberg $29,340.00. Team Carter raised an estimated $125,236.95, Team Billy $103,458.00 and Team AMGEN (sponsors) $53,784.00.
Adrienne Rubin, 77, of Los Angeles, has been on the ride for the past eight years and is the top fundraiser for the 2018 ride, earning more than $48,905 in pledges. "I'm also the oldest participating cyclist — and now I'm starting to get a little proud of it," Rubin said, who first learned how to ride a bike in her late 60s after hearing about the ride at an arthritis charity event — said her husband has had arthritis since he was in his mid-30s. "I thought maybe I could get a bike and maybe I could do the ride," Rubin said. "I went out and did 20 miles and that was all I could do. I really had to take lessons because I didn't understand the gear shifting, I kept losing the chains."
This year's CCC fundraising efforts are still open open and donations will be accepted until Nov. 1, 2018. Go to arthritis.org/californiacoastclassic and click the donate button at the top of the page.
For the latest updates, photos and video, please visit facebook.com/groups/CACoastClassic
2019 California Coast Classic Registration Open!
Registration for the 2019 edition of the California Coast Classic, Sept. 21-28 2019, is now open.
First-time riders who register by Sunday, Sept. 30, are eligible for $65 early bird registration by entering the code "Deal19". Beginning Jan. 1, 2019, the registration fee for new riders is $95.
Participation in the California Coast Classic, named one of "The 30 Best Road Biking Trips" by Outside Magazine, is open to beginner and experienced cyclists who register and commit to a $3,500 fundraising goal. The eight-day, full-service, fully supported ride from San Francisco to Los Angeles raises funds to support the research, advocacy, and programs of the Arthritis Foundation.
More information on the 2019 route is here arthritis.org/californiacoastclassic or click the button below to register now.