Vuelta Keystone Gran Fondo cycling event a first year Success
125 riders in attendance were treated to what many described as a "gorgeous" ride, in the inaugural Vuelta Keystone gran-fondo style cycling competition Saturday.
"We loved the course" riders gapsed after finishing the 90-mile ride — the longest of three course options. "It was absolutely beautiful."
Unlike the Courage Classic, the Triple Bypass or other High Country charity rides where time is not a factor, the Vuelta Keystone incorporated a competitive element with a Gran Fondo format. Already well known in Europe and increasingly popular in the U.S., Gran Fondo rides have timed racing sections within the larger rides. Between sections cyclists are free to ride at a more leisurely pace, if they wish.
"It was fun," Jakob Marusarz of Dillon said after completing the 60-mile course. At just 12-years-old, Marusarz won the Vuelta's youngest award.
He said after the ride that it was the longest he'd ever ridden.
Family friend and fellow rider Dave Servinsky said Marusarz even climbed the entire stretch up Ute Pass — north of Silverthorne — without stopping.
Riders set off on the 90-, 60- and 20-mile courses at staggered intervals, with a brisk 41-degree, 7 a.m. start for the 90-mile ride.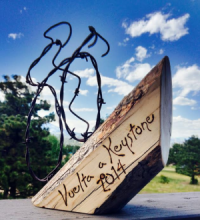 Cyclists in the 60- and 90-mile rides set out from Keystone Village and went north on Highway 6 to Silverthorne. From Silverthorne the pack traveled north on Highway 9 to the turnoff for Ute Pass. Following the timed climb up Ute Pass, the 60-mile route returned to Keystone. The 90-mile course continued north and circled Green Mountain Reservoir — the rider's second timed portion — before returning to Keystone. The 20-mile course started with an up-and-back on a portion of Montezuma Road and included a ride around the Keystone Ranch Golf Course.
Each course was shortened slightly due to the closure of Montezuma Road, which has yet to fully reopen after a section of it was washed out by snowmelt.
"It was a blast" Servinsky said, describing the event as having "unlimited potential" for future growth. "You couldn't have asked for better weather. It was really well done."
While race organizer Rob Quinn was disappointed by lower-than-expected day-of registration, he said he considered the event a success and was excited for its potential going forward.
The event previously was held in Salida. Quinn moved it to Keystone to be closer to the Front Range and to highlight the area's terrain.
Eric Short team manager for the Prestige Imports cycling team, did the 90-mile ride and expressed what many said of the change.
"It just made a lot of sense. This is such a great venue."
Vuelta organizers said they hope the event will be run out of Keystone for years to come, with over 500 riders expected next year.