Lemond Rides Dubuque Gran Fondo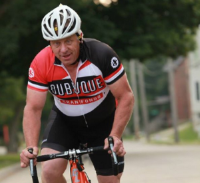 Over a 100 riders tackled the inaugural Dubuque Gran Fondo, Iowa recently. The challenging cycling event took place over the hills of the City of Dubuque, Iowa and on the roads through the nearby countryside. The route included many of Dubuque's steep hills and some gravel roads. Sections of the Dubuque Gran Fondo were timed and rider times over these sections determined the winners of the Gran Fondo.
Special guest was none other than Tour De France winner and cycling legend Greg Lemond. Greg rode the full distance of 73 miles and also was invited to host the post ride celebrations and awards ceremony.
Link to photos - http://www.dubuquegf.com/?p=469
Link to results - http://www.dubuquegf.com/?p=419