Gran Fondo NY 2016!
By Craig Kennedy
The most important fitness goal I have right now is to finish the 2016 Gran Fondo NY in under 5.5hrs moving time and under 6.5hrs total time. The 2016 Event is 161km (100mi) in length. That means I have to be able to keep an average speed of 29.3kmh (18mi/h) and keep rest stops to 10 mins every hour.
I know I can do it.
In fairness though, I've never done it before and I only got back on a bike for the first time in 22 years back in June 2015.
I've been training very hard though and back in October I finished 129km in 5hrs (26km/h average). You can see the data from that ride here.
The problem of course is that I have to get 10% faster before May 2016. So, I have a coach. I have motivation and I have a training plan. But importantly, I also now have a race plan.
This course is pretty challenging. Not only is it 161km, but it also climbs over the course of that distance by 2800m (8500ft). In order to be ready for that, I wanted to know what power capability I would need and how to prepare for race day. That's where bestbikesplit.com has come to help me.
At first I glommed onto this website because I thought it was cool but after playing with it enough and having trained with a power meter for a while now, it's really starting to help me mentally prepare. bestbikesplit is another product from Peaksware (trainingpeaks, wko4) and has pretty tight integration with those sites also.
Back to my preparation for GFNY 2016. Firstly, you can get a sense for the great course here..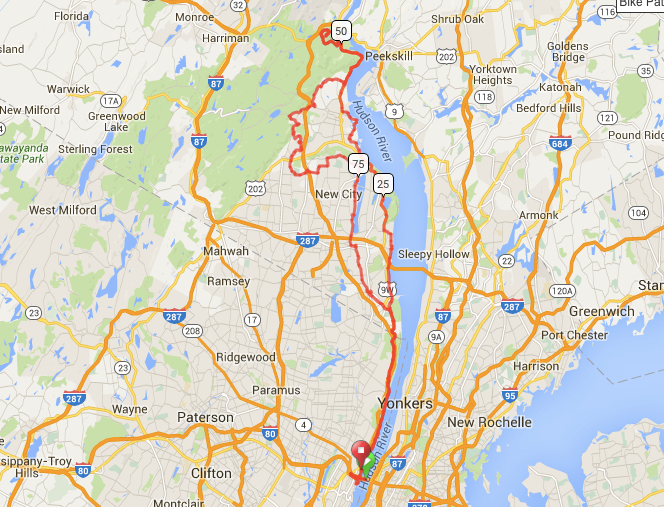 ..and more importantly, the elevation profile here…that big bump in the middle is Bear Mountain…

I also notice on the cause that the second half has more climbing than the first half. My guess is that the race directors do that because, well, they're assholes. Whatever, I can take that.
So bestbikesplit allows me to start with a profile of myself, a profile of my bike (I'll be riding the 2016 Focus Izalco Max Disc Red with Sram groupset), I've set up the weight of that bike, the weight of the rider (me – 64.8kgs or 143 lbs), riding type and in this screen, weather, road type etc. You can see, my goal is to be the same weight on race day as I am today.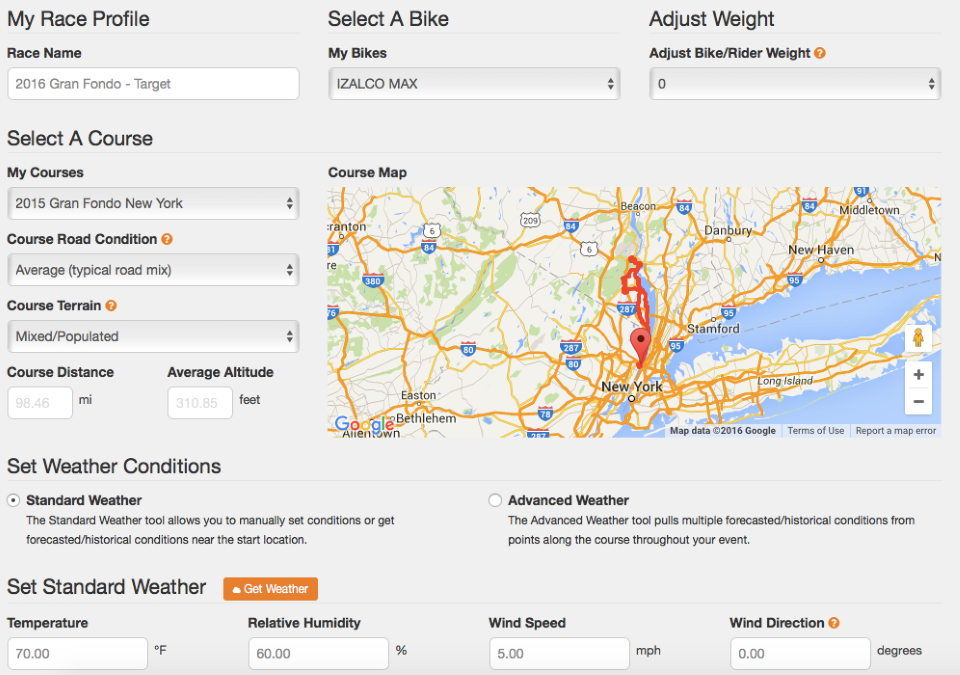 I then choose a calculation type (Normalized Power, TSS (stress score) or Target Time). The NP and TSS models let you input your power or TSS and calculate the likely course time but the one I am interested in is Target Time, to give me the power profile I have to ride.

It then runs away and does a ridiculous amount of math, simulating the actual riding time based on my power profile, my bike, the weather, the course etc. What it gives you is really cool. First, a general summary of your ride for which in this case you can see I need to be able to maintain an average power of 194W and normalized power of 201W. If you go back to the link above for the 80 mile ride my NP was 176 so it's not a terrible stretch. Additionally, since that ride I've increased my FTP significantly and can probably get closer to the power profile I need (and I have 5 months)..but more on that in a different post.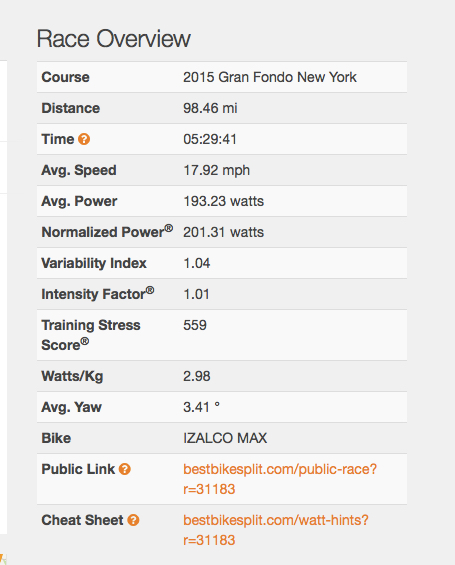 It also gives you a power profile that you have to ride by interval and you can see from this section that nothing is outside my ability..it's not calling for huge amounts of power for long periods of time..just solid power for long periods of time..but I can do that.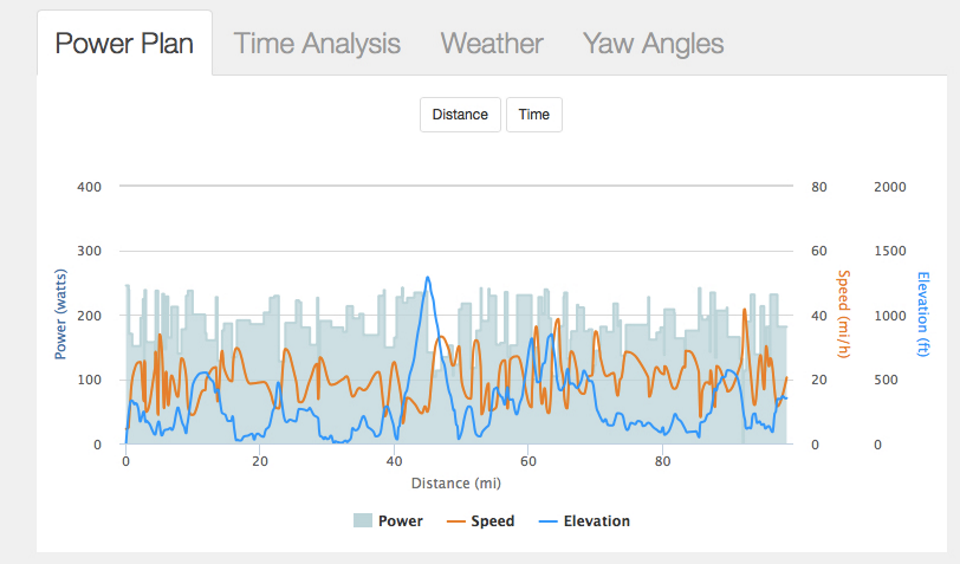 It lets me model the effect of improvement in power output through training (lets say I got 10% more powerful) – only a 15 minute saving..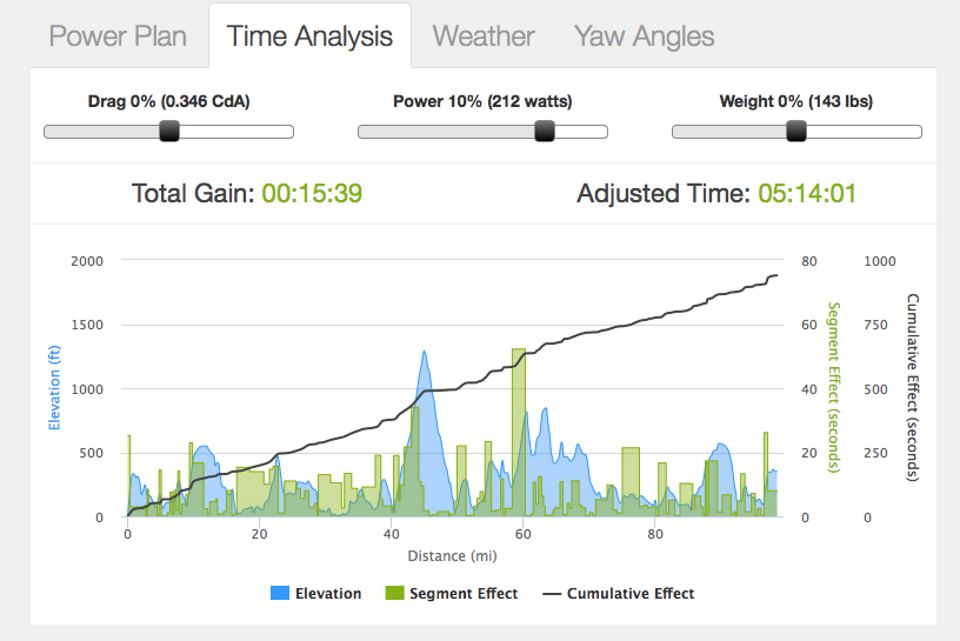 and very importantly, it now gives me an interval program that I can load into my Garmin 1000 for the day to make sure I pace well and also to allow me to load into trainerroad or Zwift to do some of the interval practice.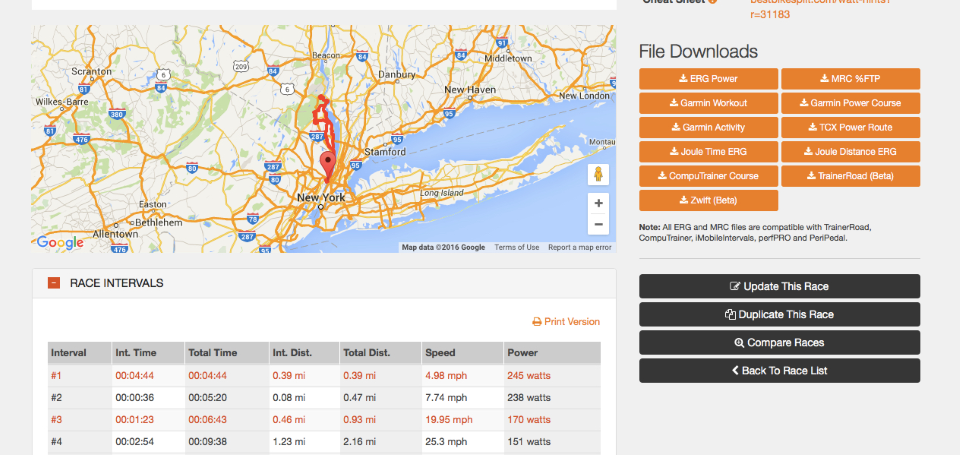 So why do I find this so useful instead of just a geeky interest topic? It tells me that with the right mental toughness and continued preparation I can meet my goals and gives me a realistic sense of what performance level I need to be at to achieve them.
It gives me a training purpose.
What do you think? Can I do it? I know I can. Follow along with me to find out!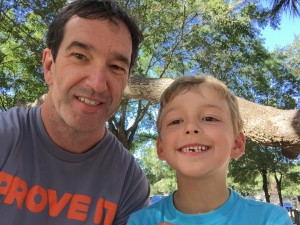 Craig Kennedy lives in central New Jersey and loves to bike, cook, fly and unfortunately work like the rest of us!
His blog "Live Life Flatout" is where he comes to share his efforts on the bike and life.

His favourite quote is from Anna Nalick's 2005 Breathe album "And I feel like I'm naked in front of the crowd, Cause these words are my diary, screaming out loud And I know that you'll use them, however you want to".
You can follow Craigs exploits at - http://liveflatout.com