Nova Scotia's Lost Shores Gran Fondo is back for its 3rd edition this September
Back for a 3rd year, the Lost Shores Gran Fondo will once again flood the streets of tiny Guysborough, Nova Scotia on September 8th with 500 smiling cyclists out for a day of non-competitive fun!
Definitely a little off the beaten path, Guysborough offers an amazing cycling venue with low traffic oceanfront roads in generally excellent condition. That's pure nectar to the skinny tire crowd who register months in advance to be part of the event.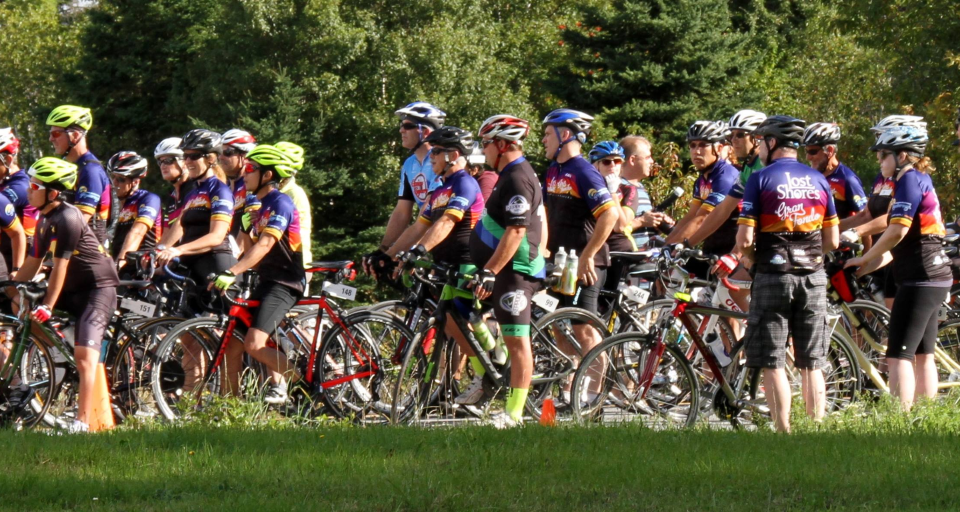 Two years ago, the idea of a major cycling event in Guysborough was unimaginable. There was no local cycling presence. That was until Rob Carter of Lost Shores Gallery, a local photography business approached Angie Tavares, Director of Recreation for Guysborough Municipality and wondered if such an event would fit into Guysborough's plans to promote the area as a tourist destination. Neither had ever ridden road bikes so there was a bit of a learning curve on riders expectations but enthusiastic feedback suggests this event is already considered one of the best in eastern Canada. Destination Eastern and Northumberland Shores (DEANS) tourism group recently awarded the Chief Experience Opportunity Award to this event, acknowledging the excitement that has been created.
This event offers five routes from 30 km to 120 km with something for every fitness level. The 35 km Intervale Loop offers a more social experience with all waterfront and no hills. The most popular ride is the 120 km Tickle Loop travelling through 20 small fishing communities and finishing along the Cobequid Chedabucto faultline that creates the rolling hills along the south shore of Chedabucto Bay.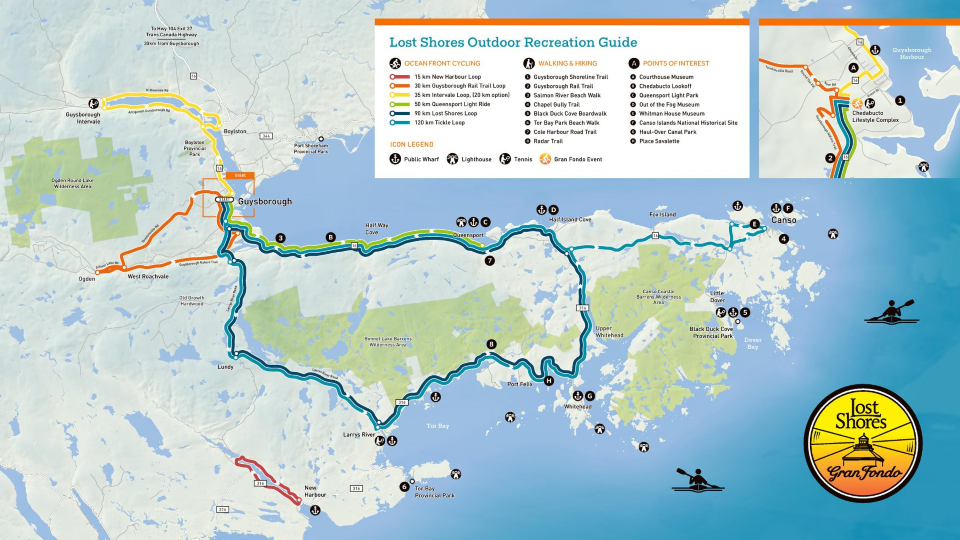 NEW for 2018 the Fear and Loathing Hill Climb!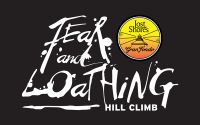 To celebrate those rolling hills, new for 2018 will be the Fear and Loathing Hill Climb, a 3 km timed grind from the Halfway Cove bridge to the Lookoff. That's a tough test after 100 km riding but some cyclists want to take home the bragging rights and a really cool T-shirt. There is also a 30 km mountain bike loop on the Guysborough Rail Trail for the fat tire crowd.
Early September offers cyclists some of Nova Scotia's finest weather and the Fondo has been a very effective way to extend Guysborough's fairly short tourism season. Most cars are gone by Labour Day and Fondo riders book every room within 90 minutes so there really is no one else on the roads on Fondo day. Residents have enthusiastically welcomed the event with communities like Larrys River waving their Acadian pride with a 'Tour de France' style cheering gallery and a fiddle. By the time cyclists get to the Queensport Light, the sounds of legendary Stan Rogers echo through the air. Nearly 100 volunteers put on a show of Guysborough hospitality supporting registration, rest stops, motorcycle escorts, daycare and event site support.
Also new for 2018, Guysborough will have their Chedabucto Lifestyles Center open and providing a world class facility including fitness center, hot showers and full kitchen facilities for catering. The post-ride festivities include a feast of BBQ ribs/Chicken with craft beers and live music to complete the picture.
For more information, routes, photos and registration, check out lostshoresgranfondo.ca
Register Now, only 500 riders, first come, first served. Don't miss out!