Stetina and Sturm Surge to Full Fat Belgian Waffle Wins
Cycling stars descended on SoCal to take on San Diego's most unique ride, Phil Gaimon rode for "fun" too
Photo: Peter Stetina and Phil Gaimon.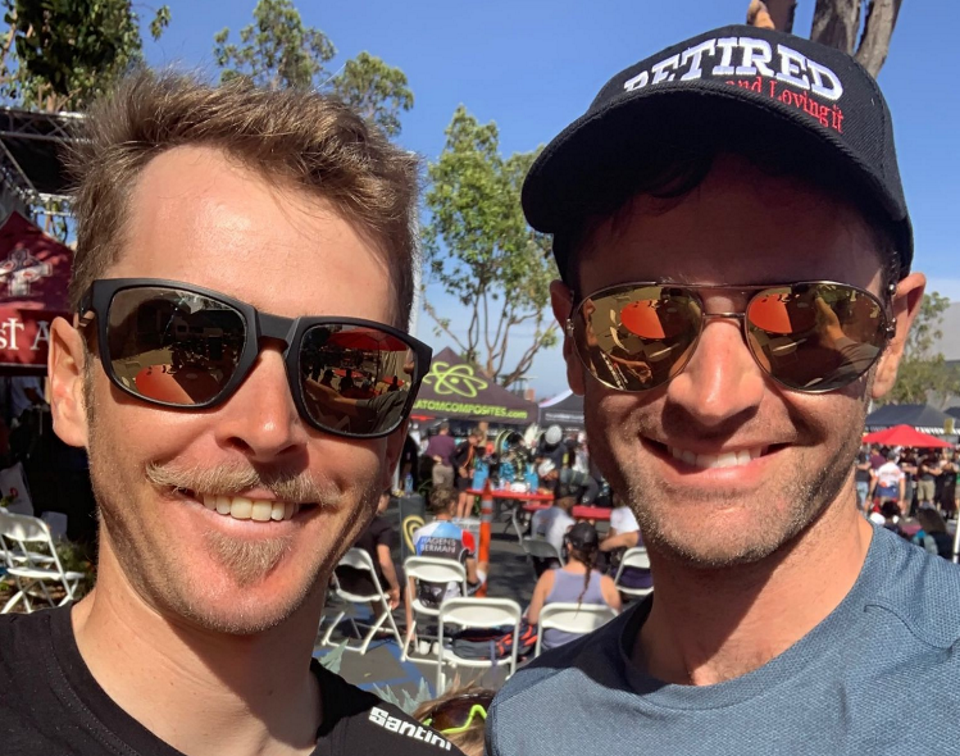 Always a firm favorite on Gran Fondo Guide's event calendar, the 2019 Belgian Waffle ride did not disappoint. Over 1,700 riders took on the full 134 mile Waffle and the not so easy 78 mile Wafer too.
Pre race favorites included defending champion Brian Mcculloch, Trek Segafredo's Peter Stetina, Gravel World's champion Colin Strickland and Dirty Kanza's Ted King.
Through the first gravel sector the above favorites, along with Axeon's neo-pro Edward Anderson and a group of around 15 top contenders made the first selection in the men's race.
The envitable punctures, mechanicals, crashes started to take their toll and nearing the end of a brutal day's riding it just Peter Stetina, Edward Anderson and Ted King left.
Trek-Segafredo's Peter Stetina pulled clear on his Trek Madone on the 17% percent gradients on the final climb of Double Peak and solo'd the final 5 miles ahead of Edward Anderson and Ted King.
Phil Gaimon on his Nove Gravel bike commented "I started today with the very ambitious goal not to win the Belgian waffle ride because that was impossible, but to enjoy myself because that's the point. I didn't fight for position on dirt roads because I retired from that. I rode endurance pace, stopped at aid stations, made new friends and caught up with old ones. "
Stetina averaged a whopping 21 mph average, a time of 6h 20m 45s, approximately 300 watts average over the whole course and commented afterwards "That was an all out brawl. I am so throttled. One of the hardest courses I've ridden. It came down to the wire. Gravel is legit and this race is a bucket list"
The traditional waffle breakfast at BWR helps riders prepare for a long day. A total of 4,000 meals were prepared by on-site catering for breakfast and post-ride. The 2019 BWR cut off registration at 1,800 riders.
Stetina donated a portion of his winnings back to the charity BWR supported, San Diego MTB Association
Photo: Phil Gaimon with Dirty Kanza legends Alison Tetrick and Amanda "Panda" Nauman.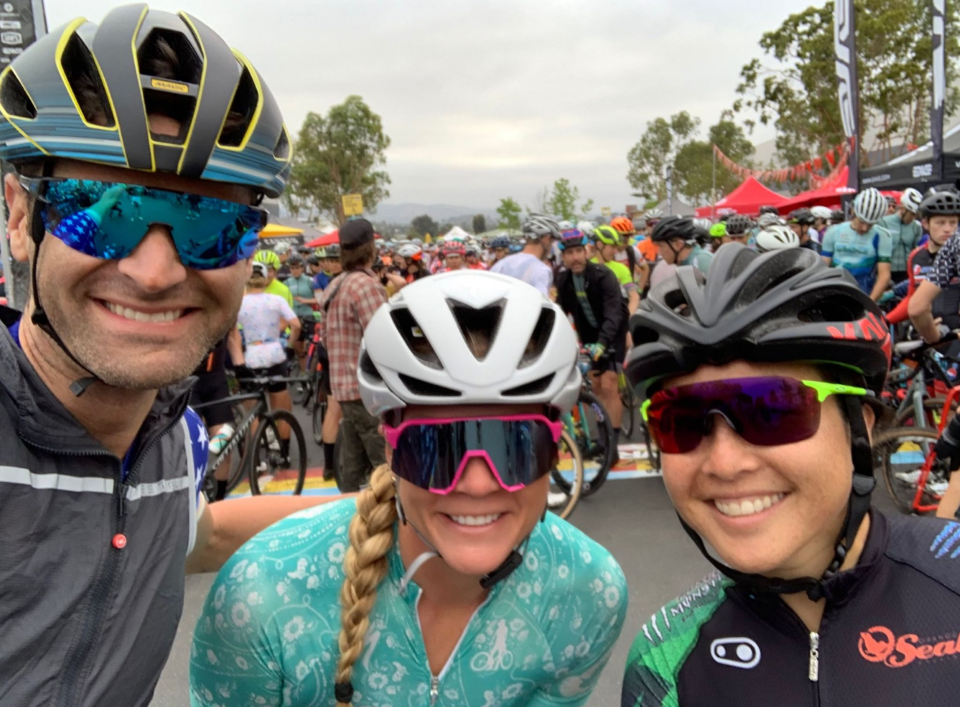 Unfortunatley Tetrick crashed twice in the opening chaos on the dirt, and fought back to complete the 133-mile wafer route.
Sarah Sturm established her lead in the women's race early on, on the dirt sectors and crested the highest point on the course, Double Peak, more than three minutes ahead of her closest competitor, Sarah Max from Bend, OR , who put in a tremendous ride to finish 2nd in the Belgian Waffle Ride.
For many participants it was a long hard day in the saddle, with Sunceray Rickard was last across the line in darkness - just over 13 hours later.
Everyone who crossed the line is certainly a champion, BWR is one hell of a ride!
2019 Belgian Waffle Ride Results Top 5
Men
1. Peter Stetina 6:20:37
2. Edward Anderson 6:21:47
3. Ted King 6:22:42
4. Cameron Piper 6:31:51
5. Stephen Mull 6:34:41
Women
1. Sarah Sturm 7:23:33
2. Sarah Max 7:35:54
3. Olivia Dillon 7:39:48
4. Hanna Muegge 7:40:16
5. Anna Grace Christensen 7:46:59
2019 Belgian Wafer Ride Results Top 5
Men
1. Kris Hendricks 3:54:57
2. Karl Bordine 3:59:02
3. Ryder Jordin 4:03:35
4. Jason Phillips 4:08:54
5. John Saliamonas 4:09:39
Women
1. Kris Reynolds 4:29:02
2. Cherell Jordin 4:32:29
3. Alyssa Eikmeier 4:38:29
4. Kirsten Darley 4:42:04
5. Paige Handy 4:43:46
2019 Belgian Wafer Ride Team Winners
1. Team Specialized x Rocket Espresso 29:36:30.514
Link to full results: 2019 Belgian Waffle Ride and 2019 Belgian Wafer Ride