Peter Sagan Announces New Cycling Event In San Diego! Sagan Fondo: The Gran Roadie-Oh
First time chance for bike riders to meet and ride with the three-time World Champ in SOCAL. SAVE 20% on Registration!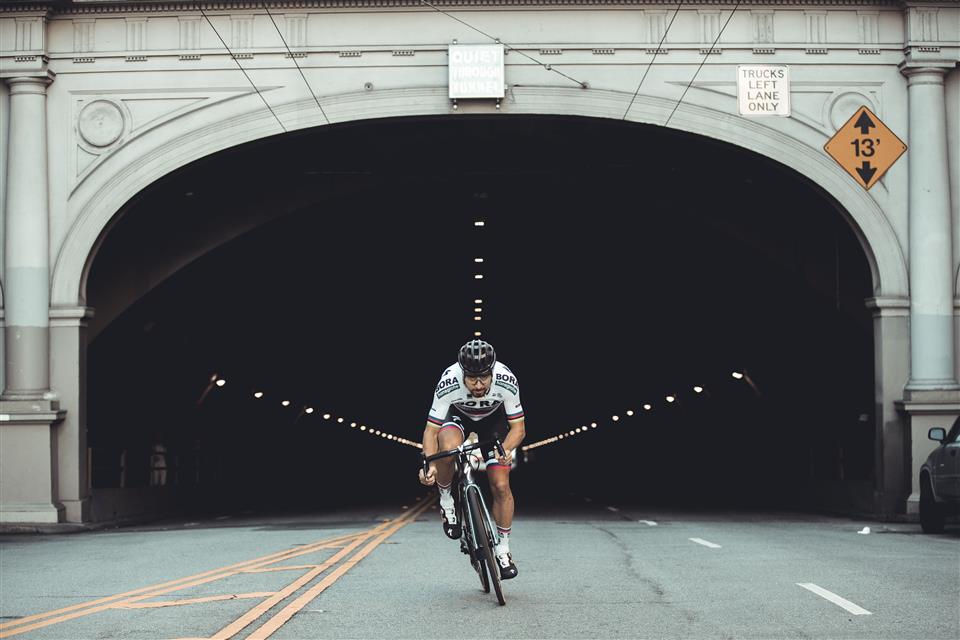 San Diego, CA (October 1st, 2019) – Still jubilant from his record-setting, seventh Green Jersey win as the fastest sprinter in the Tour de France, Peter Sagan is keeping the winning streak going with Monuments of Cycling, a premier California-based events producer that will host his Sagan Fondo events in California for the next three years.
Monuments of Cycling, best known for putting on the most unique cycling event in the United States, the Canyon Belgian Waffle Ride (BWR), is excitedly putting the final details into the first San Diego Sagan Fondo, the Gran Roadie-Oh, scheduled this November 8 to November 10. The ride will feature a Friday Gala for Challenged Athletes Foundation (CAF) and Outride Foundation, a Saturday Sagan Fondo Expo and VIP event and the Gran Roadie-Oh on Sunday with three different distances for riders to choose from (50 km, 100 km and 150 km). Both Saturday and Sunday's festivities will take place at North City in San Marcos and benefit CAF.
For the first time in Southern California, fans and cyclists will get the opportunity to ride alongside the most popular cyclist on the planet through the hills and valleys of North County San Diego. Sagan is opting for the longest 150-km/93-mile route.
Most uniquely, the longer route will feature the 'Green Jersey Go-Around' competition, a feature that all 150-km riders can compete in. In honor of Sagan's seven Green Jerseys, there will be seven, roughly 1-km Sprint Sectors for riders in various age categories to compete in, plus several secret Sprint Sectors that represent Peter's future Green Jerseys. Age Group Winners will be those with the lowest cumulative times across all the Sprint Sectors of the 'Go-Around.'
"I am really excited to come back to Southern California for some fun - I love it there and the riding and weather are too good," . "I am even more excited to celebrate my Green Jerseys with the Monuments of Cycling crew and all the people I will get to ride with during my Fondo. The 'Green Jersey Go-Around' competition will be like the best tour stage with lots of sprints, just don't expect me to sprint!"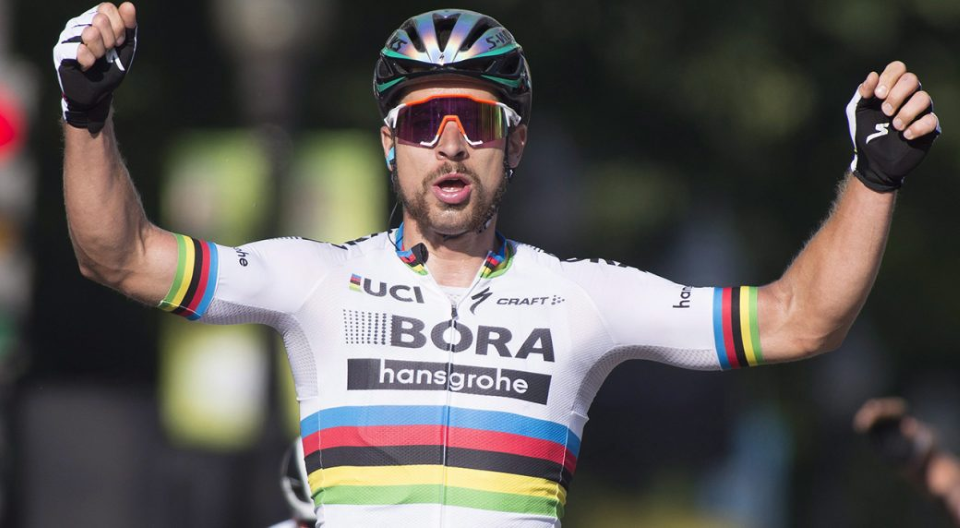 At the start/finish village in the center of North City/San Marcos (northcity.com) on both Saturday and Sunday, participants will be able to enjoy pre- and post-race festivities from 70 vendors and local beers with Sagan, and those opting into the VIP event will be treated to a memorable evening of fun with Peter, other cycling legends and the event organizers known for their exceptional experiential escapades. Sagan will be on hand all three days to pose for selfies, sign autographs, mingle and present awards to the fastest riders in the 'Go-Around.' (Winners receive a signed event Green Jersey!) Plus, everyone gets a chance to ride with Sagan on Sunday.
Sagan works closely with his sponsors Specialized, 100% and Osmo, who are all based in California. Alongside the Gran Roadie-Oh edition of the Sagan Fondo in San Diego, there will also be two California Sagan Fondos in 2020, with the addition of a gravel version, Sagan Fondo: Gran Groadie-Oh, being added to the mix in late Spring. Sportful, Sagan's apparel sponsor will be the event apparel partner and a host of other sponsors are lined up to provide the most festive and unique Sagan Fondo the world has ever seen. There will be all the massive ride support and on-course loving riders have come to expect from Monuments of Cycling, plus Sprint Sector and Feed Zone pageantry that will keep riders smiling all day.
"Monuments of Cycling is known for its world class event productions, providing unparalleled riding experiences to top pros and aspiring amateurs alike, but it is our unique course concoctions, in beautiful North County San Diego, that set us apart from the usual fondos. And the courses we have lined up for Peter, especially considering the Sprint Sectors, are pure money, or shall we say GREEN," exclaimed Michael Marckx, Head Chef of Monuments of Cycling.
Event proceeds from the Gala Event and Fondo Weekend will go to Monuments of Cycling partner, Challenged Athletes Foundation (CAF). Peter, 100% and Monuments of Cycling are committed to supporting challenged athletes in reaching their individual starting lines, The Peter Sagan Gala Event and VIP proceeds will help athletes with physical challenges get access to equipment, training and competition expenses so they can pursue their athletic goals.
"I believe what CAF does is so important," said Sagan. "If you've been riding or running all your life and something terrible happens, how do you deal with it, how do you get back to your athletic life? We created the Gala Event to support what the Challenged Athletes Foundation does – to help people find their way back through sport."
Save 20% on Sagan Fondo Gran Roadie-Oh!
The chefs at the Canyon Belgian Waffle ride have concocted the Southern California Sagan Fondo Gran Roadie-Oh, which will actually be a three-day affair of different ways to get to know, hang and ride with Peter Sagan on the heels of his recording-breaking seventh Green Jersey victory at the Tour de France.
And if that isn't enough, you will also have the chance to ride with six-time Green Jersey victor, Erik Zabel or a host of National Champions, each of whom will have specific time goals they will be driving riders to finish in for the 150K and 100k rides. For the 150K, what time sounds fun to you? 4:30, 5:00, 5:30, 6:00, maybe 4:15, or even 4:00 hours? Whatever your preference, you will have a pro to escort you! Maybe Peter!
Friday, November 8th: Charity Gala Fundraiser featuring Peter Sagan, Bill Walton, Erik Zabel and more. Hosted at the home of the Walton's, benefiting Challenged Athletes Foundation and Outride charities.
Saturday, November 9th: North City Rider Expo & VIP Dinner Party at URGE with Peter
Sunday, November 10th: Rides roll out from the start/finish village starting at 7:00am
Save 20% with Source Endurance coupon code: SEWHEELIE
For more information about the Peter Sagan Fondo, you can visit us at monumentsofcycling.com or head to the registration page, bit.ly/sagan-fondo-gran-roadieoh
For more information about Peter Sagan, please go to petersagan.com
About Monuments Of Cycling
Monuments of Cycling is committed to delivering the most unique cycling events in the country, offering experiences for the most elite athletes on the planet as well as those in awe of them through the creation of world class races that engage riders in myriad and unexpected ways. Our mission is to inspire riders of all stripes to reach, grow and aspire to new levels of fulfillment and joy, finding new ways to test their physical and mental fortitude. To learn more, visit MonumentsofCycling.com.
About The Challenged Athletes Foundation
The Challenged Athletes Foundation® (CAF) is a world leader in helping people with physical challenges lead active, healthy lifestyles. CAF believes that participation in physical activity at any level increases self-esteem, encourages independence and enhances quality of life. Since 1994, more than $112 million has been raised and over 26,000 grants funded to people with physical challenges in all 50 states and 70 countries. Additionally, CAF's outreach efforts impact another 60,000 individuals each year. Whether it's a $2,500 grant for a handcycle, helping underwrite a carbon fiber running foot not covered by insurance, or arranging enthusiastic encouragement from a mentor who has triumphed over a similar challenge, CAF's mission is clear: give opportunities and support to those with the desire to live an active and athletic lifestyle. To learn more, visit challengedathletes.org.