Algarve Granfondo Cofidis Kick-Started Portuguese Cycling Season
Departing and arriving in Lagoa, the 2020 edition took place on 23rd February, the same day as the last stage of the professional race and was an excellent opportunity for a family day out!
The Algarve Granfondo Cofidis is the mass participation event that complimented Portugal's top professional race, the 46th International edition of Volta ao Algarve, that took place February 19 - 23, 2020.
Everyone could watch the final stage of the Volta ao Algarve and participate in the Granfondo or Mediofondo during the weekend. Afterwards, everyone joined in the festive activities and traditional celebrations.
The participants of the Algarve Granfondo Cofidis chose between the 121km GranFondo with 2,143m of climbing or the 78.7 km MedioFondo with 959m of climbing.
=>> Related Link: Top 11 Portuguese Gran Fondos for 2020 <<=
The Granfondo is designed for participants who are fit and able to take on a demanding challenge, and they climbed to the highest point in the region, Fóia, an iconic place of the Volta ao Algarve and the Portuguese cycling.
The Mediofondo had a more accessible route, ideal for those who seeked a more relaxed Sunday morning, with the possibility of ending their achievments in time to watch the time trial, that decided this year's edition of the Volta ao Algarve won by rising cycling start Remco Evenepoel.
This event was a true immersion into the most genuine and lesser known landscapes of the Algarve and included aid stations stocked with food and drink, bike number, insurance, finishers medal, shower, buffet lunch and merchandise gifts.
In the Gran Fondo, Ricardo Pires (Swick Cycling Team/C.B. Almodovar) was first for the men and Fiona Hunter Johnson (Campinense-Velo Performance) first for the women. In the Medio Fondo, Rui Santos (Os Lunáticos Do Pedal) was fastest for the men and Liliana Silva (Maiatos) was fastest for the women.
2020 Algarve Granfondo Cofidis Top 10 Results Men
| | | | | | | |
| --- | --- | --- | --- | --- | --- | --- |
| 1 | 842 | RICARDO PIRES | M | SWICK CYCLING TEAM/C.B.ALMODÔVAR | 3:16:35 | --- |
| 2 | 666 | ANDREW HENRIQUES | M | BTT LOULÉ/ELEVIS | 3:17:51 | 0:01:16 |
| 3 | 106 | PAULO PEREIRA | M | LOVETILES | 3:18:30 | 0:01:55 |
| 4 | 882 | FILIPE FRANCISCO | M | BTT LOULÉ /ELEVIS | 3:19:50 | 0:03:15 |
| 5 | 32 | RENATO FERREIRA | M | EUROPCAR | 3:19:50 | 0:03:15 |
| 6 | 119 | DAVID COSTA | M | SANTA CRUZ / BOTELHOS.PT | 3:19:50 | 0:03:15 |
| 7 | 47 | DAVIDE MACHADO | M | TEAM EUROPCAR | 3:19:52 | 0:03:17 |
| 8 | 528 | RUCHA | M | VASCONHA BTT | 3:20:00 | 0:03:25 |
| 9 | 118 | BRUNO ROSA | M | SANTA CRUZ / BOTELHOS.PT | 3:21:40 | 0:05:05 |
| 10 | 844 | DAVID BELO | M | SWICK CYCLING TEAM/C.B.ALMODÔVAR | 3:21:40 | 0:05:0 |
2020 Algarve Granfondo Cofidis Top 10 Results Women
| | | | | | | |
| --- | --- | --- | --- | --- | --- | --- |
| 1 | 306 | FIONA HUNTER JOHNSTON | F | CAMPINENSE-VELO PERFORMANCE | 3:36:07 | --- |
| 2 | 606 | VERA | F | SLB | 3:51:45 | 0:35:10 |
| 3 | 607 | MELANIE | F | SLB | 3:51:47 | 0:00:02 |
| 4 | 170 | INES TRANCOSO | F | --- | 3:51:47 | 0:00:02 |
| 5 | 192 | CARMEN BURMEISTER | F | HABERICH CYCLING CREW | 3:59:41 | 0:07:56 |
| 6 | 326 | CELINA CARPINTEIRO | F | 5QUINAS/MUNICÍPIO DE ALBUFEIRA/CDASJ | 3:59:41 | 0:07:56 |
| 7 | 745 | NADIA MENDES | F | EVOCYCLE | 3:59:42 | 0:07:57 |
| 8 | 489 | IRONMENA | F | ONTRISPORTS | 4:14:30 | 0:22:45 |
| 9 | 280 | SONIA RODRIGUES | F | GARRA-ONEBIKE | 4:18:18 | 0:26:33 |
| 10 | 736 | TINA ROSSCHMANN | F | CCD LAGOS | 4:21:44 | 0:29:59 |
Full Gran Fondo Results: https://www.classificacoes.net/modalidades/ciclismo/algarve-granfondo-cofidis/1296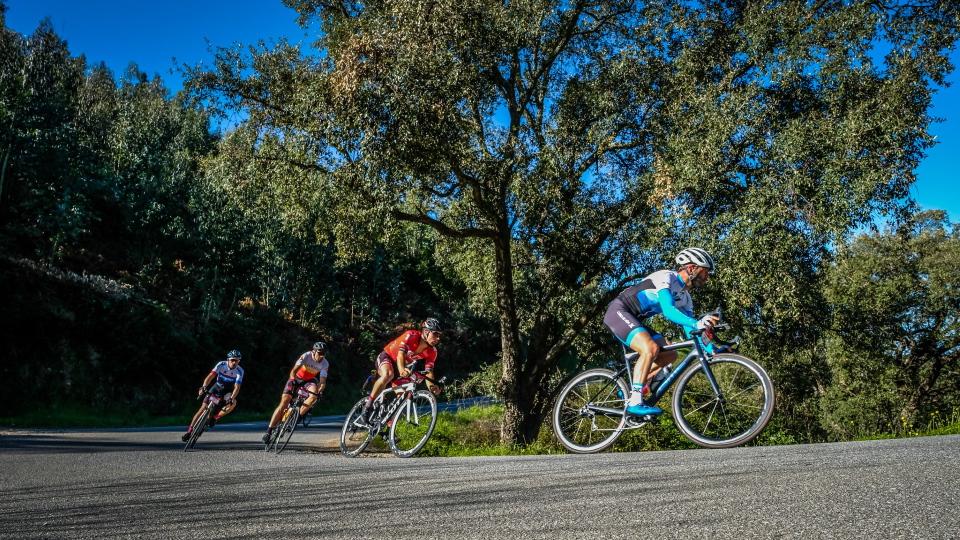 2020 Algarve Mediofondo Cofidis Top 10 Results Men
| | | | | | | |
| --- | --- | --- | --- | --- | --- | --- |
| 1 | 700 | RUI SANTOS | M | OS LUNÁTICOS DO PEDAL | 2:02:35 | --- |
| 2 | 284 | MARCOS BARBOSA | M | CENTRO CICLISMO PORTIMÃO | 2:02:35 | 0:00:00 |
| 3 | 303 | MIGUEL PEREIRA | M | --- | 2:02:35 | 0:00:00 |
| 4 | 439 | PEDRO RIBEIRO | M | AUTOMOVEIS RIBEIRO | 2:02:37 | 0:00:02 |
| 5 | 423 | PATRICK SIMÃO | M | JIC RACING TEAM | 2:02:37 | 0:00:02 |
| 6 | 847 | RUBEN CALADO | M | SWICK CYCLING TEAM/C.B.ALMODÔVAR | 2:05:06 | 0:02:31 |
| 7 | 744 | SALVATORE CAPPELLO | M | JIC RACING TEAM | 2:05:07 | 0:02:32 |
| 8 | 504 | RUI GUERREIRO | M | CENTRO DE CICLISMO DE LOULÉ | 2:05:08 | 0:02:33 |
| 9 | 285 | TIAGO MORAIS | M | CENTRO CICLISMO PORTIMÃO | 2:05:08 | 0:02:33 |
| 10 | 244 | GUALDINO FROIS | M | CCC/VULCAL | 2:05:09 | 0:02:34 |
2020 Algarve Mediofondo Cofidis Top 10 Results Women
| | | | | | | |
| --- | --- | --- | --- | --- | --- | --- |
| 1 | 155 | LILIANA SILVA | F | MAIATOS | 2:26:07 | --- |
| 2 | 340 | MARIA JESUS | F | 5QUINAS/MUNICIPIO DE ALBUFEIRA/CDASJ | 2:31:39 | 0:05:32 |
| 3 | 327 | ANDREA COSTA | F | 5QUINAS/MUNICÍPIO DE ALBUFEIRA /CDASJ | 2:31:39 | 0:05:32 |
| 4 | 324 | IRINA COELHO | F | 5QUINAS/MUNICÍPIO DE ALBUFEIRA/CDASJ | 2:31:46 | 0:05:39 |
| 5 | 139 | NATÁLIA REALINHO | F | AMIGOS BTT MAFRA | 2:31:49 | 0:05:42 |
| 6 | 321 | LUIZETE DIAS | F | BELMIRA CRUZ/CENTRO CICLISMO DE PORTIMÃO/MIRACHORO HOTELS | 2:33:47 | 0:07:40 |
| 7 | 328 | FILIPA GONÇALVES | F | 5QUINAS/MUNICÍPIO DE ALBUFEIRA/CDASJ | 2:35:36 | 0:09:29 |
| 8 | 171 | INES NASCIMENTO | F | --- | 2:35:47 | 0:09:40 |
| 9 | 834 | LAURA SIMAO | F | 5QUINAS/MUNICIPIO DE ALBUFEIRA/CDASJ | 2:40:22 | 0:14:15 |
| 10 | 329 | FRANCIELLE CRESTAN | F | 5QUINAS/MUNICÍPIO DE ALBUFEIRA/ CDASJ | 2:40:37 | 0:14:30 |
Medio Fondo Results: https://www.classificacoes.net/modalidades/ciclismo/algarve-granfondo-cofidis/1297