13th Annual Ride the Hurricane Registration now Open
Washington's Toughest and Most Scenic Cycle Climb returns Sunday August 1st with an additional Olympic Discovery Century Ride
Ride the Hurricane's classic route is a 40 mile round trip up to the one-mile-high Hurricane Ridge visitor's center at 5,240 feet and back to sea level with a fabulous waterfront start/finish at Port Angeles City Pier.
You are encouraged to go at your own pace and ability, this is a challenging climb with a maximum grade of 11.2% and 5,374 feet of climbing. You'll be rewarded with a thrilling downhill back down the mountain, using the incredibly scenic Hurricane Ridge Road.
The roads will be closed to cars from 7am to noon on Sunday, August 1st allowing participants to immerse themselves in nature and the incredible views that open up the higher you climb.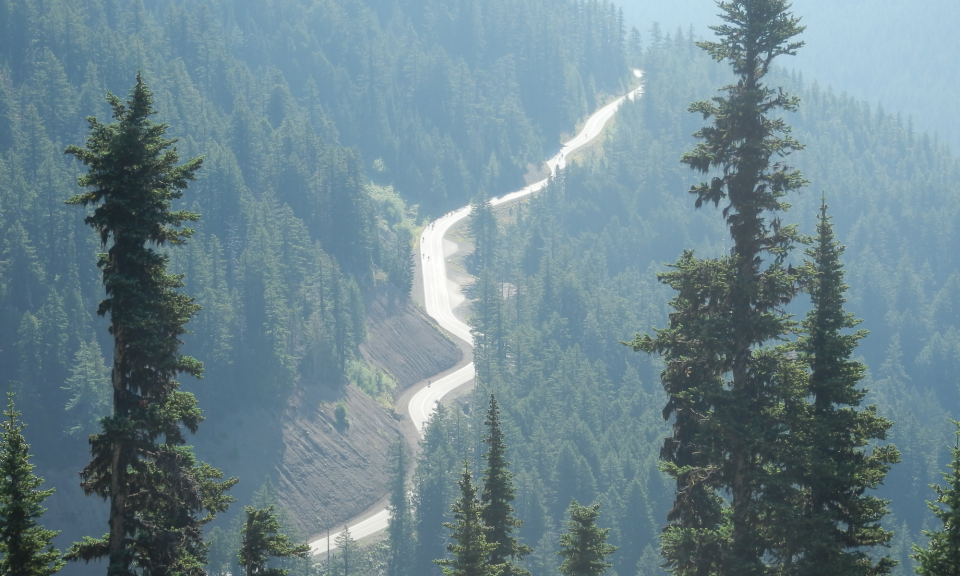 NEW Olympic Discovery Century Ride
Organizers have been testing out a Century Ride route for the past couple of years and are now offering a fully-supported 100-mile option. The route is for brave souls who want to enjoy 100 miles in some of the world's most beautiful scenery.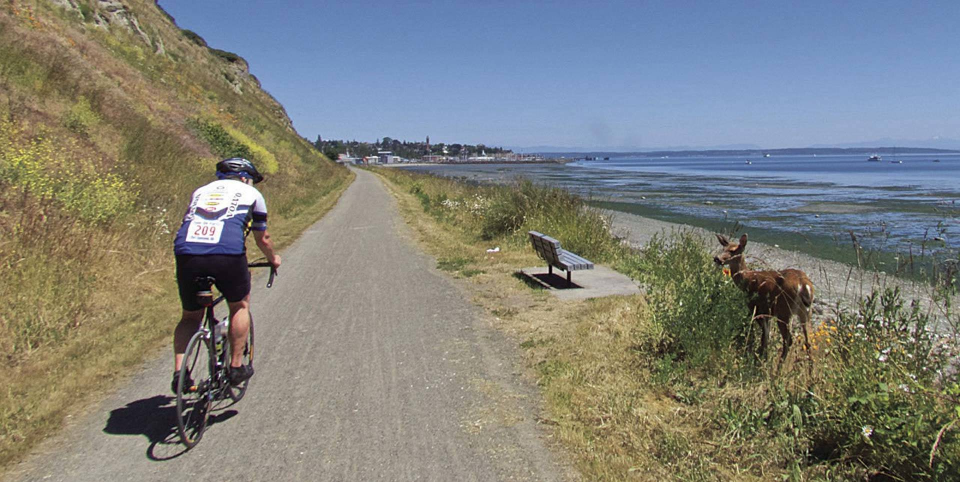 The Century Ride uses Ediz Hook, which takes cyclists about 1.5 miles out into the ocean (Strait of Juan de Fuca) before they climb to the alpine summit of Hurricane Ridge, then back down, followed by about 60 miles, mostly on the Olympic Discovery Trail. The Olympic Discovery Trail is a paved, multi-use pathway that is mostly flat, but undulates along the North Olympic Peninsula, with gorgeous ocean and stunning mountain views along the way. The 100 mile ride contains 8,644 feet of climbing.
Ride the Hurricane is a top U.S. Hill Climb and a must do ride to add your Bucket List!
Fully Supported
The event includes aid stations with food and water with a variety of snacks around every 5 miles and mechanical support with an Emergency Medical Unit on standby.
Advance Check-in on Friday & Saturday before the ride will allow you to pick up your ride armband and purchased jerseys on Friday & Saturday before the ride. This will allow you to skip check-in on ride day and head up the mountain whenever you wish.
There is FREE Parking at the start/finish location.
Celebrate Your Efforts!
There will be professional photographers at the summit and along the route, and a Leaderboard Challenge (using Strava) for the ascent.
Celebrate your efforts at the after-party at in Port Angeles City Pier, featuring local delicacies & Brew after the Ride.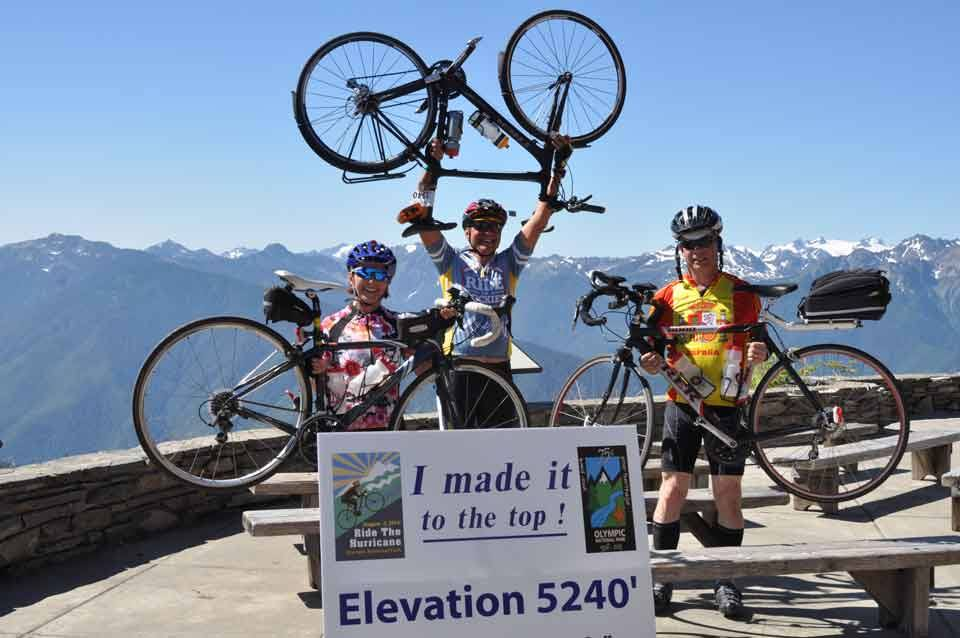 Accommodation
Hotel reservations can be difficult to secure during this time of year in Port Angeles, so participants are highly encouraged to make reservations early. Hotels close to the ride start and finish at Port Angeles City Pier, include Red Lion Hotel, Port Angeles Inn, and Quality Inn Uptown.
2021 RTH Jersey
This year's unique jersey is inspired by the Washington State Flag, recognition of what is an incredible place to live, work, and visit.
They are designed and manufactured by Primal (sizing here) and are available for order during registration ($60). Order by June 23 to receive them on the day of the ride, otherwise they'll be mailed to participants by early September.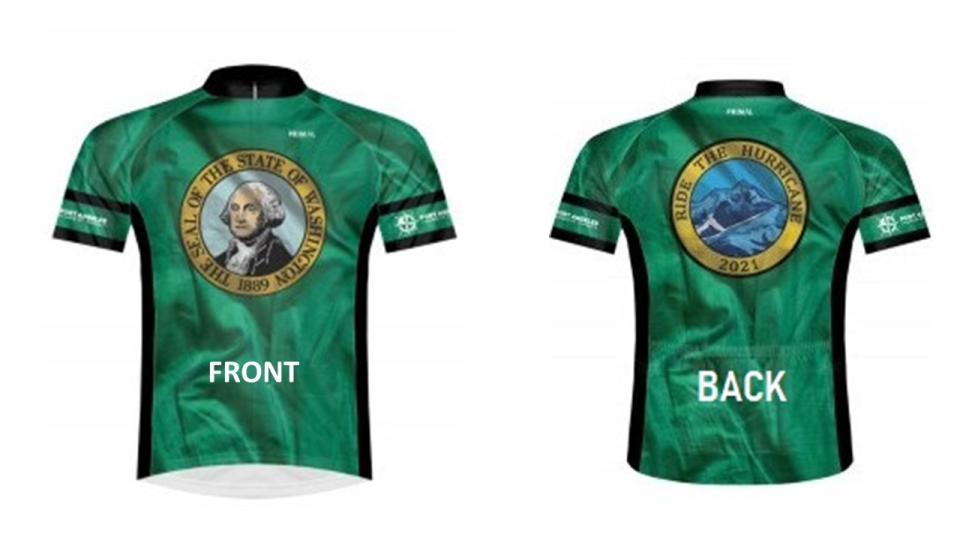 Registration is Now Open
The Olympic National Park limits the number of cyclists allowed in the park, and the ride will sell out in advance.
For more information, please visit: https://ridethehurricane.org or click the button below to register.

Benefitting the Washington State National Parks
Your efforts are not in vain as the ride raises funds to care for the Parks and Trails that you'll cycle through.
Beneficiaries of Ride the Hurricane include the Washington State National Parks Fund (supporting Olympic National Park) and the Peninsula Trails Coalition (supporting the Olympic Discovery Trail).
Come away knowing you conquered one of the USA's top hill climbs, arguably one of the most scenic bike rides in the world and raised vital funds too!