Johnny "Barbed Wire" Hoogerland is back with Ötztaler Radmarathon Title
Hoogerland is famous for being the rider who crashed into barbed wire in the Tour de France continues his winning streak at Austria's ultra tough Otztaler Radmarathon. Germany's Christina Rausch wins the women's race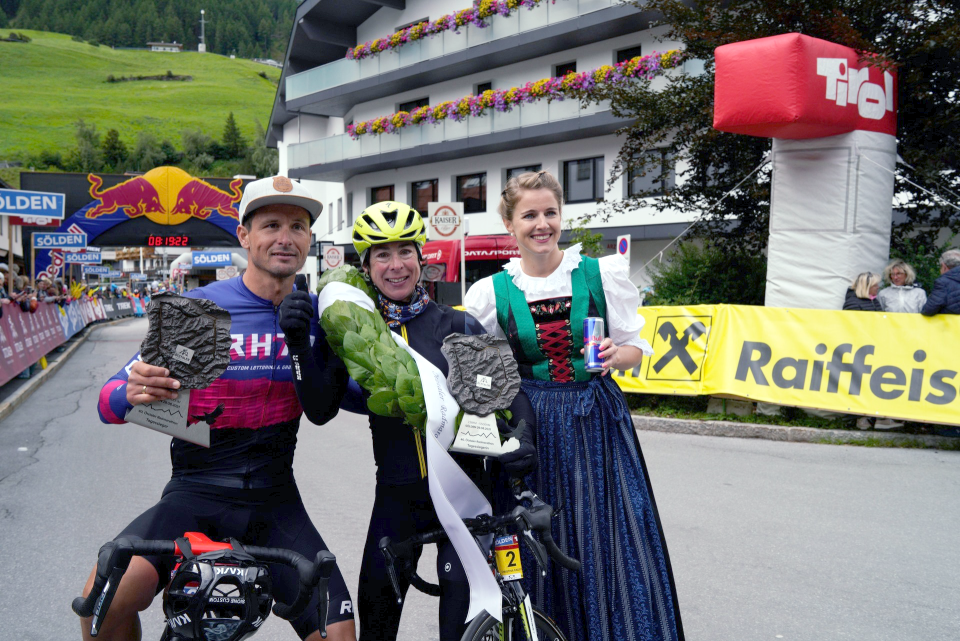 The epic Ötztaler! Every year cyclists turn up in the Austrian Alps to conquer one of the most demanding cycle marathon in the Alps. The race course covers 238 kilometers, over 4 Alpine passes (Kühtai saddle, Brenner pass, Jaufen pass and Timmelsjoch) from Sölden to South Tyrol and back, with an incredible 5,500m of climbing.
Over 4,000 cyclists lined up on a cold and wet day to tackle a route which was slightly changed due to a rock slide, luckily the threat of worsening weather didn't materialize allowing thousands to enjoy the epic race route in the rain.
Johnny Hoogerland soloed to victory at the Ötztaler Radmarathon, celebrating it's 40th Anniversary last Sunday August 29th in a time of 7h 21m 1s ahead of Austrian Hans-Jörg Leopold and Italian Mattia De Marchi.
Hoogerland said after crossing the finish time, "That was a memorable day for me! Already on the first climb I noticed that I have great legs and I was never at the limit. De Marchi was super strong on Jaufen pass and Timmelsjoch, and I knew that I had to follow him quickly. The last five kilometers were very hard, I still got cramps. But this is such a sensational victory for me, I have goose bumps" .
2019 winner Christina Rausch came back to take another victory finishing in a time of 8m 15m 20s ahead of Germany's Veronika Weiss and Austria's Bianca Somavilla.
Hoogerlands alsi won the UCI Maraton Franja in June and is ranked favorite to win the over 2021 UCI Gran Fondo Men's Championship.
There is less than 50 days before the 2021 UCI Gran Fondo Championships, which take place October 5-9, 2021.
VIDEO: 2021 Ötztaler Radmarathon Highlights
Men's Podium
1 Hoogerland Johnny 7:21.01,0
2 Leopold Hans-Jörg 7:28.26,8
3 De Marchi Mattia 7:28.27,4
4 Cini Fabio 7:34.25,7
5 Petzold Robert 7:36.53,0
Women Podium

1 Rausch Christina 8:15.20,0
2 Weiss Veronika 8:50.29,6
3 Somavilla Bianca 8:52.03,8
4 Van der Moeren Ils 9:03.10,5
5 Dietl Monika 9:05.06,5
For the full 2021 Ötztaler Radmarathon results, please visit: https://www.oetztaler-radmarathon.com/home/the-race/results.html