The Ötztaler Radmarathon is one of Europe's toughest sportives, at 227km long with over 5500m of climbing in the Tyrolean alps.
The sportive starts and finishes in the town of Sölden, which featured in the James Bond film Spectre.
Nearest airports are Innsbruck or Munich, with accommodation available in Sölden.
Key Climbs are: Sölden (1.377 m) – Längenfeld – Umhausen – Oetz (820 m) – Kühtai (2.020 m) – Kematen (610 m) – Völs – Innsbruck (600 m) - Sonnenburgerhof – Schönberg – Matrei am Brenner – Steinach am Brenner – Gries a. Brenner – Brenner (1.377 m) – Sterzing – Jaufenpass (2.090 m) – St. Leonhard im Passeiertal – Timmelsjoch (2.474 m) – Sölden (1.377 m).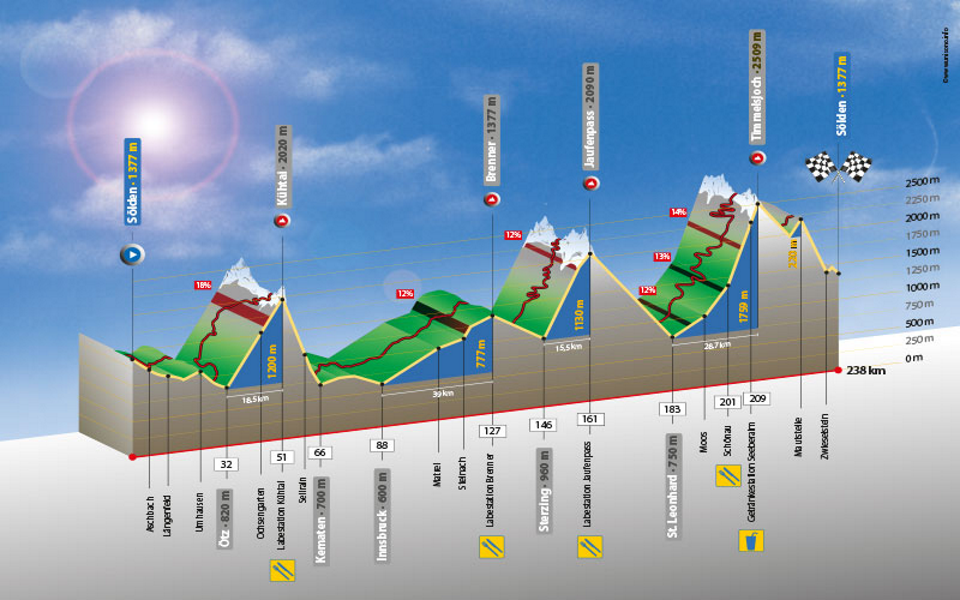 In particular, the starter package includes:
start number and timekeeping chip;
Drinking bottle in Ötztaler Cycle Marathon design;
Consumption voucher for the gastronomy in Ötztal valley valid from 07. - 10.07.2023
Ötztaler Cycle Marathon gift
In the course of the event and on the track, the participants can take advantage of varied in-kind benefits, meals and drinks plus other services:
5 refreshment stations on the track plus drinks and snacks in the finish area
Breakdown service on the race course (replacement parts must be paid separately)
Deposit service including special transport bag
Free massage service on the track (Schönau refreshment station)
Download link for the Ötztaler 2023 film highlights
Video production for several TV stations
Certificate for all finishers to download via internet
List of official results - published online on the homepage and in the "Ötztaler Nachrichten" marathon booklet
The coveted, high-quality Ötztaler Cycle Marathon Finisher Jersey exclusively available for "finishers" without any exception (for participants who complete the entire marathon course correctly, pass all checkpoints and reach the finish area in Sölden before the course closing car);
Entertaining side program
The 3 best participants per class and the 3 best teams receive non-monetary prizes or honorary prizes.