First-ever L'Étape San Antonio by Tour de France brings out 2,400 riders
Cyclists celebrated in the Lone Star state with the hugely successful first edition of the L'Etape San Antonio by Tour de France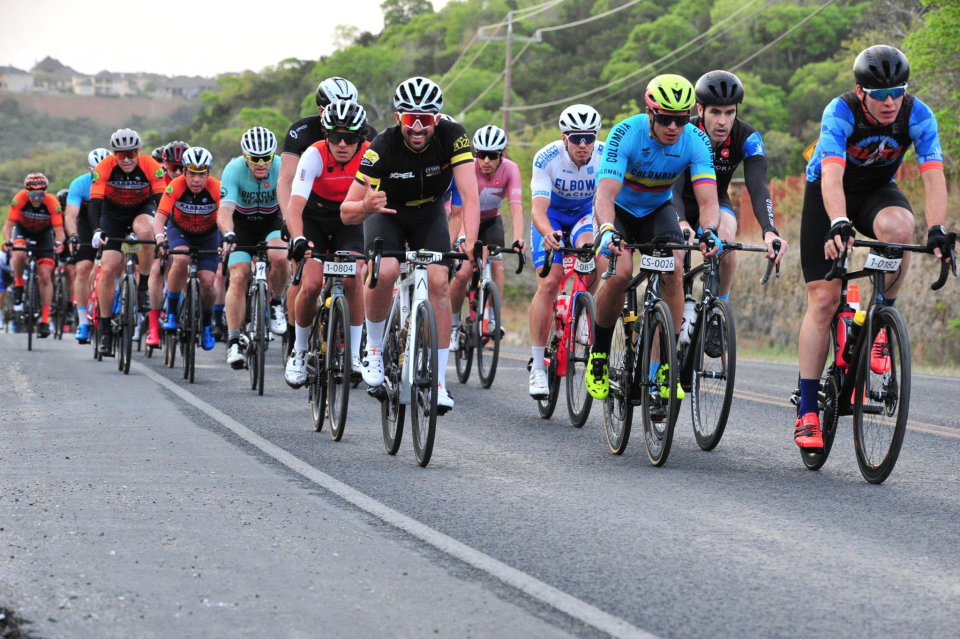 L'Étape San Antonio by Tour de France took place this past weekend on April 10th in San Antonio, Texas. The official amateur Tour de France cycling event started from the University of Texas at San Antonio and headed into Texas Hill Country. More than 2,400 riders participated in the event, with more than 750 riders opting for the 100-mile distance.
100-mile top finishers and Yellow Jersey winners, Annie Bathalter and Spencer Jones, came across the line in 4:49:28 and 4:25:03 respectively. Jerseys were also handed out in the other iconic Tour de France categories, including the Green Jersey to Sprint winners and the Polka-Dot Jersey to King of the Mountain and Queen of the Mountain winners.
Photo: Spencer Jones and Annie Bathalter receive their winner yellow jersey's and prizes, presented by 7 times Tour de France Champion Alberto Contador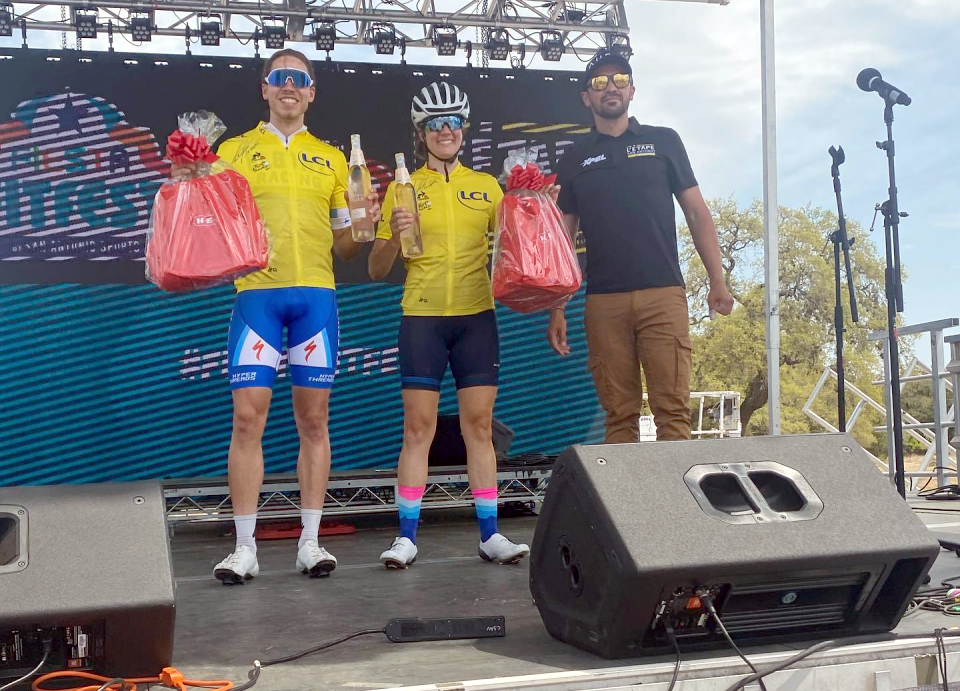 Two-time Tour de France champion Alberto Contador joined the inaugural event. He participated in a small group ride of 50 L'Étape San Antonio racers on Friday, hosted by Britton's Bicycle Shop, shared his Tour de France experiences at the Champions Dinner on Saturday and took part in the 100-mile race on Sunday.
L'Étape San Antonio was also part of Fiesta FitFest presented by H-E-B and San Antonio Sports. Attendees participated in a Beer Mile, the Fiesta FitFest 5K 10K, and the Alpha Warrior Challenge. The three-day festival was an official Fiesta event.
"I had a great time here in San Antonio celebrating the first-ever L'Étape San Antonio by Tour de France. It was a great competition out on the rolling course. The riders were incredible and it was a pleasure exploring San Antonio's roads and meeting riders from Texas, Mexico, and across the United States."—Alberto Contador
"We were thrilled with how the event unfolded and so were the cyclists. It was a tough course but riders pushed through and came out with some great times and great memories. This event was only possible because of the incredible riders, our dedicated sponsors and partners, and the engaged communities of San Antonio and surrounding areas. We can't say thank you enough and we cannot wait to be back next year."—Michael Brown, L'Étape San Antonio by Tour de France, Race Director
"The first Tour de France was in 1903 and it grew to slowly but surely become the largest cycling event in the world, with an audience of 2 billion. And, here we are at the first edition of L'Étape San Antonio by Tour de France. Who knows where this race will take us in the next ten years, but one thing is certain, just like the Tour de France, there's no limit to the potential for this event."—A.S.O. representative, Umberto Mancini
2022 L'Étape San Antonio by Tour de France Results can be found here: https://track.rtrt.me/e/SS-LETAPE-SANANTONIO#/tracker
Due to the overwhelming success of the inaugural event, the organizers opened up 2023 registration with a special low price.
Secure your place for the second edition on April 16, 2023 at the lowest price at www.letapesanantonio.com