Ride a stage of the Tour de France in Canada this August
Edmonton in Alberta is your opportunity to test yourself on a special stage of the Tour de France with 1,000's of other cyclists this August 14th
Every year the Tour de France inspires cyclists around the world to challenge themselves. Top professionals have to endure steep climbs, breakaways, fast descents, high winds, echelons, very hot weather, a fair share of crashes and high speed sprints for three weeks.
The Tour is the most famous cycling race in the world, with a 119-year history. Only the best of the best get to race the Tour, ride the Alps and the Pyrenees, and finish on the Champs-Élysées in Paris. To ride a stage of the Tour is something special even for the pros.
In Europe, over 16,000 cyclists from around the world took part in the L'Etape du Tour (a stage of the Tour) riding a full mountain stage (stage 12) of this year's race ahead of the professionals.
For us mere mortals, our goal is simply to finish knowing we'll receive a time we can use to improve on our personal best or compare ourselves against or riding buddies or be contented to cross the finish line.
This is your opportunity to ride an official stage of the Tour de France Canadian style - with maybe a moose or two!
The courses head west out of Edmonton and wind through gorgeous countryside with fully and partially closed roads towards Devon. There are three distances of 40, 80, 160km to cater for all abilities of cyclists.
There will be food zones to supply riders with nutrition, water and other necessities every 20-25 km.
Families are centre stage with a special family ride and a special kid's ride, so that everyone can enjoy a special day of cycling celebration. Get the kids racing early at our FREE Kids Race!
The L'Étape Canada 160km event is the ultimate cycling challenge, with a based on a similar format to a genuine Tour de France stage designed using the experience put into every Tour de France stage.
For those who wish to immerse themselves in the atmosphere and experience L'Étape Canada without the added pressure of the tougher climbs and distance, the 80-kilometer and the 40-kilometer rides are the perfect option.
The Family Ride is an event for everyone, all bikes are allowed for riders 11 years old and up. The Kids Race is for children from age 3 to 10. Number of laps to complete are determined by the age of the rider. Please register your interest here.
King of the Mountain and Sprint Challenges
Climbers and sprinters can get competitive! Both the 80km and 160km courses will be eligible to win the Green and Polka Dot Jerseys in each age group. The Green jersey for the sprinters and Polka Dot jersey for the climbers, just like the pros!
The overall winners will receive an authentic Tour de France Santini Yellow Jersey presented by Alberto Contador!
Meet & Ride with Alberto Contador
This is also your opportunity to meet and ride with two-time Tour de France Champion Alberto Contador who will be participating. Want to ask El Pistolero what it's like to wear the Yellow Jersey? Now's your chance!
Get a seat at the Champions Dinner on Saturday, August 13th by registering in the VIP experience, Classe Spéciale or you can purchase a Champions Dinner ticket during registration.
The Spanish cyclist, two-time Tour de France and Giro d'Italia winner, and three-time Vuelta a España winner will be part of the entire L'Étape Edmonton weekend. Contador will offer insights into his most competitive races at the Champions Dinner and will be available for meet and greets.
He will also take part in the main race on Sunday!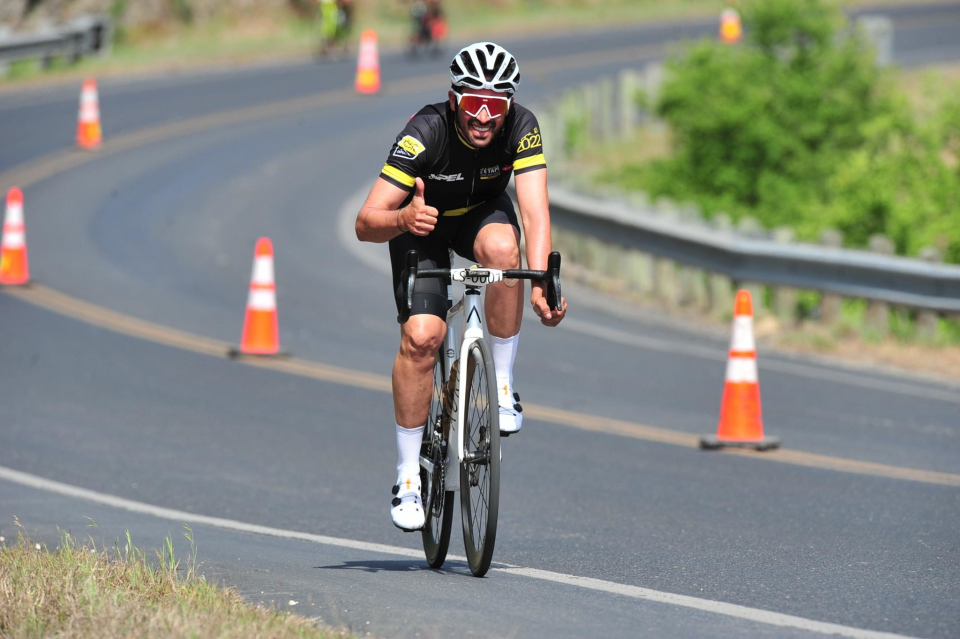 Classe Spéciale
The L'Étape by Tour de France VIP experience. The Classe Spéciale category is limited to only 250 riders and includes big perks, goodies and unforgettable experiences. You can race in any distance with Classe Spéciale.
The Classe Spéciale category features:
- Full 2022 L'Étape Edmonton by Tour de France cycling kit, including a jersey, Shorts, and socks.
- Fast-lane pick-up of your L'Étape Edmonton by Tour de France race package during the event (no lines for you).
- Ticket to Saturday night VIP gala dinner with past Tour de France Champions (extra tickets available for purchase).
- VIP race staging area, including easy-access to your preferred start staging area and pre-race food and beverage for L'Étape Edmonton.
- Leave in the first wave if you choose to.
- Classe Spéciale concierge service throughout the duration of the event.
- Amazing swag from all our sponsors.
Photo: Get the VIP treatment, full limited edition L'Étape Edmonton by Tour de France Cycling Kit and ride out with two time Tour de France Champion Alberto Contador


Preferred Hotel Rates
Don't miss out on L'Étape Edmonton by Tour de France preferred hotel rates with special help from partner Explore Edmonton!
Matrix Hotel - L'Étape Edmonton are excited to announce the Matrix Hotel as the headquarters property for the race! Great location, great rooms, great prices, great discounts. Book your room today. Preferred-rate rooms are selling out! Book Now
Sandman Signature Downtown Hotel -As one of L'Étape Edmonton's preferred hotels, you'll get an exclusive group rate from the Sandman Signature Downtown Hotel. Book Now
Fairmont Hotel Macdonald - The Fairmont Hotel Macdonald is one of L'Étape Edmonton's preferred hotels for race weekend. Downtown, great views, great deals. Book Now
The Westin Edmonton - The Westin Edmonton is one of L'Étape Edmonton's preferred hotels. Book with discounted rates very soon.

For more information, please visit: https://www.letapecanada.com/travel
VIDEO: Riding a Stage of the Tour de France
Want to know what it's really like riding a stage of the Tour de France in North America?
We think L'Étape San Antonio by Tour de France did pretty well for its first edition, didn't it?
Riding on a beautiful course alongside Alberto Contador, that's the recipe for a perfect ride!
Register Now to Secure a Place
With your registration into L'Étape Edmonton, you'll get a finishers medal, finisher t-shirt, bag, water bottle, BBQ meal at the finish and full rider support on fully or partially closed roads!
Active or retired military personnel get a 10% discount off any distance.
For corporate teams, cycling clubs and group registrations, please contact info@mbevents.ca for full details.
For more information, please visit: www.letapecanada.com or click the button below to register now.