Last Chance to Register for the Oregon Gran Fondo
Over 300 riders signed up for the 10th Anniversary ride taking place Saturday June 4th 2022
One big day on the bike, no matter your level, for two all road routes (71 Medio and 117 Gran Fondo) and two mixed surface routes 25 Mini Gravel or 134 Adventure Route. This is the Gran Daddy of all Oregon Cycling days at the Oregon Gran Fondo in Cottage Grove, Oregon!
Join Rolf Prima and Co-Motion Cycles for the 10th Annual Oregon Gran Fondo on June 4th, 2022. Start/Finish at 7th & Main Streets in historic downtown Cottage Grove, just 20 minutes south of Eugene, Oregon.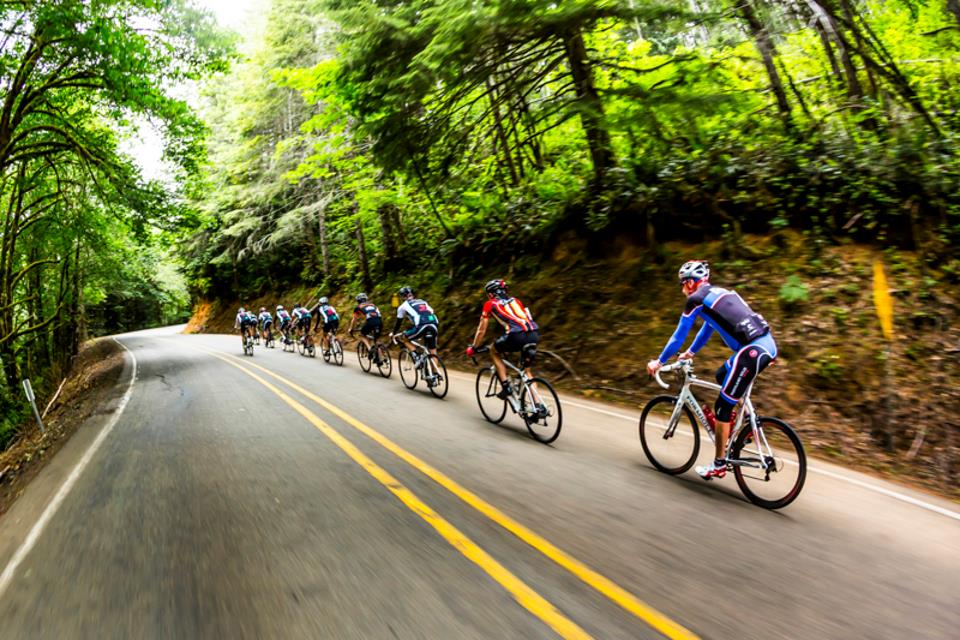 This event showcases rural South Willamette Valley communities and ancient Siuslaw National Forest scenery and roads. From Bohemia Park the Gran and Medio routes head west to the village of Lorane and from there continue west deep into the Siuslaw and Smith River watersheds. Low-traffic rural and forest roads. Hills, rivers, vistas, more hills, good eats and more.
Start/Finish, Expo, Beer Garden (with free post-ride meal and brew) & Raffle in historic downtown Cottage Grove. OBRA sanctioned. Individual & team racers and recreational riders. Chip timing with timed hill climb! The Oregon Gran Fondo features the legendary roads and climbs of the ancient Siuslaw National Forest and showcases some of the Willamette Valley's prettiest scenery and rural communities.
One event, four routes to choose from: Gran Fondo (long) 117 miles; Medio Fondo (medium) 71 miles and two mixed surface routes with the Adventure 130 miler and the 25-mile Mini-Gravel route. E-bikes allowed for Mini-gravel!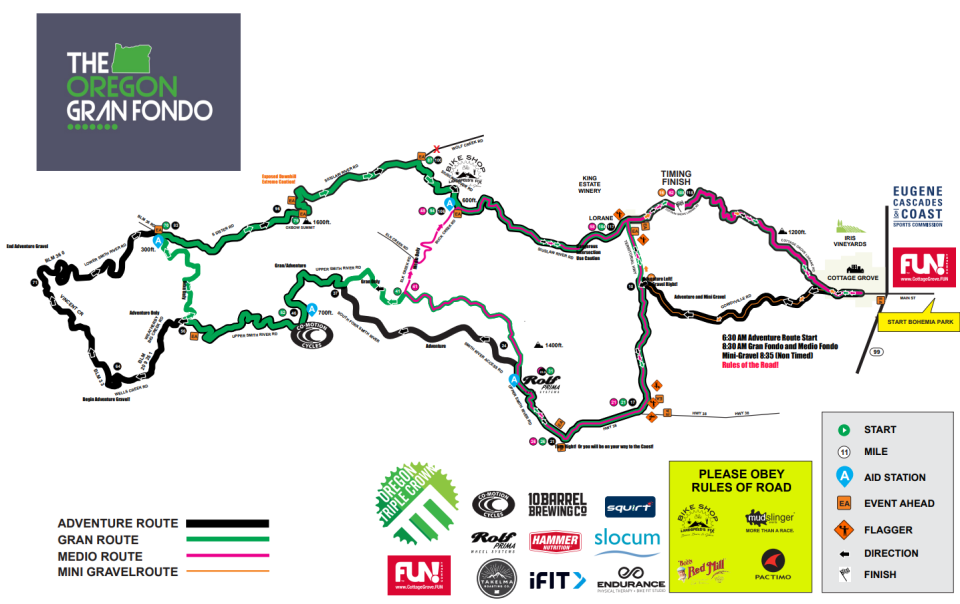 Gran Fondo's traditionally are "big rides" that while technically aren't races are still ridden in a competitive or "personal best" style.
At the Oregon Gran Fondo you will find ex-professionals and elite racers lined up side by side with members of the local touring club, families, and anyone wishing to celebrate a glorious, challenging day on the bike. Family members line the start/finish and cheer on their favorite rider. While some choose to ride fast or test their endurance, or seek a milestone achievement, the Gran Fondo is a mass start event designed to draw the community together and give everyone a chance to enjoy the fun of riding a bike on the same course as the pros. It is truly a ride for everyone! Community together and give everyone a chance to enjoy the fun of riding a bike on the same course as the pros. It is truly a ride for everyone!
The event includes Podium Awards, top 3 per age category group and the best team competition for top 3 riders, with 3 free entries to other 2022 events, plus prizes.
Registration includes Food Trucks, Massage and Live Music with post-race beverage with 10 Barrel Brewing!
For more information, please visit: https://www.mudslingerevents.com/oregon-gran-fondo or click the button below to register now.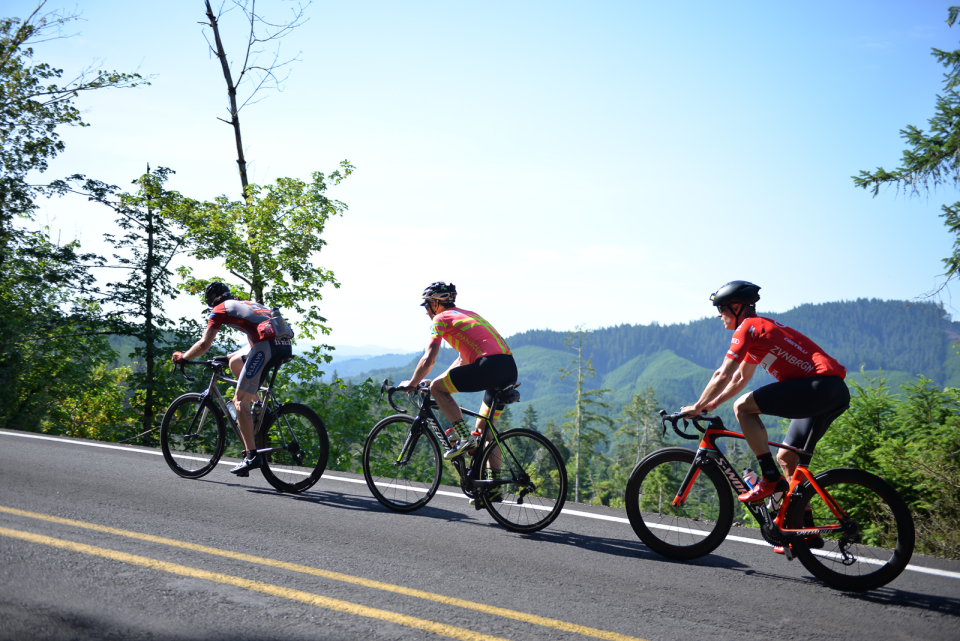 Remaining 2022 Oregon Triple Crown Series Calendar
About Mudslinger Events LLC
Mudslinger love connecting people, organizing events for competitions, working on trails, and showcasing the unique places in Oregon and beyond for a good day outdoors. Annually we host over 10 events including trail running.
For more information, please visit; https://www.mudslingerevents.com