VIDEO: Carnage Crashes at the Tour de France Femmes
Several riders badly injured after huge crashes in the women's peloton with Laura Sussemilch, Emma Norsgaard and Marta Cavalli out of the race
The inaugural Tour de France Femmes avec Zwift started last and is set to be a thriller. The women's version of the historic race, which has not been held since 1989, sees riders compete in eight stages and cover 1,029km beginning at the Eiffel Tower in Paris and finishing with a brutal final stage up La Super Planche des Belles-Filles this Sunday.
The racing has been furious, but with a big peloton, the women's race has suffered it's own fair share of crashes and abandonments.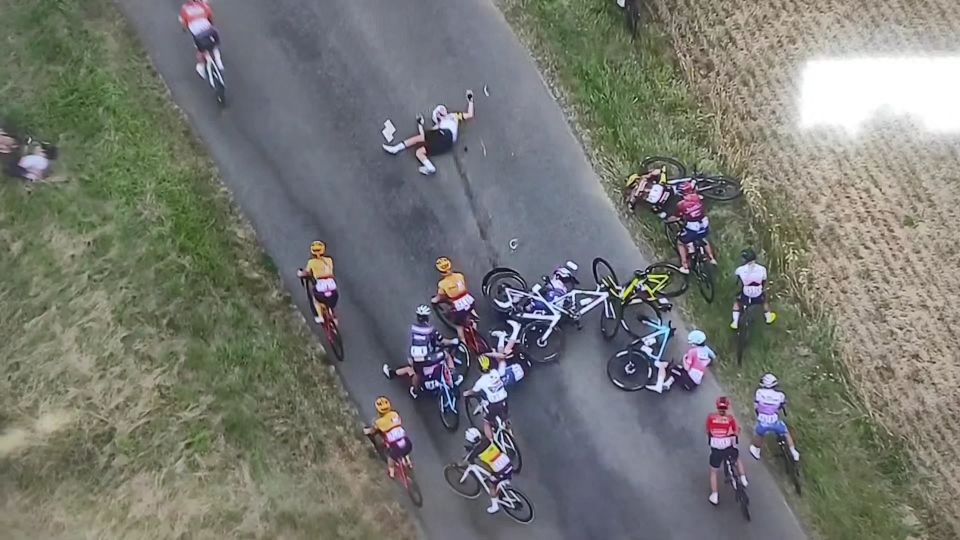 Stage 2 - Meaux – Provins, 135km
German cycling star Laura Sussemilch suffered a serious neck injury, The Plantur-Pura ace was one of several riders injured during the incident-packed 136.4km second stage near Paris. The 25-year-old, who won gold with the pursuit team at the Track Cycling World Championships last year, had also crashed a day earlier on stage one. She broke two vertebrae and must wear a neck brace, the fractures are stable and she hopes to return to Germany.
The accident also left 24-year-old Italian Marta Cavalli needing hospital treatment for a head injury.
Amstel Gold Race winner Cavalli was hit at high speed by Australia's Nicole Frain while lying on the ground. Australia's Nicole Frain appeared to cause a horror crash on day two of the Tour de France Femmes, which forced one of the race's stars, Marta Cavalli, to withdraw. Frain, Australia's national champion, was rejoining the peloton at speed as she attempted to make up ground with around 25 kilometres to go on the stage from Meaux to Provins.
Several cyclists were already on the ground from a previous crash, which had significantly reduced the speed of the peloton. Frain, who appeared not to notice the pile-up in front of her, careered into Cavalli, who landed heavily on her back and remained on the ground for several minutes.
Italian Cavalli eventually got up and continued to ride, but was soon pulled from the race and was left in tears.
VIDEO: Shocking Crash which Leaves Rider Laura Sussemilch with Two Broken Vertebrae
Stage 5 - Bar-le-Duc - Saint-dié-des-Vosges, 175km
A huge crash during Stage 5 of the Tour de France Femmes left one rider needing hospital treatment. With 50km left of the longest stage of the race, an incident on a straight bit of road between Bar-le-Luc to Saint-die-des-Vosges quickly escalated into an enormous crash which saw half the field off their bikes. With dozens involved, it took several minutes for riders to untangle themselves from each other's bikes.
Many riders had bumps and bruises, with SD Worx' Chantal van den Broek-Blaak having to have her right arm bandaged by medical staff in the team car while riding and former Italian national champion Marta Bastianelli battling through tears to continue.
However, the massive pileup spelled the end of Movistar's Emma Norsgaard's race after she was forced to pull out with the injuries she sustained. Although she could stand, the Danish cyclist had to leave in an ambulance. The 23-year-old hit her head, neck and left shoulder in a pile-up and had to be transferred to a hospital in Épinal. After undergoing scans, Norsgaard had no fractures and remains under medical observation.
VIDEO: Big crash during Stage 5 of the 2022 Tour de France Femmes