12th Annual Tour de Big Bear Growls Even Louder!
Nearly 3,000 cyclists and their families escaped the west coast heat last weekend to enjoy a huge range of challenges including hilly road rides, gravel rides and a family ride with e-Bikes welcome at Big Bear Mountain, over 6,700 feet above sea level
Big Bear Lake in California is known as the "Cycling Capital of Southern California". Named "#1 Weekend Getaway City" by Expedia Travel and has played host city to many world-class cycling events including four stages of the Amgen Tour of California and the Redlands Bicycle Classic to name a few.
The Big Bear Cycling Association (BBCA) hosted a two-day cycling Expo that included over 40 vendors, with complimentary bike valet for registered riders, entry into the Beer Garden, and participation in BBCA's famous raffle, and entertainment during Saturday's festivities.
The festivites kicked-off with the ever popular Glow Ride on the Thursday night, riders dressed up their bikes with lights and paraded through the Big Bear Village.
On Friday, riders enjoyed the Poker Ride, a 16 mile ride around the resort where riders collected cards hoping to finish with the winning poker hand!
MTB National Champion Brian Scarbrough and Baily Hinz were fastest at the 100 mile Gran Fondo on Saturday, well-known ex-pro cyclist Phil Gaimon finishing in 5th place in the mens results.
Gran Fondo winner Brian Scarbrough said afterwards, "Ouch that one hurt! I'm not the best climber, but I held it together just enough today. Who would have thought after 100 miles and 8,500 feet of climbing, it would come down to a 6 up sprint finish!"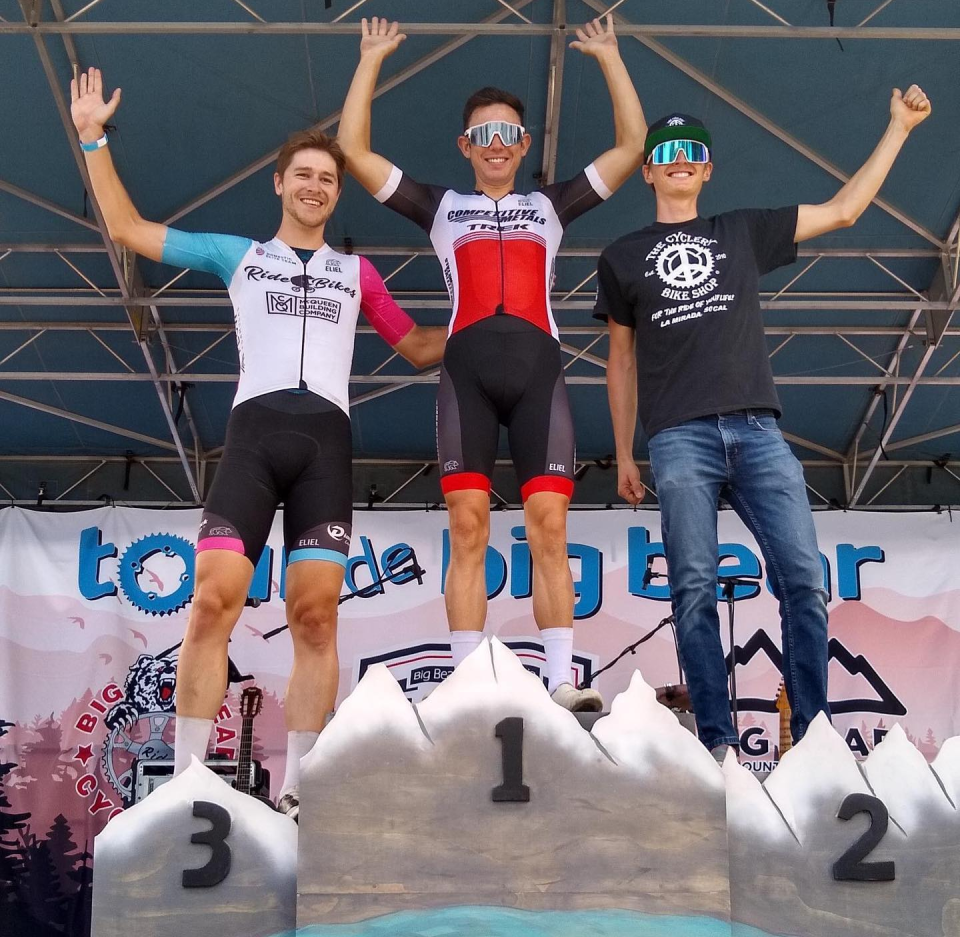 The Gran Fondo included timed climb called Onyx Assault a climb of roughly 8.6 miles at 5% to the top of Onyx Summit at 8,443 feet above sea level.
The Bike Shop Temecula yelled, "We want to congratulate Georgeta Ungureanu for winning Tour de Big Bear 70 mile QOM this year! We are very proud of you Georgeta"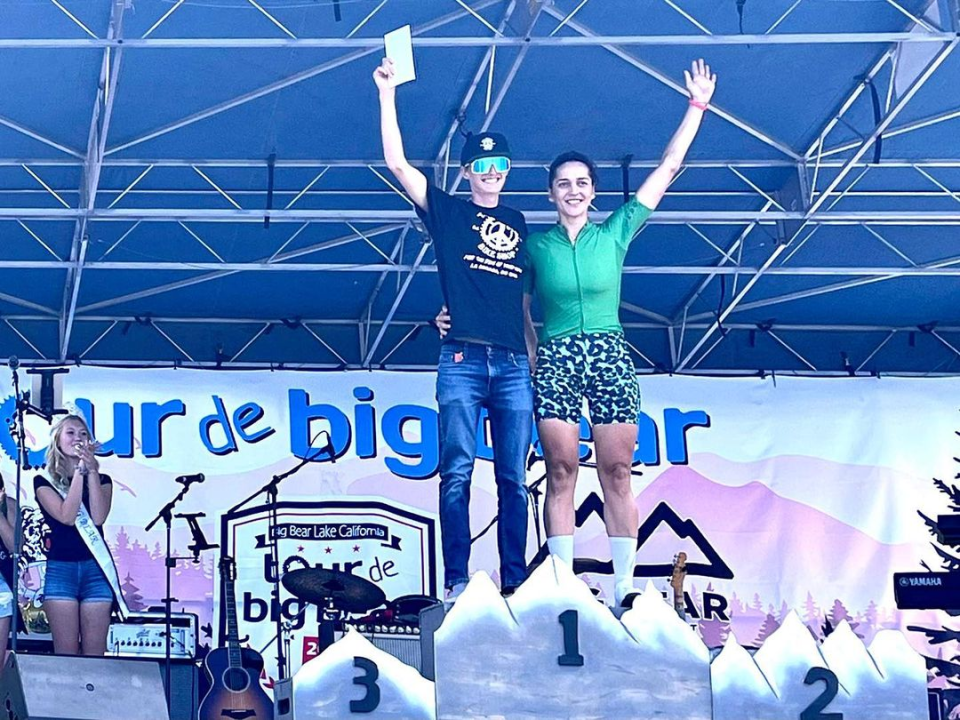 As well as the 100 mile Gran Fondo, there was the 70 mile Grand Tour, 50 mile Big Bear Valley Tour and the 25 mile Tour de Big Bear distances for all abilities of cyclists.
The 50 mile mixed surface Dirty Bear Gravel Ride, and NEW for 2022, the 25 mile Dirty Cub Gravel Ride catered for gravel fans whilst families enjoyed the Tour de Big Bear Family Fun Ride.
Rana Kennedy rode the Dirty Bear Gravel race and said afterwards, "Dirty Bear Gravel race in Big Bear, CA was and is one of my favorite courses so far. All pain aside, which was plenty, I really dug the diversity in the terrain and the stunning views. I was 5th female overall and had at least 10 years on those gals whatever that means. For me it gives me the cred to keep this crazy gravel train going. I loved that my gravel "cycling peeps" crew in the pic and husband raced with me, and my son came up too! I was happy to stop and share some PR cream with a guy on his cramping hamstring. That stuff is magic!"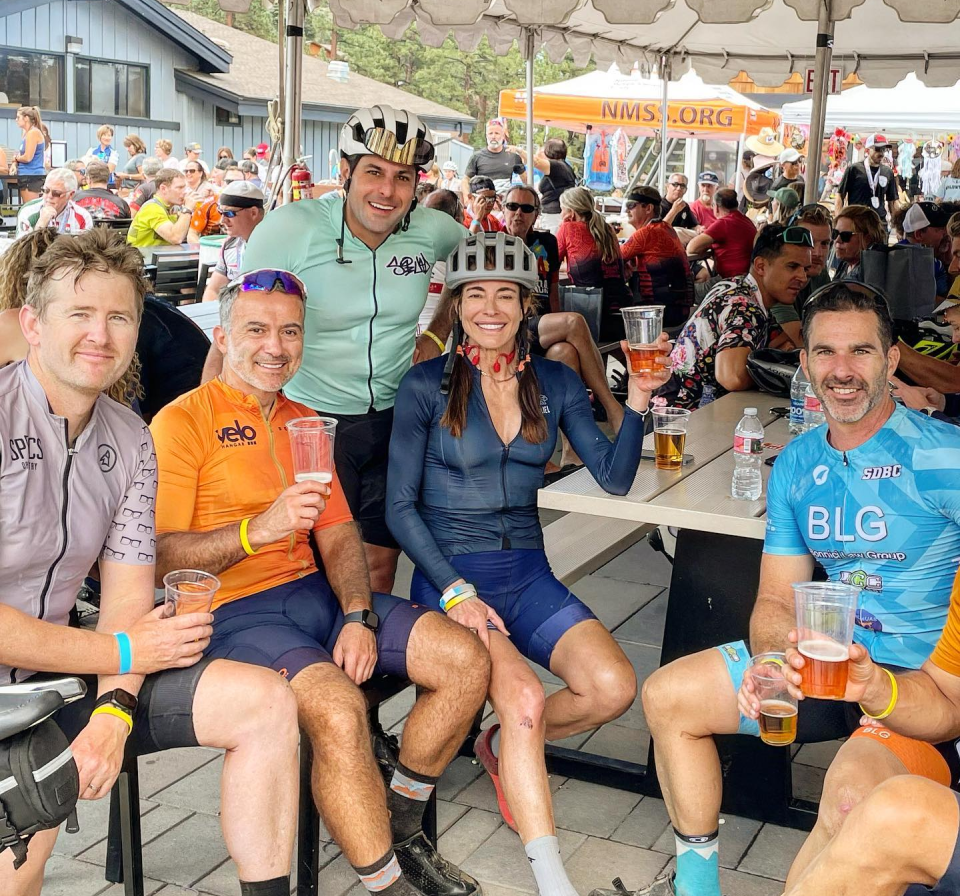 Tyler Wood rode the 70 mile road ride and said afterwards, "Tour de Big Bear is complete! I had a great time on the bike bike today, but I'm definitely looking forward to some much needed rest!"
The Tour de Big Bear is known for its legendary aid stations. Lisa Stelly was blown away saying, "Thank you Tour de Big Bear ! It was another epic year of fun, laughs & miles of smiles. Thank you Black Gold Cabin for the most awesome unexpected aid station! Such a fun surprise at the best location. Bacon, Watermelon, Ribs, Oranges and soooo much more! The aid stations were on point!"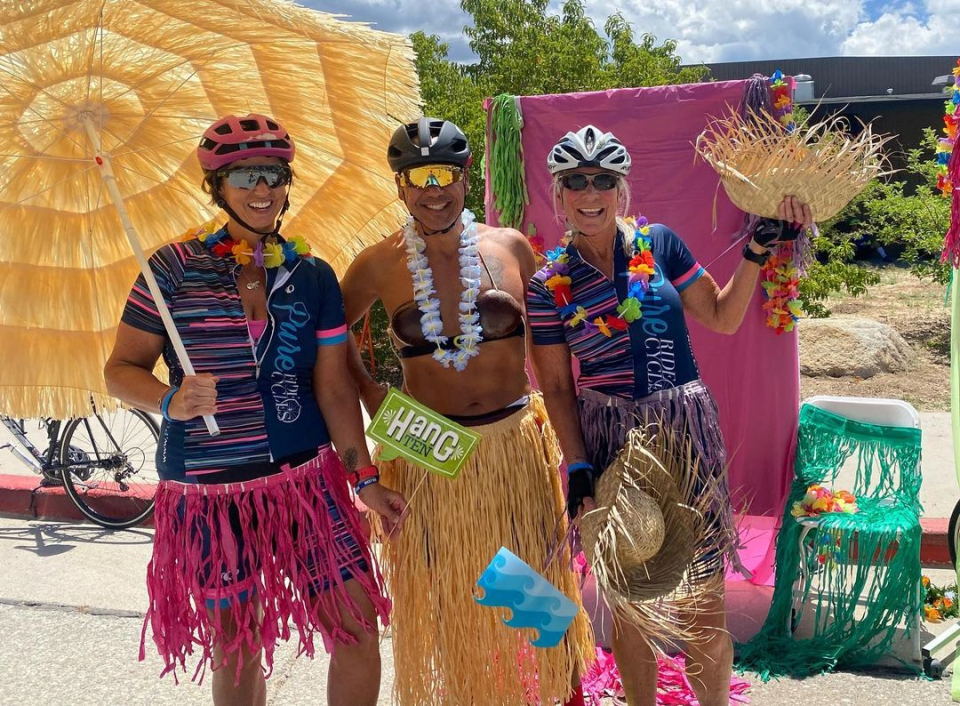 Special guests included Jupiter the Opossum and Cowboy the Great Horned Owl who delighted cycling fans at the Big Bear Cycling Expo and Beer Garden which included live entertainment for the entire family.
Riders from the age of 5 to 87 took part in the family ride!
Chris Barnes, President of the Big Bear Cycling Association said "We had a great weekend seeing all of the cyclists enjoy our town. The Tour is hosted by so many wonderful service groups around the Big Bear Valley that we are proud to support with donations for their effort. It truly is a community effort to host the Tour de Big Bear and we can't wait until next year!"
The 13th Annual Tour de Big Bear takes place August 5th 2023 and registration is now open.
For more information please visit: https://bigbearcycling.com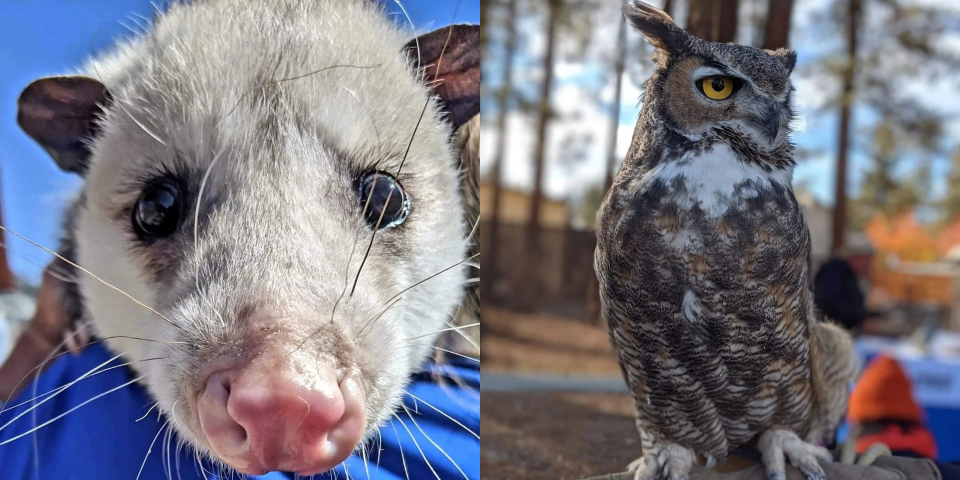 2022 Tour de Big Bear Results
100 mile Challenge - Men
1st Brian Scarbrough 4:30:36
2nd Samuel Brehm
3rd John Janneck
100 mile Challenge - Women
1st Bailey Hinz 5:39:57
2nd Lori Hoechlin
3rd Michelle Fugal
70 mile Challenge - Men
1st Juan Rocha 3:20:33
2nd Tanc Sade
3rd Thomas Ryan
70 mile Challenge - Women
1st Georgeta Ungureanu 3:31:54
2nd Kristy Fleek
3rd Claudia Sanchez
50 mile Challenge - Men
1st Hudson Reimer 2:22:33
2nd Joel Cappellaro
3rd Kevin Locher
50 mile Challenge - Women
1st Nicole Lohr 2:30:25
2nd Rhonda Jacobs
3rd Kristine Mastrodonato
25 mile Challenge - Men
1st Luis Jimenez 1:18:30
2nd Seamus Oneill
3rd Chris Schultz
25 mile Challenge - Women
1st Roxanne Green 1:21:46
2nd Marianne Ronay
3rd Anna Pikul
50 mile Gravel Ride - Men
1st Eric Bierman 3:26:42
2nd Preston Gifford
3rd Griffith Vertican
50 mile Gravel Ride - Women
1st Erin Ludwig 4:03:23
2nd Catherine Wolff
3rd Stephanie Bissonnette#
25 mile Gravel Ride - Men
1st Steve Downs 1:46:42
2nd Ryan White
3rd Jeff Moulds
25 mile Gravel Ride - Women
1st Paige Wilkinson 2:06:28
2nd Melissa Johnson
3rd Angela Nelson
Link to full 2022 Tour de Big Bear Results: https://bit.ly/3zIPVhV
2022 Tour de Big Bear QOM/KOM Results
100 mile Challenge - Men
Samuel Brehm 24:12

100 mile Challenge - Women
Barbara Sullivan 33:52
70 mile Challenge - Men
Armando Flores 32.22
70 mile Challenge - Women
Georgeta Ungureanu 34.03
50 mile Challenge - Men
Jonas Lundgren 51:09
50 mile Challenge - Women
Neomi Kempf 48:24
Link to full 2022 Tour de Big Bear QOM/KOM Results: https://bit.ly/3zNGcHg