Tiesj Benoot in Horror 45 mph Crash with a Car
He suffered a fractured vertebrae after a car pulled straight out in front of him whilst descending at high speed off a mountain pass in Italy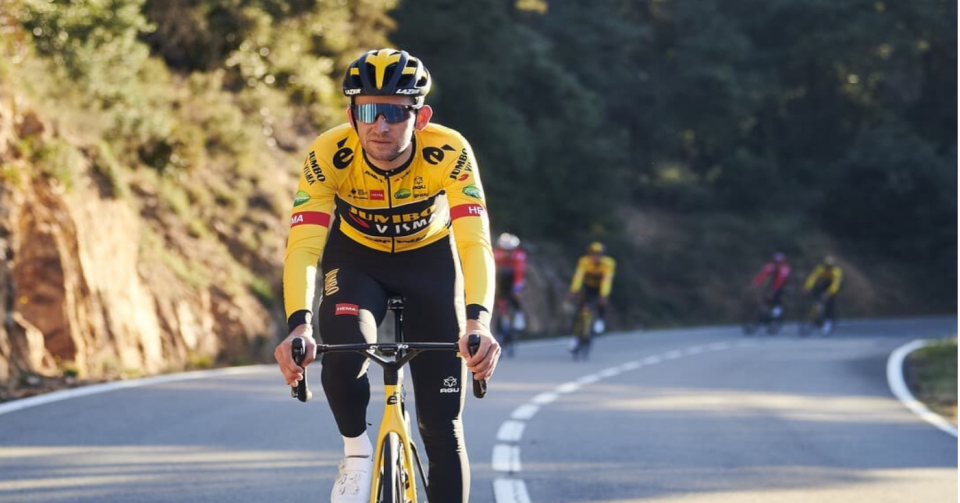 Tiesj Benoot has said he is lucky to be alive to tell the story of his recent training camp crash while descending at 45mph. The Belgian was descending of mountain pass in Italy when a car pulled out of a car park in front of him.
Jumbo Visma's Benoot hit the vehicle with such force he dented the car, ripped the wing mirror clean off and smashed the windows. Some of the shards of glass had to be removed from his wounds.
Benoot was on a 220km training ride near Livigno, Italy when the crashed happened. He fractured a vertebrae in his neck. He also believes he broke some ribs, he said the neck injury was the most serious as he would need to wear a neck brace for six and 12 weeks!
"I was descending and riding on a long straight", Benoot said, "I wasn't even riding that fast to be honest! I went to look back as I reached around 45 mph. Suddenly a car pulled out straight in front of me, he either didn't look or he thought could get past me quickly? I don't know?"
"I rode into the car at high speed, barely even touching the brakes. The door of the car was serverely dented, the wing mirror came off, and some windowe were smashed."
He said he was unconscious for about 15 minutes. By the time he came to, the ambulance was at the scene and he was airlifted to hospital being administered morphine for the pain.
"That was quite scary. My neck felt really weird, but I didn't think it was broken. Fortunately, I was able to move my hands and feet. That was a relief. A few millimetres and it could have been a different story. I've more or less accepted it. I am actually very grateful and happy that I have live to tell the story."
"I was diagnosed with concussion and they had to remove glass from my hip and elbow and stitch the wounds up. I also feel like my ribs are bruised or broken. The doctors haven't told me about that yet, but I know what that feels like, and I recognise the pain when I laugh or cough."
The crash will almost certainly bring an abrupt end to the 28-year-old's season, a year in which he finished on the podium at Dwars door Vlaanderen, Amstel Gold Race and San Sebastian, as well as helping his team to win it's first yellow jersey.
The news will be a blow to compatriot and Jumbo-Visma teammate Wout van Aert whose bid for the rainbow jersey in Wollongong, Australia, next month was expected to be supported by Benoot's strength as a domestique.
Benoot went onto social media to reassure everyone he is doing ok and will focus on his recovery.
Get well soon Tiesj!