33rd Sea Otter Classic Expo Exhibitor Space 90% Sold Out
Sea Otter Classic exhibitor space is 90% sold out with nearly 1,000 brands set to display at the 33rd annual event next April 20-23 Laguna Seca in California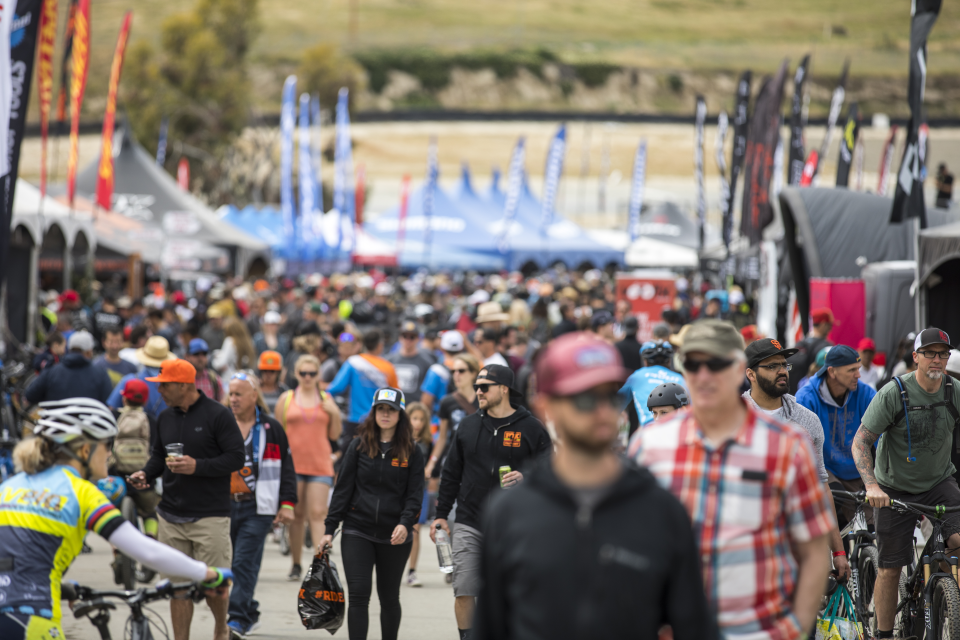 The four-day expo, presented by Life Time, is on track to exceed all sales records, according to event organizers. Several European, Australian, Chinese, and South African companies will exhibit. Nearly 40 e-bike companies also will be there. More than 1,000 demo bikes are expected to be available, according to organizers.
"Key venue changes, coupled with market shifts and pent-up demand have fueled substantial expo growth this year," said Sarah Timleck, expo sales director. "Facility improvements by Monterey County allowed us to significantly increase our expo footprint."
Timleck said brands are well aware Sea Otter draws consumers not only for cycling but outdoor recreation, too.
"Cyclists, campers, children, families, and more come together to enjoy this four-day festival. Our attendees are high-earning consumers who influence the purchasing decisions for their families and friends. As a result, we're seeing increased expo participation from a wide range of endemic and non-endemic brands. And many companies now use the event to conduct B2B meetings. Thursday at Sea Otter has become a de facto industry day."
Sea Otter hosts nearly 9,000 professional and amateur athletes and 74,000 attendees. The 2023 classic takes place April 20-23 at the Laguna Seca Recreation Area. For more information, seaotterclassic.com.
Bring a Friend to the 2023 Sea Otter Classic!
Now offering a FREE additional FESTIVAL PASS for Gran Fondo and Tour Riders worth $80!!!
Registration has opened for the 33rd Annual Life Time Sea Otter Classic presented by Continental (April 20-23, 2023) and if you register before December 31st, you can bring along a friend to cheer you on and enjoy the festival fun!
Every rider receives a 4-day festival pass with registration; act before the end of the year and you can get two!
Choose your riding adventure and take in the best of Monterey and the Salinas Valley; Sea Otter offers two Gran Fondo options and an off-road tour that welcomes mountain and gravel bikes alike. All are untimed rides for all ages and abilities, including eBikes and recumbent cycles.
· Gran Fondo Carmelo presented by Cycling Tips begins on Friday, April 21st and features a new course for 2023; 92-miles of touring across the diverse landscapes and agriculture of Salinas Valley (think: broccoli, artichokes, strawberries and, of course, grapes!).
· Gran Fondo Pacifico presented by Cycling Tips is an unforgettable 50-mile ride along the historic California coast starting early Sunday, April 23rd. Check this iconic event off your cycling bucket list as you roll immersed in the sights, sounds and smells of the Pacific Ocean.
· The Robles Tour also held on Sunday, covers a diverse collection of terrain across a 26-mile off-road trek uniquely designed for both MTB and gravel riders. Robles combines forest service roads and smooth trails for a stunning ride among the oaks across the historic Fort Ord National Monument.
NEW FOR 2023 Robles riders can choose to ride the full 26-mile course or sample the shortened 10-mile course that is designed for the whole family to ride.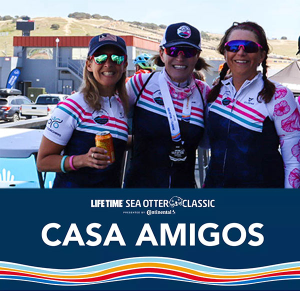 Having trouble deciding? Make it a double! Ride Carmelo on Friday and either the Pacifico or the Robles Tour on Sunday!
Are you part of a cycling club? Sea Otter is now offering special club rates for clubs through the Cycling Club Partnership Program. Learn more & apply here: https://www.seaotterclassic.com/cycling-club-program
In addition to fully supported courses, complimentary parking, bag drop & valet, finisher medal and a festival pass, all Gran Fondo and Tour riders receive access to the Casa Amigos Rider Lounge — an elevated post-race athlete experience complete with showers, catered lunch, complimentary Sierra Nevada beer and a place to swap ride highlights & stories with other riders.
The 33rd Annual Sea Otter Classic takes place April 20-23,2023 at the Laguna Seca Recreation Area, Monterey, California. For more information visit www.seaotterclassic.com.

VIDEO: Sea Otter Classic Recap