2023 Garmin UNBOUND Gravel presented by Craft Sportswear to Host Largest Field in Event's History
UNBOUND also serves as first gravel event of the Life Time Grand Prix Presented by Mazda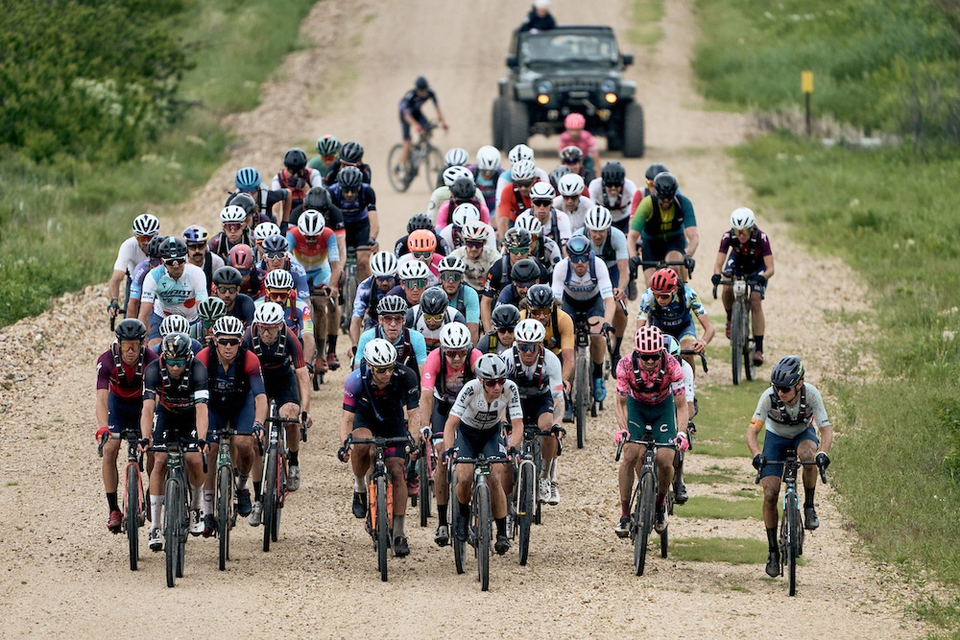 With approximately 4,000 riders, Life Time's Garmin UNBOUND Gravel presented by Craft Sportswear will host its largest field ever, continuing its reign as the premier gravel cycling event for racers of all abilities. Among the thousands of riders toeing the start line during the June 1-4 event weekend will be last years' winners, Ivar Slik and Sofia Gomez Villafane, who are returning to defend their titles.
The impressive field of pro and amateur riders, along with their support teams and thousands of spectators will descend upon Emporia from around the globe for the four-day event weekend, experiencing the gravel community and tackling the beauty and rigor of the renowned Flint Hills.
"UNBOUND Gravel unites riders from all corners of the world, pushes the limits of human endurance and showcases the stunning beauty of the Flint Hills, solidifying its position as the world's premier gravel race," says Kristi Mohn, Life Time's OG UNBOUND Gravel team member and Gravel Cycling Hall of Famer. "We've experienced incredible growth in the event since its inception and could not be more proud to set another record year in 2023. We are honored to have such an amazing team, extraordinary volunteers, and, of course, our athletes – all of whom allow us to celebrate gravel in this beautiful and incredibly supportive community of Emporia."
Course Updates
Each year, the routes at UNBOUND Gravel change slightly. The 200 and 100 routes will feature a number of new sections, including D Hill at Mile 10, which will be the first hill outside of Emporia. This hill hasn't been used as part of the course since 2015. Returning terrain includes the famous Texaco Hill from Mile 40 through Mile 43, offering amazing views from atop the ridge looking across the valley, followed by a rowdy descent sometimes called "water bottle hill." The XL and 50-mile courses also include a number of changes and additions at this year's event.
Professional Competition
UNBOUND Gravel is poised to see the largest field of elite gravel racers to date. The event is the second in the Life Time Grand Prix presented by Mazda and a premier race for many pros. For the first time in the event's history, elite males, elite females and age group athletes will start in three separate waves. Life Time anticipates these changes will have a positive effect on the race dynamics, and create a safer, more competitive experience at the front of the field.
The changes are also intended to promote better competition among women elite riders and the ability to track the women's field with real-time race highlights and enhanced media coverage. Haley Smith, winner of the women's 2022 Life Time Grand Prix said – "I think there's now a chance that we will see an actual women's race go on. Of course, the separations won't last too long (the fields will be intermixed again within 20 minutes or less, I'd say), but I'm happy with both of these changes. I think they will preserve the spirit of the event."
June 1-2 All Things Gravel Expo presented by City of Emporia
With almost 300 brands set to exhibit this year, this two-day expo will feature the latest gravel and bike gear from top brands. It also will highlight several local Emporia businesses and vendors, providing all guests with a true taste of Emporia.
LeLan Dains, Director at Visit Emporia and previous Race Director of UNBOUND Gravel said, "It's always amazing to see Emporia come to life each year for UNBOUND Gravel. Emporians take great pride in welcoming visitors and the whole town is once again gearing up to provide a world-class experience for all who make the journey to the gravel-grinding capital of the world!"
VIDEO: Call of a Life Time - recap of last years' race