Four-time Olympian eyeing up RBC GranFondo Whistler challenge this September
Bobsleigh Pilot eyeing up the challenge this September 9th in BC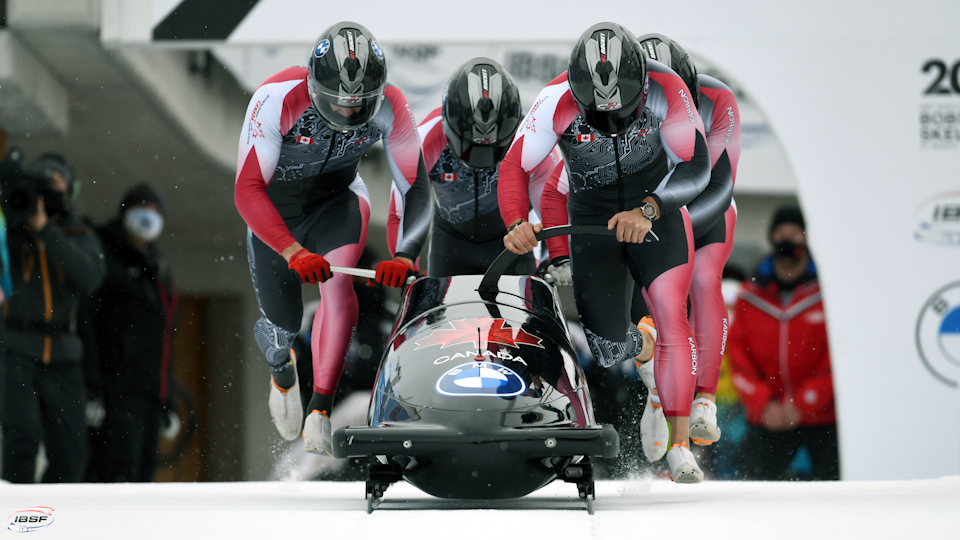 Chris Spring is a four-time Olympian. His distinguished resume includes piloting sleds to several top-ten finishes in both four and two-man Olympic competitions.
On September 9, when he participates in his first Gran Fondo – RBC GranFondo Whistler on September 9, he will be testing himself in an entirely new sport. A large group ride is a challenge for anyone, but perhaps especially for an athlete who has been solely focused on short bursts of power and tight windows of concentration.

How will he cope? Here is his strategy.
For the last 16 years I've trained my body to be an explosive and powerful machine. I've molded my body to push a heavy bobsled as fast as possible for about 5 Seconds. This type of training couldn't be any further from what I will endure during the Gran Fondo. There are 21,600 seconds in 6 hours, which is 21,595 more seconds than I'm used to pushing my body.
To compound things, I've never ridden a bike this far before, in fact I've never road biked before! I've done some mountain biking in my spare time, but that's about it. This is going to be a scary journey into unchartered territory.
So how am I going to complete this challenge? I'm going to draw upon all the other characteristics that being an Olympic athlete has taught me.
The first and most important one is stubbornness.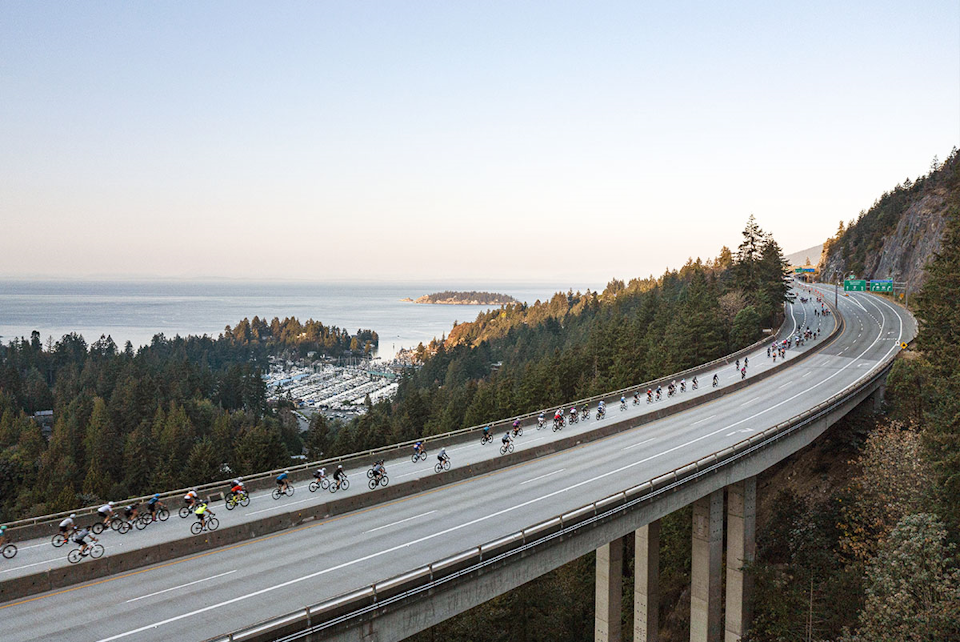 Caulfield, an early section of the RBC GranFondo Whistler course overlooking Howe Sound and the Salish Sea
I will use this quality of mine, of being stubborn and always completing a task I set for myself, to make sure I complete this race. I'll play games with my mind to take the focus of pain away from my brain. I've never been a part of a mass start type race before, so I think the best thing for me to do is to hang back and really enjoy the moment as I'm not trying to win this thing, simply just finish. I'll look out at the scenery and remind myself of how beautiful this place is and how unique this opportunity is to ride the Sea to Sky Highway (with no cars in the way!).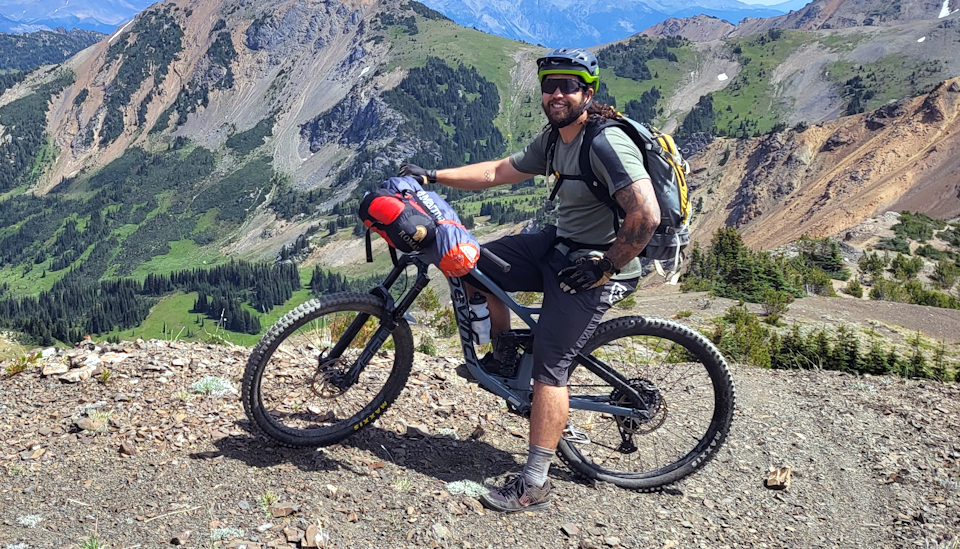 Chris will be getting far out of his comfort zone this September
When I think of riding a bicycle for 122 km, the first thought that enters my mind is how painful my bum is going to feel afterwards. I don't even know how long it will take me; I'm hoping for under 6 hours. But again, my goal for my first Gran Fondo is to just finish.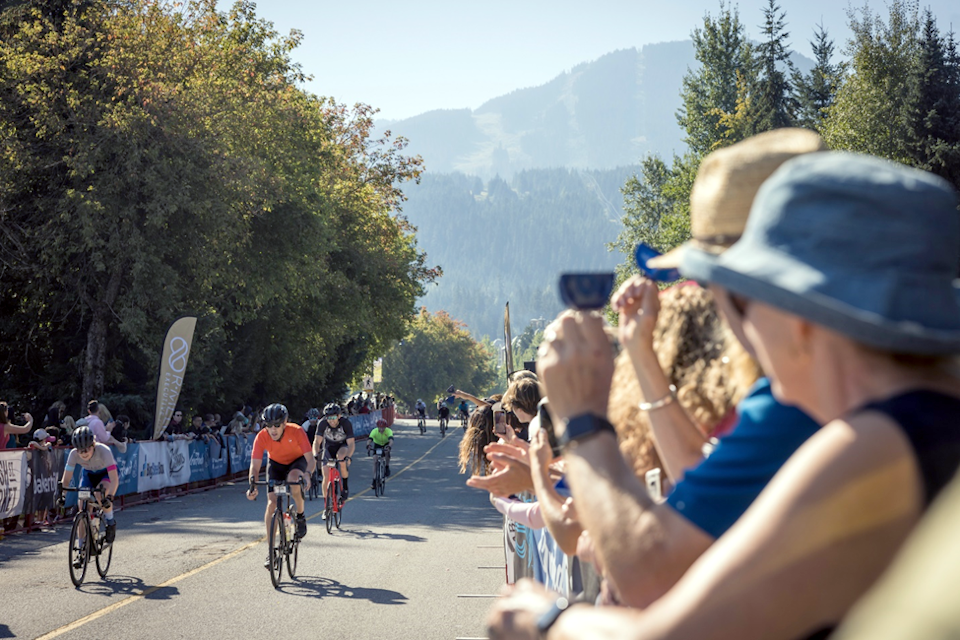 With thousands of supporters all kitted out with deafening cowbells that the event hands out, the long finish line chute experience is epic
As a bobsled pilot, I love going fast and the faster the better. Every sled I've piloted has had the motto of 'fun is fast', so I'm really looking forward to the downhill sections of this race and seeing how fast I can go. I'm also looking forward to seeing where my mind wanders off to. Especially in a situation like this where I've never exercised for this long before, I can imagine my mind will really wander. As an Olympian I've spent a lot of time training my mind, so I'm curious to see how I react.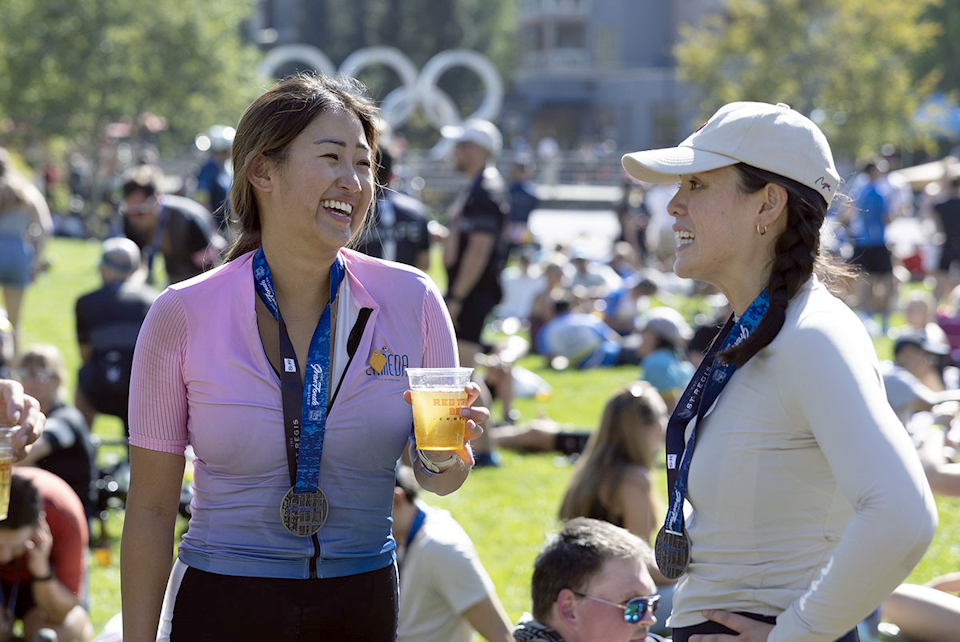 Even Olympians are allowed a beer or two after the event…
I'm nervous, anxious, and extremely excited for this opportunity to be a part of Team RBC in the event. My fellow RBC Olympian (snowboarding's Darren Gardner) will be riding too, but I imagine they'll be far ahead of me. One of the things I really like about RBC's involvement in the event is that they are making it very friendly and accessible for new riders like me, so in that spirit, if you're a new rider like me, please say hello, and we can tackle this thing together!
Chris Spring, Olympic Bobsleigh Pilot
Vancouver 2010, Sochi 2014, Pyeongchang 2018, Beijing 2022
Join Chris this September 9 – register for RBC GranFondo Whistler now. Online registration closes September 6 at midday!