The Inaugural Race Across Europe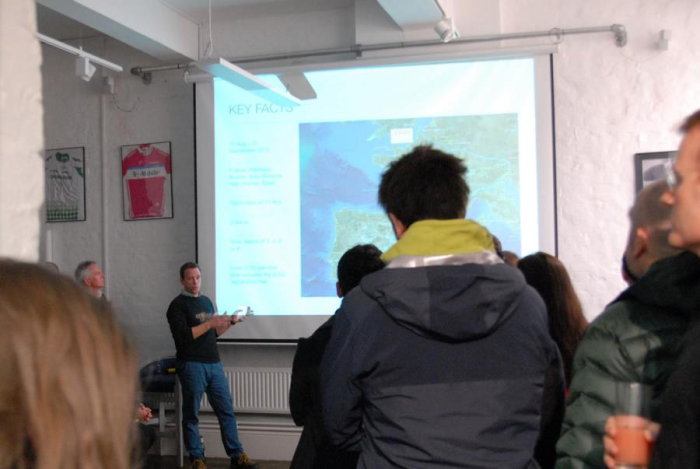 Gran Fondo Guide heard of a new ultra cycling event being organised by UK cycling event's organiser Greenrock who have been supplying quality cycling events for over 20 years.

The event - RACE, the Race Across Europe is touted as the hardest endurance cycling event ever.
Its 2,933 miles. However, after the initial presentations and having a look at the route in detail, we believe there could be anything up 30,000 metres of climbing. The route goes into and over the Austrian Alps, Italian Alps, French Alps and the Pyrenees having visited Mont Ventoux on the way.
We heard initial rumours of the event on Gran Fondo Guide, through the ultra cycling scene.
We were keen to get full details and report back as we know lots of cyclists will be interested.
The presentation was held in central London at a bike shop called Bespoke Cycling. Actually describing it as bike shop is not really right, as its more like being in an Apple retail outlet for top quality bikes, very crisp, modern and everthing available on beautiful bespoke hangers all at eye level. Everything you'd need as a city gent who's into quality cycling apparel and bikes.
Drinks and food were provided by the lovely Laura from Greenrock. We got stuck into chatting to the burgeoning crowd of cyclists that had gathered.
The evening started off with an unexpected but well received, humorous talk by Steve Young from Forever Young Fitness titled "A 10 Point Plan to Increase Your Chances of Failure".
Steve is a veteran of the RAAM - Race Across America, with whom he rode as part of a team. His talk was aimed at endurance cyclists.
10 Point Plan to Increase Your Chances of Failure
1. Failure to Train Incorrectly or Not At All

Especially not the correct distance. Steve and his team used Land's End to John O'Groats (one end of the UK to the other, around 1,000 miles) as a "training ride". They learnt more about themselves, their kit, strength and weaknesses and learnt more about teamwork, than in any other instance, in their lives.

2. Failure to Look Ahead

Not just at the road ahead but what could happen in the next day or week.

3. Trying to Micro Manage
A challenge like this will include lots of variables like the weather etc. A high degree of flexibility or adaptation will be required. Trying to micro manage others will lead to failure.

4. Having No Sense of Humour

This can lead to failure in life, not just an endurance event like this!

5. Not Being Robust
Essential for any endurance event, both physically and mentally.

6. Remember to Read the Rule Book

The RAAM rulebook comes in separate volumes and may contain hidden messages. For example "no naked dancing" would indicate that this has happened and could lead to failure to complete the challenge! LOL!

7. Ignoring Good Nutrition

Bars, gels, sports nutrition are essential but shouldn't just be relied on - should they be in short supply.

8. Trying New Things at The Last Minute

Why bother? Stick to what you know and what works. This can lead to failure.


9. The Little Things In Life Matter
Washing your hands and your kit. Forgetting to leave all your shorts at the laundry. Making a simple meal for others. These matter!

10. Not Being A Team

Teamwork, teamwork, teamwork.
Without this, you will definately fail!

The Route
Joe Mearns from Greenrock, came on to discuss the route. Him and his team drove the route last November and it is designed to take the quieter back roads.
It starts in Calais and then heads north east through the country lanes of France and past the memorials of World War 2.
It heads into Germany onto a plateau before reaching the Austrian Alps. The first real taste of climbing!
The route briefly enters Italy before reaching Solvenia.
This is to pay homage to ultra cyclist Jure Robic, 5 times RAAM winner amongst many of his wins. He sadly died in a head-on collision with a car whilst descending a narrow forest road. This involves cycling a cobbled pass and descending down into Italy. Ultra cyclists amongst you will appreciate the gesture and mark of respect to a truly remarkable athlete and cyclist. God Rest in Peace Jure.
The route heads south for the ferocious and feared climb the Col d'Angel (or the Colle dell'Agnello in Italian).
This is a monster, one of the highest pass in the Alps.
Having ridden up the French side a few times, which took a few hours, the Italian side is beautifully tarmac'd and has the average gradient of around 10% and is nearly 14 miles of climbing altogether. Tops out at 2,744 metres or nearly 10,000 feet!
The upper slopes are a killer at no less than 10% for several miles. The temperature drop is truely astounding. The descent of the French side is very technical, twisty and the road is pot holed from the winter snow and ice. The view is utterly amazing. A totally unforgettable experience.
The route pushes on, into the rolling fields of lavender in the Provence, before tackling the legendary Giant of Provence, Mont Ventoux. Having climbed this brute many times its one to be feared and respected. It has its own weather system that can change very quickly.
At the top is a cigar shaped antenna used as a beacon by the French airforce. Riders have been known to come off their bikes - as subsonic Mirage 2000's slow and turn as part of their training exersizes. It has one of the highest recorded wind speeds of nearly 300 mph!
The view from the top is one never to be forgotten too.
The route then heads south into the Pyrenees, which again are arduous, before heading south towards Andalucia. Spain is a lovely place to cycle, good tarmac and quiet roads. The desert like conditions will test riders and teams to cope with the heat.
Eventually after 2,933 miles participants will reach Gibraltar. With support from the local authorities, the riders will finish at Europa Point, looking across to North Africa for an amazing celebration.

The time it will take for people to complete the event will vary, for example an 8 person team taking it in turns could take 7 days and a solo rider 12 days or less.

Participants will be carrying a GPS unit, so we'll be able to track them as they go.
So Far ...
So far there has been a good signup with a good international mix of 5 experienced soloists, 1 pair, one team of four and 1 team of eight.
Were pleased to say that Gran Fondo Guide will be following Stephen Bugbee from the States who is an experienced ultra distance cyclist and is also on the board of the Ultra Marathon Cycling Association and will be riding solo!
The event will be starting from 25th August to 12th September 2013 for approximately 20 riders. Anyone interested in taking part needs to think about entering fairly promptly.
For full details please visit The RACE (Race across Europe).
Stay tuned for regular updates on preparation from Stephen and others taking part.
To re-cap, its 2,933 miles something like 50,000 feet of climbing over some the highest mountain passes in the Alps, Pyrenees, deserts, you name it!
I guess as it's billed, this is argueably one of "The toughest non-stop cycling events in the world" ?