Accolades for Prospera Valley GranFondo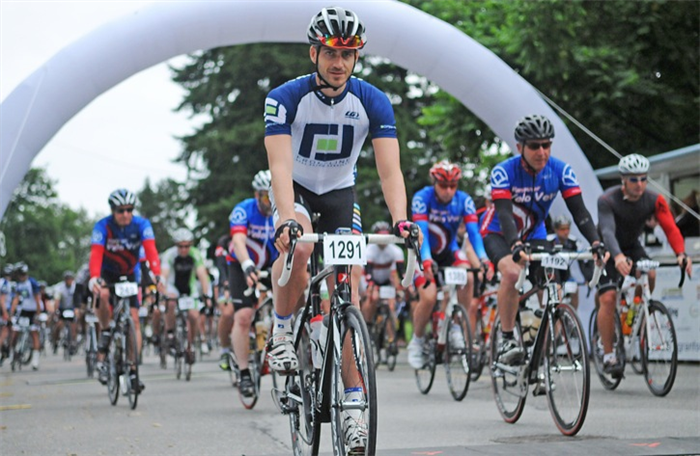 Nearly 1200 cyclists took part in the inaugural Prospera Valley GranFondo event in July 2012. The event received a Tourism Excellence Award from Tourism Langley.
When Jeffrey Hansen-Carlson came up with the idea to organize a GranFondo cycling event in the Fraser Valley, he could not have anticipated the overwhelming success of the inaugural Prospera Valley GranFondo, which took place last summer.
Last week (Feb. 28), Tourism Langley recognized the success of the ride and its contribution to local tourism by awarding the GranFondo the Tourism Excellence Award for event of the year.
The 14 months from Hansen-Carlson's idea conception to the inaugural ride was a time when multiple stakeholders came together to do something extraordinary.
The ride was organized by a team of high caliber volunteers invested in the idea of bringing a GranFondo experience to the Fraser Valley.
"As we moved through the planning stages, we all underestimated the amount of work required," said Bruce Dayton, the event director.
"The more we realized how much work it was going to be, the more invested we became.
"But our motivation was always grounded by our simple and pure love of riding bikes," Dayton said
"We had a simple vision about having people smile when they ride their bikes."
"Putting together an event of this caliber is all about having the right people at the table.
"We were lucky enough to have the support of the local cycling community, corporate sponsors were eager to come on board, hundreds of volunteers dedicated countless hours on event day, and a broad range of cyclists of all ages and skills were able to enjoy the beautiful cycling terrain the Fraser Valley offers in a mass participation cycling event."
Deborah Kulchiski, executive director of Tourism Langley presented the award to the Prospera Valley GranFondo team.
Plans are well underway for the second annual Prospera Valley GranFondo, which will take place on July 21.
"This event is certainly sure to be one of the most talked about and must-be-part-of GranFondos for both riders and spectators," Kulchiski said.
The 2012 event drew just under 1,200 cyclists.
Space is limited, so early registration is suggested.
For more details and to register for the July, visit the event details on Gran Fondo Guide.