Italian Giovanni Lattanzi wins UCI Medio Fondo on top of Jahorina in Snow
The UCI Gran Fondo World Championships Medio Fondo on Saturday October 9th suffered freezing temperatures and snow covering the course, as master amateur athletes competed for the Rainbow Jersey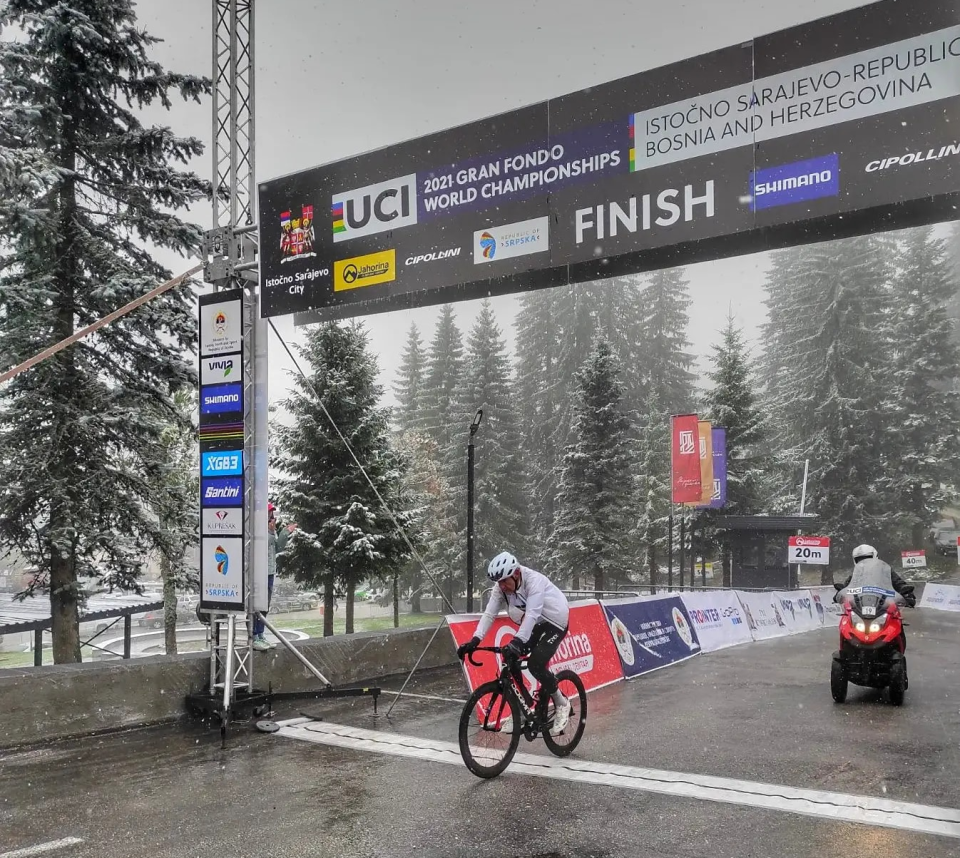 The UCI had already warned participants ahead of the race, "The weather predictions for the weekend are not good with rainshowers announced for both days and low temperatures at the altitude on the finish. The organisation has decided in consultation with the head of jury and the UCI to limit the distance on both days skipping one mountain loop on both days," UCI communique.
As a result the race was shortened the race from 96 km to 66km.
Ironicaly, the race finished atop Jahorina, the site of the 1984 Winter Olympics!
The first rider to reach the finish and earn a UCI World Championship Rainbow Jersey was Italian Giovanni Lattanzi in the Men's 60-64 category.
Norwegian Celine Monrad Haslum finished as the first female World Champion in the Women's 50-54 age group.
2021 UCI Medio Fondo World Championships Results
| | | | | | |
| --- | --- | --- | --- | --- | --- |
| 1 | MONRAD-HASLUM | Celine | NOR | F 50-54 | 2:10:36 |
| 2 | INCRISTI | Antonella | ITA | F 50-54 | 2:11:14 |
| 3 | PANINA | Tatiana | RUS | F 50-54 | 2:12:26 |
| 4 | FALCK | Kristin Lucie | NOR | F 50-54 | 2:12:40 |
| 5 | RIEDLE | Sylvie | FRA | F 50-54 | 2:19:36 |
| 6 | EASTMAN | Renee | USA | F 50-54 | 2:20:21 |
| 7 | LOBRE | Sandrine | FRA | F 50-54 | 2:23:44 |
| 8 | SAFRIEL | Yifat | ISR | F 50-54 | 2:33:00 |
| 9 | HEINRICH | Andrea | GER | F 50-54 | 2:34:21 |
| 10 | BIRET | Ghislaine | FRA | F 50-54 | 2:46:04 |
| 11 | VAN RANST | Lucie | BEL | F 50-54 | 2:48:19 |
| 12 | RODRIGUES | Rosa | POR | F 50-54 | 2:48:53 |
| 13 | KALAN | Petra | SLO | F 50-54 | 2:51:33 |
| 14 | GRØNVIK | Elin | NOR | F 50-54 | DNS |
| 15 | MARSHALL | Yuriko | CAN | F 50-54 | DNF |
| | | | | | |
| 1 | FELICI | Milena | ITA | F 55-59 | 2:11:33 |
| 2 | PANCARI | Elena | ITA | F 55-59 | 2:20:26 |
| 3 | CHAVANT | Valérie | FRA | F 55-59 | 2:25:37 |
| 4 | ELKAYAM | Vered | ISR | F 55-59 | 2:29:43 |
| 5 | BIELINSKA | Anna | POL | F 55-59 | 2:30:48 |
| 6 | SLAWTA | Jennifer | USA | F 55-59 | 2:31:03 |
| 7 | FORESTI | Rosangela | ITA | F 55-59 | 2:31:20 |
| 8 | LEASURE-HUDSON | Beth | USA | F 55-59 | 2:33:14 |
| 9 | DURU | Clothilde | FRA | F 55-59 | 2:36:06 |
| 10 | SPACEY | Sian | CAN | F 55-59 | 2:45:43 |
| 11 | HEINEMEYER | Dawn | CAN | F 55-59 | 2:48:44 |
| 12 | ROBIN | Nelly | FRA | F 55-59 | 2:51:04 |
| 13 | CARCERONI GILLES | Claudia | FRA | F 55-59 | DNS |
| | | | | | |
| 1 | LONGO | Jeannie | FRA | F 60-64 | 2:18:22 |
| 2 | BECAM | Sylviane | FRA | F 60-64 | 3:02:59 |
| 3 | BORDRON | Martine | FRA | F 60-64 | 3:05:51 |
| 4 | HABJAN | Dragica | SLO | F 60-64 | 3:27:19 |
| | | | | | |
| 1 | THUREAU | Gisele | FRA | F 65-69 | 2:49:13 |
| 2 | SIMAKKALA | Tarja | FIN | F 65-69 | 2:57:18 |
| 3 | ANŽEL | Jožefa | SLO | F 65-69 | 3:02:02 |
| 4 | VALKS | Marti | NED | F 65-69 | 3:22:05 |
| | | | | | |
| 1 | UŠENICNIK | Martina | SLO | F 70-74 | 3:15:54 |
| | | | | | |
| 1 | LATTANZI | Giovanni | ITA | M 60-64 | 2:03:05 |
| 2 | ORENGO MALONDA | Pascual | ESP | M 60-64 | 2:06:11 |
| 3 | SABRANSKY | Günther | AUT | M 60-64 | 2:06:53 |
| 4 | NELSON | Alan | AUS | M 60-64 | 2:07:43 |
| 5 | COCQUYT | Patrick | BEL | M 60-64 | 2:10:39 |
| 6 | BRANDSMA | Domien | NED | M 60-64 | 2:11:09 |
| 7 | NIJSSEN | Frank | NED | M 60-64 | 2:11:13 |
| 8 | ALBREKTSEN | Henrik | DEN | M 60-64 | 2:11:21 |
| 9 | PICCINI | Massimo | ITA | M 60-64 | 2:11:26 |
| 10 | VASQUEZ | Thierry | FRA | M 60-64 | 2:11:26 |
| 11 | MIQUEL | Daniel | FRA | M 60-64 | 2:11:29 |
| 12 | TYE | Kevin | GBR | M 60-64 | 2:11:29 |
| 13 | WIDMER | Felix | SUI | M 60-64 | 2:13:26 |
| 14 | HAVRILA | Pavel | SVK | M 60-64 | 2:14:23 |
| 15 | ŽAVBI | Andrej | SLO | M 60-64 | 2:15:42 |
| 16 | SCHEUCH | Norbert | GER | M 60-64 | 2:15:46 |
| 17 | KARLSSON | Lars-Erik | SWE | M 60-64 | 2:15:51 |
| 18 | SESAR | Vlatko | CRO | M 60-64 | 2:15:52 |
| 19 | GARELLI | Claudio | ITA | M 60-64 | 2:15:58 |
| 20 | BARTOLEWSKI | Wojciech | POL | M 60-64 | 2:18:20 |
| 21 | BARBAINI | Giuseppe | ITA | M 60-64 | 2:18:26 |
| 22 | PINTO | João | POR | M 60-64 | 2:19:36 |
| 23 | DEUSS | Leon | BEL | M 60-64 | 2:20:00 |
| 24 | JANKO | Emil | SVK | M 60-64 | 2:20:16 |
| 25 | TABOURIN | Jean-Lou | SUI | M 60-64 | 2:20:24 |
| 26 | NOUWEN | Luc | BEL | M 60-64 | 2:20:42 |
| 27 | THORESEN | Raymond | NOR | M 60-64 | 2:20:47 |
| 28 | TOUGÅRD | Gert | DEN | M 60-64 | 2:22:34 |
| 29 | LAMARCHE | Andre | CAN | M 60-64 | 2:22:51 |
| 30 | LAMONTAGNE | Pierre Marc | FRA | M 60-64 | 2:23:41 |
| 31 | WETZSTEIN | Jens | GER | M 60-64 | 2:24:35 |
| 32 | KARLSEN | Jim | NOR | M 60-64 | 2:26:51 |
| 33 | HEILBRON | Brett | CAN | M 60-64 | 2:32:51 |
| 34 | LAUCHLAN | Adrian | GBR | M 60-64 | 2:34:00 |
| 35 | KRIVETZ | Hannes | AUT | M 60-64 | 2:37:32 |
| 36 | BOUGOUIN | Jean Claude | FRA | M 60-64 | 3:01:07 |
| 37 | KESBY | Philip | AUS | M 60-64 | DNS |
| 38 | STAGNOLI | Leonardo | ITA | M 60-64 | DNS |
| | | | | | |
| 1 | TAUCHER | Johann | AUT | M 65-69 | 2:11:05 |
| 2 | CULL | Roger | AUS | M 65-69 | 2:11:23 |
| 3 | AADLAND | Frank | NOR | M 65-69 | 2:13:21 |
| 4 | MULL | Richard | USA | M 65-69 | 2:13:52 |
| 5 | BECAM | Jean Yves | FRA | M 65-69 | 2:15:47 |
| 6 | SIGUENZA | Bernard | FRA | M 65-69 | 2:19:36 |
| 7 | SMITH | George | USA | M 65-69 | 2:20:10 |
| 8 | THUMANN | Manfred | SUI | M 65-69 | 2:20:47 |
| 9 | LIVON | Luciano | ITA | M 65-69 | 2:23:07 |
| 10 | CIPRELLI | Patrice | FRA | M 65-69 | 2:24:51 |
| 11 | TYTARENKO | Stanislav | UKR | M 65-69 | 2:28:46 |
| 12 | WIDART | Dominique | BEL | M 65-69 | 2:30:26 |
| 13 | GINET | Pierre | FRA | M 65-69 | 2:31:28 |
| 14 | BERNALES VERA | Pedro | CHI | M 65-69 | 2:35:37 |
| 15 | STACCHI | Andrea | ITA | M 65-69 | 2:37:25 |
| 16 | WILLEMS | Karel | BEL | M 65-69 | 2:38:02 |
| 17 | ŠLÚCH | Zdeno | SVK | M 65-69 | 2:38:07 |
| 18 | OZOGÁN | Alojz | SVK | M 65-69 | 2:39:48 |
| 19 | KORICA | Goran | SRB | M 65-69 | 2:57:25 |
| 20 | NOVOA | Francisco | ARG | M 65-69 | 3:00:13 |
| 21 | PUŠKAŠ | Ðura | SRB | M 65-69 | 3:30:36 |
| 22 | LECHNITZ | Alfred | AUT | M 65-69 | DNS |
| 23 | GILLES | Roland | FRA | M 65-69 | DNS |
| 24 | BERGSTRÖM | Krister | SWE | M 65-69 | DNS |
| 25 | ROTTLER | Ulrich | GER | M 65-69 | DNF |
| 26 | VITALIS | Yves | FRA | M 65-69 | DNS |
| 27 | SOLETTI | Ivano | ITA | M 65-69 | DNS |
| | | | | | |
| 1 | SLUYTS | Rudolf | BEL | M 70-74 | 2:11:29 |
| 2 | HINTERHOLZER | Gottfried | AUT | M 70-74 | 2:16:03 |
| 3 | HAMMERSCHMIDT, | Erich | GER | M 70-74 | 2:20:27 |
| 4 | LEMIRE | Josef | USA | M 70-74 | 2:20:32 |
| 5 | KASAL | Jirí | CZE | M 70-74 | 2:22:52 |
| 6 | GIALDINI | Ruggero | ITA | M 70-74 | 2:23:49 |
| 7 | ROUCA | Karel | CZE | M 70-74 | 2:25:37 |
| 8 | VERDINI | Graziano | ITA | M 70-74 | 2:26:49 |
| 9 | CHABANEL | Claude | FRA | M 70-74 | 2:32:16 |
| 10 | RAVBAR | Rudi | SLO | M 70-74 | 2:35:34 |
| 11 | LONGAUER | Ladislav | SVK | M 70-74 | 2:43:13 |
| 12 | DE MEESTER | Raymond | NED | M 70-74 | 2:48:06 |
| 13 | FTOREK | Peter | SVK | M 70-74 | 2:48:40 |
| 14 | FÄRBER | Lothar | GER | M 70-74 | 2:53:42 |
| 15 | ACKERMANN | Louis | SUI | M 70-74 | 2:54:43 |
| 16 | ROBINSON | Duncan | CAN | M 70-74 | 3:11:03 |
| 17 | KAJZBA | Marijan | SLO | M 70-74 | 3:22:05 |
| 18 | WILLER JIMENEZ | José | CHI | M 70-74 | 3:37:10 |
| 19 | JONSSON | Jan | SWE | M 70-74 | DNS |
| 20 | PEREIRA | Vitorino | POR | M 70-74 | DNS |
| 21 | PINSON | Régis | FRA | M 70-74 | DNF |
| | | | | | |
| 1 | BICHL | Josef | AUT | M 75-79 | 2:39:11 |
| | | | | | |
| 1 | LACKNER | Herbert | AUT | M 80-84 | 3:25:09 |
| 2 | PECHENYUK | Hennadiy | UKR | M 80-84 | 3:59:16 |
| 3 | BARTUSEVICS | Mecislavs | LAT | M 80-84 | DNS |
Link to full 2021 UCI Gran Fondo World Championships results - http://82.146.32.70/pdf_results/results_MF.pdf
Link: Italian Ivan Martinelli fastest at the 2021 UCI Gran Fondo World Championships