Italian Ivan Martinelli fastest at the 2021 UCI Gran Fondo World Championships
2021 UCI Gran Fondo World Championship took place today in the Jahorina Mountains near Sarajevo in snow and freezing conditions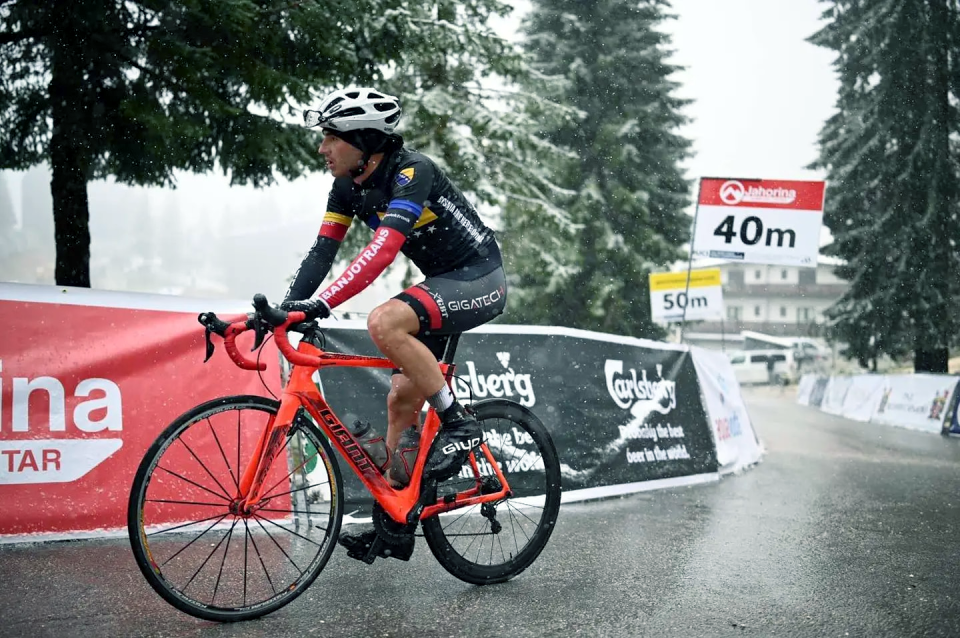 Italian Ivan Martinelli was fastest to at the 2021 UCI Gran Fondo World Championships and claimed the Men's 19-34 age Rainbow Jersey. The 31 year-old former professional raced for D'Amico - UM Tools team.
The UCI had already warned participants ahead of the race, "The weather predictions for the weekend are not good with rain showers announced for both days and low temperatures at the altitude on the finish. The organisation has decided in consultation with the head of jury and the UCI to limit the distance on both days skipping one mountain loop on both days."
Ironically, the race finished atop Jahorina in snow, the site of the 1984 Winter Olympics!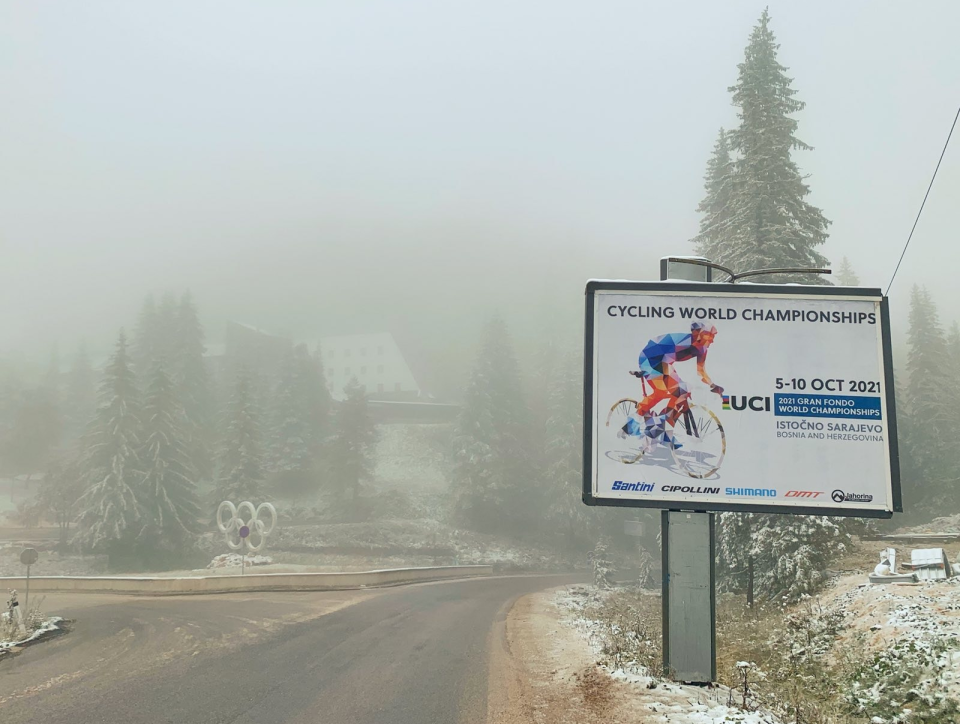 Dutchman and Ex-professional rider Johnny "Barbed Wire" Hoogerland finished second overall and claimed the Men's 35-39 age Rainbow Jersey.
The two riders were in the day's breakaway of 5 riders on the second loop between Trebevic and Jahorina.
In the women's 19-34 race, Polish rider Kamila Wojcikiewicz won a tight sprint ahead of Katarina Novak and Laura Simenc from Slovenia
2021 UCI Gran Fondo World Championships Results
| | | | | | |
| --- | --- | --- | --- | --- | --- |
| 1 | WOJCIKIEWIC | Kamila | POL | F 19-34 | 3:45:36 |
| 2 | NOVAK | Katarina | SLO | F 19-34 | 3:45:36 |
| 3 | ŠIMENC | Laura | SLO | F 19-34 | 3:45:42 |
| 4 | LOLLIEROU | Elodie | FRA | F 19-34 | 3:50:29 |
| 5 | BONDARENK | Viktoriia | UKR | F 19-34 | 3:52:21 |
| 6 | KULDKEPP | Kristi | EST | F 19-34 | 4:15:09 |
| 7 | DIAZ LOGAN | Camila | CHI | F 19-34 | 4:21:20 |
| 8 | WITCZAK | Anna | POL | F 19-34 | 4:28:34 |
| 9 | RECHENAUER | Valeria | GER | F 19-34 | DNF |
| 10 | TARNAVCHYK | Natalya | UKR | F 19-34 | DNF |
| 11 | YASHCHUK | Olha | UKR | F 19-34 | DNF |
| 12 | ZORMAN | Eva | SLO | F 19-34 | DNF |
| 13 | DELIU | Matea | CRO | F 19-34 | DNF |
| | | | | | |
| 1 | MYLKA | Alina | POL | F 35-39 | 3:56:03 |
| 2 | PASAR | Petra | SLO | F 35-39 | 3:58:16 |
| 3 | MATUZ | Etelka | HUN | F 35-39 | 4:01:24 |
| 4 | PERU | Ingrid | FRA | F 35-39 | 4:14:16 |
| 5 | BUCHANAN | Charlotte | GBR | F 35-39 | 4:22:20 |
| 6 | ASPLUND | Jenny | SWE | F 35-39 | 4:34:51 |
| 7 | TEN HARTOG | Sarah | BEL | F 35-39 | 4:43:12 |
| 8 | AKHMETSHY | Olena | UKR | F 35-39 | 4:47:46 |
| 9 | ZSIGOOVA | Eva | SVK | F 35-39 | DNF |
| 10 | LISKO | Stefanie | AUT | F 35-39 | DNF |
| 11 | SASS | Leah | ISR | F 35-39 | DNF |
| 12 | DE VECCHI | Amélie | FRA | F 35-39 | DNF |
| | | | | | |
| 1 | HEDBERG | Sara | SWE | F 40-44 | 3:51:47 |
| 2 | GROS | Stéphanie | FRA | F 40-44 | 4:00:40 |
| 3 | NEWELL | Lara | GBR | F 40-44 | 4:04:49 |
| 4 | OPEKA | Ajda | SLO | F 40-44 | 4:09:14 |
| 5 | KOVALEVSKA | Nataliia | UKR | F 40-44 | 4:11:32 |
| 6 | SHALYGINA | Ganna | UKR | F 40-44 | 4:17:57 |
| 7 | KRAFFT | Weronika | POL | F 40-44 | 4:18:22 |
| 8 | REINHOLD | Karolina | SWE | F 40-44 | 4:32:07 |
| 9 | TRAVAILLE | Julie | FRA | F 40-44 | 4:43:00 |
| | | | | | |
| 1 | BOVILL | Esta | CAN | F 45-49 | 3:51:43 |
| 2 | GORINI | Michela | ITA | F 45-49 | 4:00:07 |
| 3 | THOMAS | Claire | GBR | F 45-49 | 4:00:43 |
| 4 | ZAUER | Rebecca | ISR | F 45-49 | 4:07:50 |
| 5 | GALLUCCI | Monia | ITA | F 45-49 | 4:15:26 |
| 6 | TOMASZEWS | Kinga | POL | F 45-49 | 4:28:34 |
| 7 | GUTIÉRREZ | Hilda | MEX | F 45-49 | 4:40:50 |
| 8 | LEWIS | Jodi | USA | F 45-49 | DNF |
| | | | | | |
| 1 | MARTINELLI | Ivan | ITA | M 19-34 | 3:01:41 |
| 2 | CARLINI | Ettore | ITA | M 19-34 | 3:01:52 |
| 3 | CINI | Fabio | ITA | M 19-34 | 3:02:20 |
| 4 | BETZ | Simon | GER | M 19-34 | 3:02:53 |
| 5 | SIEMENSMA | Sebastiaan | NED | M 19-34 | 3:05:19 |
| 6 | HELCEL | Martin | CZE | M 19-34 | 3:08:01 |
| 7 | LUCAT | Geoffrey | FRA | M 19-34 | 3:08:40 |
| 8 | CZAPLA | Michal | POL | M 19-34 | 3:08:52 |
| 9 | GRUNFELD | Kristian | SLO | M 19-34 | 3:09:07 |
| 10 | MASCIA | Matteo | ITA | M 19-34 | 3:09:10 |
| 11 | MINNAERT | Michiel | BEL | M 19-34 | 3:09:15 |
| 12 | COLONE | Federico | ITA | M 19-34 | 3:09:17 |
| 13 | STEFFENS | Julian | GER | M 19-34 | 3:09:53 |
| 14 | CLEMENT | Thibaut | FRA | M 19-34 | 3:10:27 |
| 15 | MANUELE | Scala | ITA | M 19-34 | 3:11:57 |
| 16 | DRAKSLER | Andrej | SLO | M 19-34 | 3:12:23 |
| 17 | KARBOWY | Marcin | POL | M 19-34 | 3:12:42 |
| 18 | CHIMINELLO | Andrea | ITA | M 19-34 | 3:13:42 |
| 19 | BALZI | Cristian | ITA | M 19-34 | 3:14:12 |
| 20 | DORNIER | Clement | FRA | M 19-34 | 3:15:10 |
| 21 | PETELIN | Karli | SLO | M 19-34 | 3:16:03 |
| 22 | KOVACIC | Miran | SLO | M 19-34 | 3:16:08 |
| 23 | MERCKX | Niels | BEL | M 19-34 | 3:16:45 |
| 24 | MESARIC | Mitja | SLO | M 19-34 | 3:18:32 |
| 25 | WIRTH | Florian | GER | M 19-34 | 3:19:08 |
| 26 | PETERNELJ | Žan | SLO | M 19-34 | 3:21:10 |
| 27 | BOZNAR | Kristijan | SLO | M 19-34 | 3:21:12 |
| 28 | DEMORY | Stefan | BEL | M 19-34 | 3:23:04 |
| 29 | LEMAIRE | Grégoire | BEL | M 19-34 | 3:26:11 |
| 30 | SEDAR | Tadej | SLO | M 19-34 | 3:26:35 |
| 31 | MURKO | Vid | SLO | M 19-34 | 3:27:09 |
| 32 | MARTINEZ LL | Eduardo | BEL | M 19-34 | 3:28:10 |
| 33 | LETOURNEAU | Thomas | CAN | M 19-34 | 3:28:36 |
| 34 | VASSEUR | Clément | BEL | M 19-34 | 3:29:00 |
| 35 | VOCK | Mátyás | HUN | M 19-34 | 3:30:16 |
| 36 | BAERT | Michiel | BEL | M 19-34 | 3:30:40 |
| 37 | PRUD'HOMM | Mathieu | FRA | M 19-34 | 3:31:02 |
| 38 | MROWKA | Adrian | POL | M 19-34 | 3:32:33 |
| 39 | ZHUCHENKO | Stanislav | UKR | M 19-34 | 3:36:22 |
| 40 | HRIBLJAN | Matjaž | SLO | M 19-34 | 3:38:44 |
| 41 | VEVERS | Ricards | LAT | M 19-34 | 3:40:22 |
| 42 | CANO BEDOY | Sebastian | SWE | M 19-34 | 3:41:50 |
| 43 | SENEKOVIC | Niko | SLO | M 19-34 | 3:42:23 |
| 44 | MINAR | Jürgen | AUT | M 19-34 | 3:43:13 |
| 45 | MYSNYK | Oleksandr | UKR | M 19-34 | 3:43:59 |
| 46 | LIFKA | Sebastian | AUT | M 19-34 | 3:46:38 |
| 47 | BEKAERT | Laurens | BEL | M 19-34 | 3:46:46 |
| 48 | NIERULA | Dominik | AUT | M 19-34 | 3:48:17 |
| 49 | OGER | Vincent | BEL | M 19-34 | 3:49:00 |
| 50 | LUONGO | Giovanni | ITA | M 19-34 | 3:50:40 |
| 51 | VRHOVNIK | Jure | SLO | M 19-34 | 3:54:47 |
| 52 | BAUMANIS | Agnis | LAT | M 19-34 | 4:04:44 |
| 53 | PIRARD | Maxim | BEL | M 19-34 | DNF |
| 54 | SCHOEVAERS | Ward | BEL | M 19-34 | DNF |
| 55 | PETIT | Nicolas | BEL | M 19-34 | DNF |
| 56 | KOPPER | Raphael | AUT | M 19-34 | DNF |
| 57 | EREMKA | Petr | CZE | M 19-34 | DNF |
| | | | | | |
| 1 | HOOGERLAN | Johnny | NED | M 35-39 | 3:03:57 |
| 2 | LOVŠE | Matej | SLO | M 35-39 | 3:09:08 |
| 3 | MAHE | Clement | FRA | M 35-39 | 3:09:19 |
| 4 | BIALOBLOCKI | Marcin | POL | M 35-39 | 3:10:29 |
| 5 | MIOTTO | Andrea | ITA | M 35-39 | 3:10:35 |
| 6 | RENAUD | Pierre | FRA | M 35-39 | 3:10:35 |
| 7 | KOLENCHITS | Kirill | BLR | M 35-39 | 3:11:03 |
| 8 | SCOTTI | Stefano | ITA | M 35-39 | 3:13:21 |
| 9 | MAVIER | Pierre | FRA | M 35-39 | 3:14:06 |
| 10 | BURGERMEIS | Balázs | HUN | M 35-39 | 3:16:02 |
| 11 | PAULANO PO | Jose Luis | ESP | M 35-39 | 3:17:01 |
| 12 | ZIMMERMAN | Joris | SUI | M 35-39 | 3:19:26 |
| 13 | SAJKO | Mario | SLO | M 35-39 | 3:22:48 |
| 14 | SOFIA | Luca Valen | ITA | M 35-39 | 3:25:44 |
| 15 | BOUMANS | Didier | NED | M 35-39 | 3:28:08 |
| 16 | DOLZHYKOV | Glib | UKR | M 35-39 | 3:28:36 |
| 17 | VAN OVERME | Pascal | NED | M 35-39 | 3:30:07 |
| 18 | STAROSTIN | Petr | RUS | M 35-39 | 3:30:13 |
| 19 | BIANCHI | Giorgio | ITA | M 35-39 | 3:33:23 |
| 20 | LECHOWICZ | Lukasz | POL | M 35-39 | 3:33:44 |
| 21 | MENTES | Attila | HUN | M 35-39 | 3:36:47 |
| 22 | TIUNOV | Gleb | RUS | M 35-39 | 3:37:24 |
| 23 | YAVUZ | Kagan | TUR | M 35-39 | 3:39:27 |
| 24 | VISOCKIS | Juris | LAT | M 35-39 | 3:40:50 |
| 25 | KIELBASA | Arkadiusz | POL | M 35-39 | 3:41:19 |
| 26 | HULS | Mike | NED | M 35-39 | 3:46:24 |
| 27 | KOKOWSKI | Mateusz | POL | M 35-39 | 3:47:35 |
| 28 | LEISERACH | Joe | GBR | M 35-39 | 3:49:26 |
| 29 | CUCEK | Niko | SLO | M 35-39 | 3:57:06 |
| 30 | YILDIZ | Muhamme | TUR | M 35-39 | 3:58:16 |
| 31 | ASLAN | Ahmet Ca | TUR | M 35-39 | 3:59:13 |
| 32 | CHMELEV | Pavel | RUS | M 35-39 | 3:59:52 |
| 33 | GRŠIC | Marko | SLO | M 35-39 | DNF |
| 34 | SIKOŠEK | Gregor | SLO | M 35-39 | DNF |
| 35 | NAGY | Ákos | HUN | M 35-39 | DNF |
| | | | | | |
| 1 | GONDA | Pavel | CZE | M 40-44 | 3:12:01 |
| 2 | TAKAOKA | Akihiro | JPN | M 40-44 | 3:12:49 |
| 3 | BRATUŠ | Dean | SLO | M 40-44 | 3:14:08 |
| 4 | KITEK | Sašo | SLO | M 40-44 | 3:14:28 |
| 5 | ROBLES | Jesus | ESP | M 40-44 | 3:17:46 |
| 6 | NORDLUND | Johan | FIN | M 40-44 | 3:18:21 |
| 7 | CROSA LENZ | Matteo | ITA | M 40-44 | 3:18:40 |
| 8 | NIKANDROV | Dmitry | RUS | M 40-44 | 3:19:33 |
| 9 | ZOMER | Anderson | BRA | M 40-44 | 3:19:44 |
| 10 | GROENEWEG | Rick | NED | M 40-44 | 3:20:44 |
| 11 | KUSIOWSKI | Leszek | POL | M 40-44 | 3:25:27 |
| 12 | DUBYNETS | Taras | UKR | M 40-44 | 3:25:41 |
| 13 | ALENLJUNG | Tord | SWE | M 40-44 | 3:27:33 |
| 14 | MEURISSE | Dominiek | BEL | M 40-44 | 3:27:51 |
| 15 | KIRCH | Mario | AUT | M 40-44 | 3:27:57 |
| 16 | MESIC | Milan | CRO | M 40-44 | 3:29:35 |
| 17 | NICOSIA | Andrea | ITA | M 40-44 | 3:30:25 |
| 18 | NOF | Yaron | ISR | M 40-44 | 3:30:49 |
| 19 | NELLIS | Nicholas | GBR | M 40-44 | 3:30:57 |
| 20 | LE MEE | Gwenael | FRA | M 40-44 | 3:34:02 |
| 21 | BARANOWSKI | Przemysla | POL | M 40-44 | 3:34:52 |
| 22 | NEUBAUER | Radim | CZE | M 40-44 | 3:35:22 |
| 23 | GAL | Goran | CRO | M 40-44 | 3:36:58 |
| 24 | HANZIC | Tadej | SLO | M 40-44 | 3:39:27 |
| 25 | PEREZ NEGU | Cesar | ESP | M 40-44 | 3:39:36 |
| 26 | DALSGAARD | Kristoffer | DEN | M 40-44 | 3:40:53 |
| 27 | KÜHMEL | Sandro | GER | M 40-44 | 3:42:07 |
| 28 | PARMENTIER | David | BEL | M 40-44 | 3:42:13 |
| 29 | ROMANOV | Ilya | RUS | M 40-44 | 3:42:14 |
| 30 | DIMITRIJEVIC | Aleksanda | SRB | M 40-44 | 3:45:18 |
| 31 | GOLOB | Jože | SLO | M 40-44 | 3:51:48 |
| 32 | ODAK | Toni | BIH | M 40-44 | 3:53:16 |
| 33 | BLINKA | Ludek | CZE | M 40-44 | 3:53:48 |
| 34 | CHERVENKO | Serhii | UKR | M 40-44 | 3:55:34 |
| 35 | PENKO | Peter | SLO | M 40-44 | 3:56:41 |
| 36 | LOLLIEROU | Erwann | FRA | M 40-44 | 4:01:53 |
| 37 | CHAN | Henry | CAN | M 40-44 | 4:02:15 |
| 38 | CANTILLO | Alvaro | CAN | M 40-44 | 4:13:28 |
| 39 | CANCEL | Jaime | USA | M 40-44 | 4:22:39 |
| 40 | KHRISANOV | Dmitry | CAN | M 40-44 | 4:27:44 |
| 41 | MELLER | Dan | ISR | M 40-44 | 4:40:34 |
| 42 | DODGE | Benjamin | USA | M 40-44 | 4:57:46 |
| 43 | JACKSON | Simon Pet | GBR | M 40-44 | DNF |
| 44 | MROZ | Marcin | POL | M 40-44 | DNF |
| 45 | BRÄNNLUND | Samuel | SWE | M 40-44 | DNF |
| 46 | BELLARIA | Massimilia | ITA | M 40-44 | DNF |
| 47 | SMITS | Nicolas | BEL | M 40-44 | DNF |
| 48 | GALLERINI | Sylvain | FRA | M 40-44 | DNF |
| | | | | | |
| 1 | KOPŠE | Igor | SLO | M 45-49 | 3:10:16 |
| 2 | DE VECCHI | David | FRA | M 45-49 | 3:14:05 |
| 3 | VEVERS | Girts | LAT | M 45-49 | 3:15:17 |
| 4 | VROUBLEVSKI | Sergey | BLR | M 45-49 | 3:17:40 |
| 5 | BERTANI | Matteo | ITA | M 45-49 | 3:19:33 |
| 6 | DOLENC | Andrej | SLO | M 45-49 | 3:19:35 |
| 7 | WIEDERSEINE | Jean-Marti | SUI | M 45-49 | 3:20:24 |
| 8 | JELIC | Borja | SLO | M 45-49 | 3:21:18 |
| 9 | RUBINI | Diego | ITA | M 45-49 | 3:21:49 |
| 10 | BRUYNEEL | Emmanuel | BEL | M 45-49 | 3:25:04 |
| 11 | GÖTZE | Holger | GER | M 45-49 | 3:25:07 |
| 12 | CELANI | Emidio | ITA | M 45-49 | 3:26:00 |
| 13 | BOUSSER | Sébastien | FRA | M 45-49 | 3:27:09 |
| 14 | PRIETL | Johann | AUT | M 45-49 | 3:32:38 |
| 15 | THEOCHARO | Michalis | CYP | M 45-49 | 3:41:06 |
| 16 | MÄKELÄ | Antti | FIN | M 45-49 | 3:42:14 |
| 17 | NETZER | Dan | USA | M 45-49 | 3:44:27 |
| 18 | SMILJANIC | Toni | SRB | M 45-49 | 3:45:37 |
| 19 | GRANLY | Lars Erik | NOR | M 45-49 | 3:46:41 |
| 20 | HAMBURG | Christian | GER | M 45-49 | 3:48:47 |
| 21 | LESNIAK | Rostislav | CZE | M 45-49 | 3:49:00 |
| 22 | LESHER | David | USA | M 45-49 | 3:50:48 |
| 23 | BUHIC | Branislav | CRO | M 45-49 | 3:54:33 |
| 24 | FRANKLIN | Christian | GBR | M 45-49 | 3:58:34 |
| 25 | EBACHER | Sebastien | CAN | M 45-49 | 3:59:21 |
| 26 | BODNIEKS | Andris | LAT | M 45-49 | 4:07:04 |
| 27 | ANÐELKOVIC | Milorad | SRB | M 45-49 | 4:08:51 |
| 28 | TAYLOR | Alastair | GBR | M 45-49 | 4:12:23 |
| 29 | LARSSON | Peter | SWE | M 45-49 | 4:13:50 |
| 30 | ESPINA MAR | Pablo | ESP | M 45-49 | 4:29:34 |
| 31 | RADOVANOVI | Dragoslav | BIH | M 45-49 | 4:53:10 |
| 32 | GUCEK | Andrej | SLO | M 45-49 | DNF |
| 33 | BLAGOJEVIC | Boris | BIH | M 45-49 | DNF |
| 34 | DELP | Sean | USA | M 45-49 | DNF |
| 35 | POP | Dorel | CAN | M 45-49 | DNF |
| | | | | | |
| 1 | LODA | Nicola | ITA | M 50-54 | 3:19:28 |
| 2 | BIRD | Bruce | CAN | M 50-54 | 3:19:28 |
| 3 | SCHAEFER | Michael | GER | M 50-54 | 3:19:50 |
| 4 | D'ASCENZO | Wladimiro | ITA | M 50-54 | 3:25:04 |
| 5 | AMARAL | Alberto | POR | M 50-54 | 3:25:08 |
| 6 | PILLET | Emmanuel | FRA | M 50-54 | 3:25:28 |
| 7 | KOPKA | Tjard | GER | M 50-54 | 3:29:03 |
| 8 | SKÅRÅS | Ole Petter | NOR | M 50-54 | 3:32:23 |
| 9 | GEISLER | Lars | GER | M 50-54 | 3:34:09 |
| 10 | MINCHEV | Dobromir | BUL | M 50-54 | 3:37:59 |
| 11 | MELE | Renzo | ITA | M 50-54 | 3:38:03 |
| 12 | JERŠIN | Jaka | SLO | M 50-54 | 3:38:07 |
| 13 | VERMOENS | Philip | NED | M 50-54 | 3:38:17 |
| 14 | BREZOVNIK | Bogdan | SLO | M 50-54 | 3:38:25 |
| 15 | WOJCIECHO | Dariusz | POL | M 50-54 | 3:38:33 |
| 16 | JACH | Adrian | POL | M 50-54 | 3:38:52 |
| 17 | HERMANS | Patrick | BEL | M 50-54 | 3:39:00 |
| 18 | JONGSMA | Peter | NED | M 50-54 | 3:39:07 |
| 19 | AYME | Franck | FRA | M 50-54 | 3:39:51 |
| 20 | VAN EGMON | Pieter | NED | M 50-54 | 3:40:18 |
| 21 | BUDIMIR | David | SLO | M 50-54 | 3:40:20 |
| 22 | FRESNEL | Laurent | FRA | M 50-54 | 3:41:40 |
| 23 | MAZZOLI | Valerio | ITA | M 50-54 | 3:42:47 |
| 24 | ERCEVIK | Mutlu | TUR | M 50-54 | 3:44:41 |
| 25 | KISKONEN | Eero | EST | M 50-54 | 3:47:22 |
| 26 | LUTSYSHYN | Valentyn | UKR | M 50-54 | 3:49:33 |
| 27 | PETROVYCH | Viktor | UKR | M 50-54 | 3:50:00 |
| 28 | LINDSAY | Robert | GBR | M 50-54 | 3:52:34 |
| 29 | LAUER | Marc | FRA | M 50-54 | 3:56:04 |
| 30 | WARREN | Jon | GBR | M 50-54 | 3:57:27 |
| 31 | ŠKERGET | Lovrenc | SLO | M 50-54 | 4:00:09 |
| 32 | ZEMLJIC | Damjan | SLO | M 50-54 | 4:02:52 |
| 33 | CEKOVIC | Milos | SUI | M 50-54 | 4:03:31 |
| 34 | BEHOUNEK | Michal | CZE | M 50-54 | 4:04:47 |
| 35 | KENIIG | Boaz | ISR | M 50-54 | 4:06:28 |
| 36 | YUE | Anthony | CAN | M 50-54 | 4:38:25 |
| 37 | SWINAND | Greg | IRL | M 50-54 | DNF |
| 38 | VAN HEERDE | Peter | RSA | M 50-54 | DNF |
| 39 | MIRANDA WI | Robinson | CHI | M 50-54 | DNF |
| 40 | GRIGORENKO | Vladimir | RUS | M 50-54 | DNF |
| 41 | ROSENBLAD | Carl | SWE | M 50-54 | DNF |
| 42 | TENEB HERN | Javier | CHI | M 50-54 | DNF |
| 43 | SCHMITT | Wolf-Erik | GER | M 50-54 | DNF |
| 44 | BAILEY | Andrew | RSA | M 50-54 | DNF |
| 45 | PACHER | Jörg | GER | M 50-54 | DNF |
| 46 | GNEDIN | Aleksandr | RUS | M 50-54 | DNF |
| 47 | COULIEZ | Ronny | BEL | M 50-54 | DNF |
| 48 | KRAWIEC | Dariusz Jac | POL | M 50-54 | DNF |
| 49 | BIELINSKI | Piotr | POL | M 50-54 | DNF |
| 50 | GUITARD | Pierre | RSA | M 50-54 | DNF |
| 51 | THOMAS | John | GBR | M 50-54 | DNF |
| | | | | | |
| 1 | PENDERY | Andrew | FRA | M 55-59 | 3:20:32 |
| 2 | FJELDAVLIE | Jørn | NOR | M 55-59 | 3:21:02 |
| 3 | SANTAMARIA | Javier | ESP | M 55-59 | 3:24:33 |
| 4 | VERMEULEN | Gerry | BEL | M 55-59 | 3:25:49 |
| 5 | CLAESSON | Roger | SWE | M 55-59 | 3:26:05 |
| 6 | SOMMER | Martin | GER | M 55-59 | 3:26:13 |
| 7 | WOODS | Des | IRL | M 55-59 | 3:27:32 |
| 8 | FERNANDEZ | Mario | ESP | M 55-59 | 3:28:57 |
| 9 | CLAES | Dirk | BEL | M 55-59 | 3:29:42 |
| 10 | STENGÅRD | Stefan | SWE | M 55-59 | 3:30:22 |
| 11 | SILVETTI | Manuel A | ITA | M 55-59 | 3:34:39 |
| 12 | MULLIN | Michael | IRL | M 55-59 | 3:35:53 |
| 13 | MONNERIE | Jean Bapti | FRA | M 55-59 | 3:37:35 |
| 14 | SINZINGER | Alois | AUT | M 55-59 | 3:38:41 |
| 15 | APPEL | Kenneth | SWE | M 55-59 | 3:39:49 |
| 16 | JAVORKA | Jozef | SVK | M 55-59 | 3:40:15 |
| 17 | DAWSON | Brett | RSA | M 55-59 | 3:40:25 |
| 18 | RØSOK | Bård Ingva | NOR | M 55-59 | 3:41:22 |
| 19 | BOUREL | Pascal | FRA | M 55-59 | 3:43:26 |
| 20 | QUINTI | Luca | ITA | M 55-59 | 3:43:44 |
| 21 | GARWOOD | Robert | USA | M 55-59 | 3:48:47 |
| 22 | KOPPENSTEIN | Adolf | AUT | M 55-59 | 3:51:26 |
| 23 | PRPAR | Vlado | SLO | M 55-59 | 3:51:27 |
| 24 | BONOMETTI | Giuseppe | ITA | M 55-59 | 3:51:47 |
| 25 | MIRONOV | Igor | RUS | M 55-59 | 3:56:45 |
| 26 | VAN DER MA | Erik | NED | M 55-59 | 3:59:28 |
| 27 | VERMEIREN | Bart | BEL | M 55-59 | 4:05:31 |
| 28 | RYABTSEV | Volodymyr | UKR | M 55-59 | 4:09:55 |
| 29 | DREES | Hajo | GER | M 55-59 | 4:10:57 |
| 30 | KUTNAR | Francišek | SLO | M 55-59 | 4:14:14 |
| 31 | NEVILLE | Dean | CAN | M 55-59 | 4:22:31 |
| 32 | O'CONNELL | Gerard | GBR | M 55-59 | 4:29:02 |
| 33 | HLEDÍK | Jirí | CZE | M 55-59 | 4:32:49 |
| 34 | SAKINSEL | Ali | TUR | M 55-59 | 4:38:40 |
| 35 | GITELMAN | Arkady | RUS | M 55-59 | DNF |
| 36 | MANSELL | John | USA | M 55-59 | DNF |
| 37 | HANSEN | Lars Aagaa | DEN | M 55-59 | DNF |
Link to full 2021 UCI Gran Fondo World Championships results - http://82.146.32.70
Link: Italian Giovanni Lattanzi wins UCI Medio Fondo on top of Jahorina in Snow