Pauline Prevot-Ferrand takes first rainbow jersey at UCI Gravel World Championships
Pauline Prevot-Ferrand (France) took the rainbow jersey today at the inaugural UCI Gravel World Championships in beautiful Cittadella, Italy, outsprinting Sina Frei (Switzerland), Chiara Teocchi (Italy) was third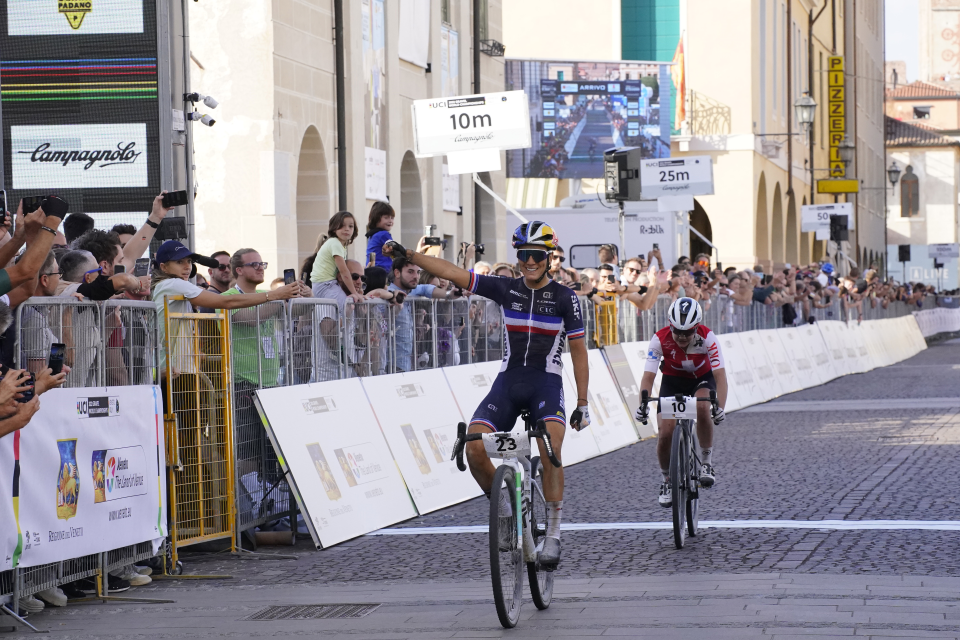 (Photo Credit: Sprint Cycling Agency)
After moving to the front of the race even before the top of the Sanctuary of Monte Berico, inside the first 2 km, Pauline Prevot-Ferrand (France) set the pace for much of the first part of the race, forming part of the leading group as its numbers swelled to 20 and thinned, at times, to just three.
With 80 km to go, she was part of a decisive move with four other riders: MTBikers Sina Frei (Switzerland) and Chiara Teocchi (Italy), and road specialists Lauren Stephens (USA) and and Jade Treffeisen (Germany).
With 50 km to go, their lead was 48 seconds. With 45 km to go, the gap had opened to 1 minute. Two km later, as crashes broke the cohesion of the chase, it grew to 1m30s and, with Prevot-Ferrand maintaining the pace at the front, it held there.
The road specialist Lauren Stephens (USA) was the first to lose contact, as Prevot-Ferrand persisted with her infernal pace, and, with 30 km to go, the leading group was down to four.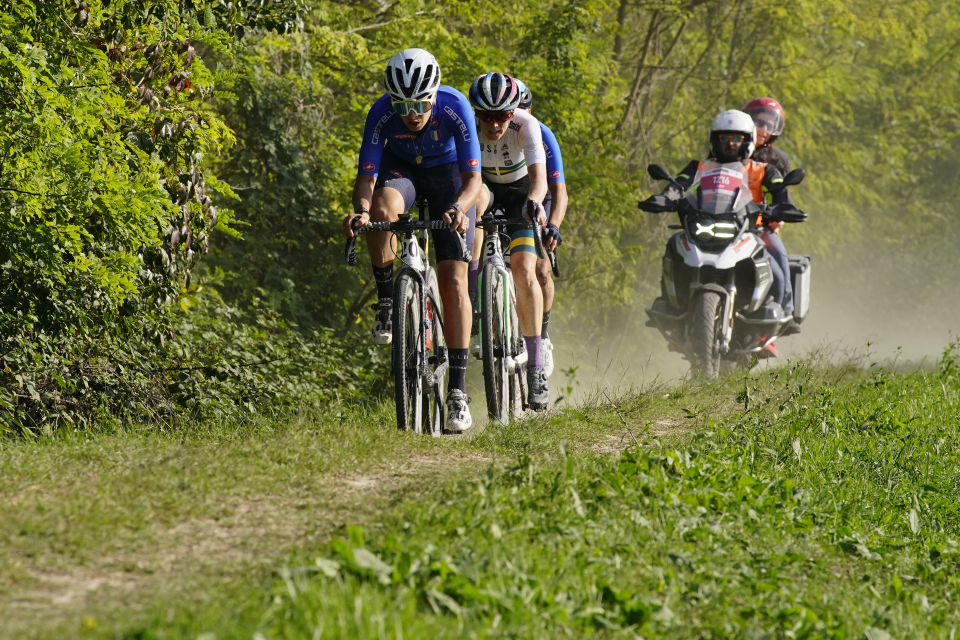 (Photo Credit: Sprint Cycling Agency)
With 25 km to go, the gap narrowed to 1m10s. With 20 km to go, after first Treffeisen (Germany) then Frei (Switzerland) missed corners and were forced to chase, it fell inside 50s. With 17 km to go, the gap stabilised at 37s.
With 8 km to go, the advantage of the 4 leaders had grown to 1m. Treffeisen (Germany) seemed to be in difficulty, and so it proved. The race came down to a sprint between the remaining three riders.
Already the winner of world titles for road cycling, cyclocross and cross-country mountain bike, and the only rider in history to have heal all three titles simultaneously, Pauline Prevot-Ferrand added yet another discipline to her already extraordinary palmares.
Pauline Ferrand-Prevot (France), gold medallist said afterwards, "It was my first gravel race ever so I didn't know what to expect. But I was feeling very good so I just kept training at home, even if it's October and the last race of the season. I didn't do specific training, but I kept training hard at home. It was not super easy to manage with all the Italian girls. I tried to race smart. I went to the front, and I tried to motivate the girls who were riding with me. In the finish, I knew I would be almost unbeatable a sprint form a small group, and so it proved."
"I think I was the favourite because I have won all the races I have ridden since Leger. I did a good warm up because I knew the start would be hard. We were three at the front, then the group came back I tried to stay calm and not stress. I knew the Italian girls would try to control. I force the pace on the technical sections and we made a group. Finally they worked with me, we lost one girl, and with four at the front, I thought we could do it. I tried to motivate them, and with 2 km to go I thought it was safe to think about how to win."
"The course was good, hard and technical at the beginning, and then flat, so you needed to keep pushing. There were a lot of corners, so it was not an easy race. I love the area here. I did not know it, it was a good place to become world champion."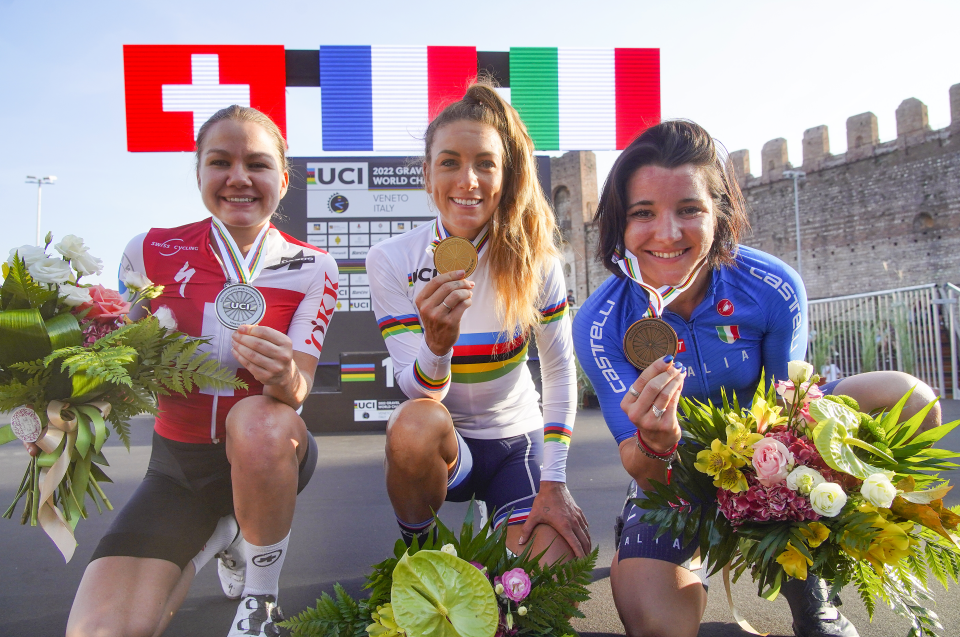 (Photo Credit: Sprint Cycling Agency)
Sina Frei (Switzerland), silver medallist said afterwards, "I think the course was a big challenge for me because it was flat. The first part was cool because of the hills, but after it we still had a long way to go and we were a small group. I had a feeling it would end a sprint, and I just tried my best."
"I just gave everything I had and I tried to attack. At least I cannot be disappointed that I didn't have a go, so I'm happy that I accepted the challenge and I'm happy to ride here in Italy."
"We never knew how big the gap was, so sometimes we looked behind. At one point, not everyone wanted to work any more and it became critical. But finally we were four riders in the last part, and it came down to the sprint."
"It was nice to start in a different city from the finish. I prefer more hills and technical sections."
"There were so many corners, some were unexpectedly slippery or loose. I only knew parts of the track, so it was a challenge."
Chiara Teocchi (Italy), bronze medallist, said afterwards, "Today is one of the most beautiful days of my life, because I'd never won a World championship medal before , so to win a medal in the first World Gravel Champs, in Italy, in front of my family, was fantastic."
"I knew that the athletes to watch were Prevot and Frei. I tried to get in every break they were in. With 10 km to go I started to suffer cramp. I stayed mentally strong. I knew that the sprint would be hard against them both, and I though the German rider might be strong too, so I attacked on the final corner. Prevot and Frei passed me, but I held on for the bronze. I have to thank the other Italian girls for having faith in me. We came here looking for a good result, and we succeeded. The race route was very hard, it was very fast."
"Prevot kept the pace high at 40 to 41 kph all the way. I come from MTB, and our speeds are half that! I enjoyed the first part of the race above all, around Vicenza, where it was more technical, but gravel seems to suit me, seeing my results in the past month, so in future, I think I might concentrate on this discipline."
"I'll be celebrating tonight. It's my last race of the year, and there is no better way to finish the year."
VIDEO: UCI Women's Elite Gravel Championships Highlights
2022 UCI Women's Elite Gravel Championships Top 10
1. Pauline Ferrand-Prévot (France) 4:09:07
2. Sina Frei (Switzerland)
3. Chiara Teocchi (Italy) 0:00:11
4. Jade Greffeisen (Germany)
5. Barbara Guarischi (Italy) 0:00:27
6. Tiffany Cromwell (Australia) 0:00:40
7. Ilaria Sanguineti (Italy) 0:01:02
8. Letizia Borghesi (Italy) 0:03:08
9. Rasa Leleivyte (Lithuania) 0:03:11
10. Reijanne Markus (Netherlands) 0:03:14
2022 UCI Women's Gravel Champions
W PRO/ELITE Pauline Ferrand-Prevot FRA 4:09:06
W 19-34 Sara Mazzorana ITA 4:30:57
W 35-39 Chiara Ciuffini ITA 4:31:24
W 40-44 Jannitta Van Den Brink-Spigt NED 4:33:03
W 45-49 Cinzia Sartori ITA 4:40:00
W 50-54 Antonella Incristi ITA 4:33:34
W 55-59 Dale Maizels AUS 5:04:55
W 60-64 Debra Kempe AUS 5:53:18